Games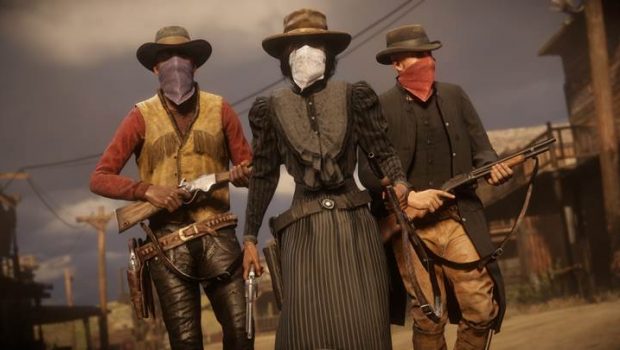 Published on July 3rd, 2019 | by Admin
New in Red Dead Online This Week
Weapons Discounts, Clothing Updates, Respectful Bow Emote and More
Celebrate Independence this week across the open frontier of Red Dead Online – with bonuses to reward your adventurous spirit. Get 30% bonus cash and XP on all Free Roam Missions alongside generous retail discounts on weapon components and the popular Evans Repeater. Plus new Wheeler, Rawson and Co. Catalogue additions, including the "Respectful Bow" emote – free for a limited time – and more.
As part of this week's celebratory festivities, merchants are pleased to offer free Gun Oil to ensure all your instruments of peacemaking are in tip-top shape. A weapon's looks and performance degrade over time from use and exposure to the elements, but a little Gun Oil will make them good as new. Gunslingers and vigilante types alike would also be wise to take advantage of 30% off all weapons components, including Improved Rifling to increase velocity and range, Iron Sights and Scopes for better accuracy, Stocks with various wood grains and Wraps to preserve your weapon from use and weather.
And if you're in the market for a reliable firearm, you can get the Evans Repeater for 25% off this week.
Patriots can take advantage of 50% off Red, White and Blue bandanas, plus free Red and Blue camp flags, through the 8th of July.
Not all those who wander are lost. This week, those brave enough to traverse the five states in search of opportunity shall be rewarded handsomely with 30% more RDO$ and XP for all Free Roam Missions. Keep yourself on the straight and narrow pursuing Gun for Hire missions with respectable folks like Bonnie MacFarlane or get yourself mixed up in shadier business with Outlaw missions from Black Belle and much more.
The Wheeler, Rawson and Co. Catalogue has a new limited supply item, the warm and woolly Pelt Half Chaps, as well as remaining stock of the Griffith Chaps.
Elsewhere in the catalogue's clothing section, the sturdy Cromwell Hat and the svelte Cabrera Pants are both refined statement pieces that are sure to elevate your wardrobe.
Put your best foot forward with strangers or make peace with even your most bitter rivals using the Respectful Bow emote, free from the Wheeler, Rawson and Co. Catalogue for this week only.