Games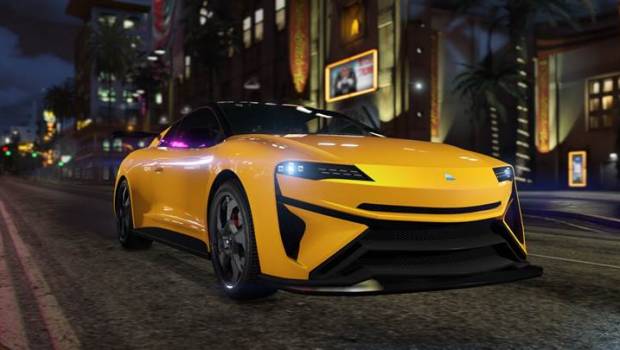 Published on January 10th, 2020 | by Alex Novus
New in GTA Online: The Överflöd Imorgon Sports Car, Double Rewards in Arena War Series, Contact Missions, Resurrection, and More
Considered electric? Of course not. Recycling your eCola can is too much effort. Lucky for you, the Imorgon is the electric thoroughbred you never dared imagine. Now you can drive a revolutionary chrome molybdenum steel wonder while telling everyone you're in it for the environment. Purchasing a spectacular sports car is the very least you could do. You're welcome, nature.
The Överflöd Imorgon, available now from Legendary Motorsport.
WORSHIP THE CONE
Is it art? Is it fashion? Why can't it be both? As part of The Diamond Casino Heist update, players who own the esteemed Yellow Dog with Cone Statue can get early access to wares from the hottest and most enigmatic new brand around, including two Yellow Dog with Cone T-shirts, a chain and a pair of slip-on loafers.
DOUBLED REWARDS
Picture this: the Maze Bank Arena is strewn with abstract shapes bent out of hot, contorted metal. You rev your vehicle's overpowered engines and the smell of gasoline singes your nostrils. The good news is that players can earn Double Rewards on the entire Arena War Series, including high-octane modes like Carnage, Flag War, Hot Bomb and Bomb Ball. The bad news is your nostrils might be irreparably damaged.
Elsewhere, players can earn 2X GTA$ & RP by playing Resurrection, the Adversary Mode that allows you to revive your own fallen teammates by killing one of your enemies. That means you can only win by wiping the other team out, exterminating them before they have a chance to claw their way back into the world of the living.
Otherwise, you can earn Doubled Payouts on all Contact Missions this week, either by answering the texts in your iFruit inbox or by booting them from the Jobs page located in the Online Menu.
NEW PODIUM VEHICLE: CUSTOMIZED OBEY 8F DRAFTER
Swing by the lobby of The Diamond Casino & Resort to give the Lucky Wheel a spin for the opportunity to win GTA$, RP, clothing items and more. This week's top prize is a customized Obey 8F Drafter sports-car wrapped in the baroque Val-de-Grâce custom livery, so it's sure to turn heads as you do double the speed limit in a residential neighborhood.
DISCOUNTS
The key to any successful business is responsible budgeting and bookkeeping – whether or not your enterprise is quote-unquote legal doesn't change that in the slightest. Save money where it counts by taking advantage of the myriad of discounts on offer in GTA Online this week, including:
Obey 8F Drafter (Sports) – 35% off
Terrorbyte Upgrades – 40% off
MOC Renovations – 40% off
Avenger Renovations – 40% off
Facility Upgrades (excluding Orbital Cannon) – 40% off
Executive Office Renovations – 40% off
Executive Office Garages, Add-Ons & Renovations – 40% off
Special Cargo Warehouse, Add-Ons & Renovations – 40% off
Biker Businesses – 40% off
MC Clubhouse Renovations – 40% off
MC Clubhouse Bike Shop – 40% off
Bunker Renovations & Add-Ons – 40% off
Nightclub Renovations – 40% off
Hangar Workshop – 40% off
Hangar Renovations & Add-Ons – 40% off
TWITCH PRIME BENEFITS
In addition to an extra 10% off all of the discounts listed above, Twitch Prime members who connect their accounts with the Rockstar Social Club will receive the Pixel Pete's Arcade property in Paleto Bay for free (via rebate that will be received within 72 hours of purchase). To ensure access to future benefits, make sure to visit Twitch Prime and sign up.
Stay tuned to the Newswire for details on upcoming additions to GTA Online in the coming weeks, and head over to the Social Club Events page for all current special events, bonuses and discounts.
Check Rockstar Support for details and limitations.