Games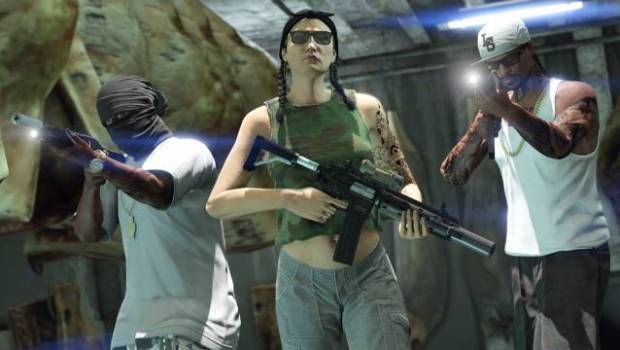 Published on April 24th, 2020 | by Adrian Gunning
New in GTA Online: Gerald's Last Play Missions, Plus Bonuses on All Contact Missions, Open Wheel Races, VIP Work, Salaries for Bodyguards and Associates, and More
Word on the street is that serious downturn is about to hit the black markets of Los Santos.
Gerald and the Families are losing market share to action from rival gangs. For Gerald, this could be a chance to cash out in the biggest way possible.
Gerald needs your help
Help Gerald score big while ensuring his drug-dealing and other criminal endeavors go smoothly across Los santos. Play solo or co-op as you battle rival gangs and stay one step ahead of the law in this brand-new series of Contact Missions.
Get 2X GTA$ and RP
And from April 23 – 29, get 2X GTA$ and RP in these as well as in other tasks from the disreputable collection of associates in your contact list.
Keep an eye on your iFruit for a text from the man himself and jump into six brand new Missions today, available solo or with up to three trusted associates in tow.
6 NEW MISSIONS
Make Ends Meat
This slaughterhouse isn't quite what it seems – Gerald's long-time rivals have been using it to put together product before taking it to the street. Deal with the rival gang members guarding the facility and get hold of their cook sheet, but it won't be easy as safe-cracking skills will be required.
Go Figure
A clever rival dealer has started stashing cocaine inside action figures and Gerald's picked up a tip that he hasn't been low key with his transactions. Collect the van then locate and recover the delivered figures…and be ready for anything.
Fast Peddling
Bikers are trying to muscle in on Gerald's business and are undercutting him at every corner. Help send the right kind of message by stealing supplies from their known businesses.
Deal With It
A deal's gone wrong and players need to locate the missing product Gerald has kept tabs on with a tracker, but rival gangs might also know this so it's up to players to source the goods, and keep the cops off the trail in the process.
Bad Companies
Gerald's had enough with a rival gang boss and is ready to take him out – but he has to find him first. To smoke out the rival leader you'll need to take out his crew.
End Product
Gerald is looking to unload all his merchandise in a big deal with a local buyer. Make sure this deal goes smoothly.
Enjoy Executive Privileges in GTA Online
Bonuses on Open Wheel Races, Contact Missions, Discounts on Offices and More
This week in GTA Online, we're celebrating the movers and shakers: that's right, this week is all about the modern executive.
White-collar criminals get a bad rep nowadays, and they're constantly being targeted by the rowdy, rambunctious underclass. That's why it pays to keep armed cronies close at hand: Associates and Bodyguards will earn Tripled Salaries for dealing with the riffraff. That's what those in the business industry like to call trickle-down economics. VIP Work and Challenges, meanwhile, are dishing out double.
Double Rewards: All Contact Missions
Whether you're assisting Gerald in his latest pursuit of financial security or hitting up some of the other illustrious criminal contacts in your phone for freelance opportunities, all Contact Missions are dispensing Double GTA$ and RP this week.
Triple Rewards: Open Wheel Races
Nothing says class and privilege like bringing the meeting offsite and taking in a day at the races. Especially when it's the high-speed, high-risk, high-reward of the Open Wheel Racing series, which is tripling all its prize purses through April 29.
Once you're done schmoozing with your fellow high rollers at the Blackjack table, stumble over to the lobby of The Diamond Casino & Resort and give the Lucky Wheel a spin to win cash, RP, clothing and accessories. This week's top prize is the holy grail of street racing: a customized Karin Sultan Classic wrapped in the brand's own Karin Performance Livery.
DISCOUNTS
Being an executive is a full-time job. It's not just about reading emails; some of them need to be replied to. Don't even get us started on the many status symbols you'll need to keep up with the rest of the C-suite.
Luckily, there are a range of offers and discounts up for grabs this week, specifically catered to the tastes of the one-percenter that lives in all of us. First there are the vehicles, like the lithe feline muscle of the Ocelot R88 (25% off) and the near-indestructible Armored Karin Kuruma (70% off).
25% Off Ocelot R88
70% Off Armored Karin Kuruma
Executive Offices & Real Estate
Then there are the deals on the Offices, Warehouses, Garages, as well as all their accessories and accoutrements. See below for the complete list and start diversifying the hell out of your portfolio.
50% Off Executive Offices

Maze Bank West
Arcadius Business Center
Lombank West
Maze Bank Tower

60% Off Executive Office Customizations

Interiors
Organization Name Change
Money Safe
Gun Locker
Accomodation

50% Off Office Garages and Office Garages Custom Auto Shop
50% Off Large Special Cargo Warehouses

Wholesale Furniture
West Vinewood Backlot
Xero Gas Factory
Logistics Depot
Bilgeco Warehouse
Walker & Sons Warehouse
Cypress Warehouses
Darnel Bros Warehouse

60% Off Office Garage Customizations

Interiors
Lighting
Signage
Twitch Prime Discounts 
Twitch Prime members who link their Twitch Prime and Rockstar Games Social Club accounts will receive 80% off the Buckingham Luxor and Buckingham Luxor Deluxe. To ensure access to these and future benefits, make sure to visit Twitch Prime and sign up.
Look out for more details in the coming weeks on future updates to GTA Online, and head over to the Social Club Events page for all the latest special events, bonuses and discounts.
Check Rockstar Support for details and limitations.
A portion of all proceed from Red Dead Online and GTA Online over April and May 2020 will go toward relief for those affected by COVID-19 – see here for details.