Comics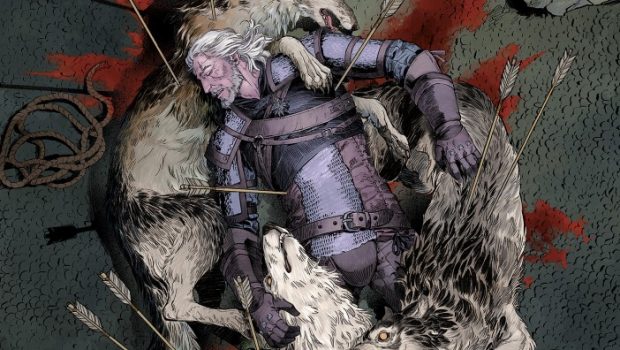 Published on July 7th, 2023 | by Adrian Gunning
NEW FOES IN A NEW LAND—THE WITCHER RETURNS IN THE WITCHER: WILD ANIMALS
In close collaboration with CD Projekt Red, Dark Horse Comics continues to explore the world of The Witcher in a brand new comic series,  The Witcher: Wild Animals. The four-issue miniseries is written by Bartosz Sztybor (The Witcher: Fading Memories, Cyberpunk 2077: You Have My Word) and introduces Ukrainian artist Nataliia Rerekina (Moonchosen), Silver Award-winner of the Japan-International Manga Award, in their U.S. comics debut. Colorist Patricio Delpeche (The Sandman Universe: Nightmare Country) and letterer Hassan Otsmane-Elhaou (The Unlikely Story of Felix and Macabber, All Eight Eyes) complete the series team, with variant cover offerings for issue #1 from acclaimed artists Manuele Fior (Hypericon, Sara Kipin (Poison Ivy: Thorns), and Matt Smith (Hellboy: The Bones of Giants).
Fan-favorite witcher Geralt is no stranger to jobs gone wrong, but washing ashore on a strange new land forces him into a conflict between the hunters who took him in and a mysterious clan known to kill humans. Where man and creatures coexist, there is an unspoken rule—one where the skills of a witcher go beyond killing monsters.
Enjoy a classic witcher adventure with monsters, grim musings, and carnage as The Witcher: Wild Animals takes readers to new places with unfamiliar faces in a story based on the hit games by CD Projekt Red!The Witcher: Wild Animals #1 (of 4) will be in comic shops on September 20, 2023. It is available for pre-order now at your local comic shop for $3.99.
Praise for The Witcher The Ballad of Two Wolves: 
"Feels like a side quest right out of the games, and I mean with the highest praise I can offer."—Comic Crusaders
"Fans of The Witcher series will find The Ballad of Two Wolves to be a welcome continuation of Geralt's adventures. The story by Bartosz Sztybor does a fine job of emulating the original novels of Andrzej Sapkowski, putting a dark twist on a classic fairy tale. The artwork by Miki Montllo is perfect, with fluid action, rich colors and distinctive character designs. Best of all, this story is easily accessible to anyone who hasn't played The Witcher games or seen the Netflix series. If you haven't explored the world of The Witcher before, this book is a perfect entry point."—Kabooooom
"This is a perfect introduction to a miniseries that already feels like an emblematic Witcher story."—ComicBook.com