Games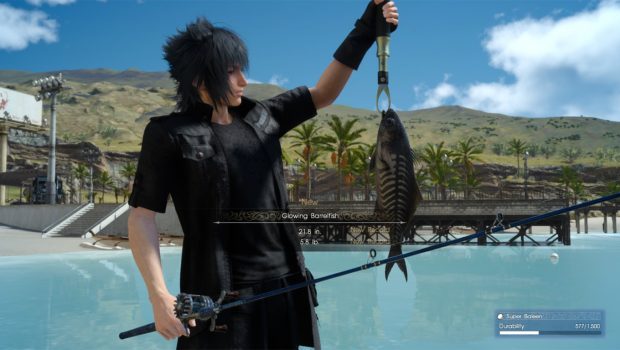 Published on February 21st, 2017 | by Admin
NEW FINAL FANTASY XV CONTENT INCLUDING BOOSTER PACK + AND NIER: AUTOMATA COLLABORATION NOW AVAILABLE A KING'S TALE AVAILABLE FOR FREE IN MARCH
Increased Level Cap, Powerful Weapon, Improved Fishing Gear and More

SYDNEY, 21st February 2017 – Square Enix Ltd., today launched the FINAL FANTASY® XV Booster Pack + DLC, now available to all Season Pass holders.
The Booster Pack + contains powerful items that gives players a potent combat advantage and improve their angling skills. These items include:
Ragnarok – A single-handed sword allowing players to perform a powerful Warp-strike attack
Dragon Drain – A fishing rod that suppresses the movement of fish, making harder fish easier to catch
Avior – A reel that can pull in fish with greater strength, by taking off more HP the lower the line durability falls
The Booster Pack (Free Version), free DLC that includes the Magitek Exosuit, will be released at a later date.
In another new update (1.05) released this week, two new music tracks from the upcoming action-RPG NieR: Automata™ ("Song of the Ancients/Destiny," "Weight of the World") have been added to the music player in FINAL FANTASY XV, letting players enjoy the atmosphere of the game's world while driving the Regalia, walking around or riding a chocobo. Several other additions and improvements include:
Addition of timed quests
Increased level cap, from 99 to 120
Total number of saved photos increased from 150 to 200
Music player is now accessible while riding chocobos
Support for increased framerate on PlayStation®4 Pro lite mode
A KING'S TALE™: FINAL FANTASY® XV, previously only available as a pre-order promotion will be free to all from 1st March – available to download via Xbox Games Store and the PlayStation® Store. A KING'S TALE: FINAL FANTASY XV is an action game with retro-styled graphics and fast-paced combat. Taking place a fictitious 30 years before FINAL FANTASY XV, the action centres around King Regis and his faithful companions (Weskham, Cid and Clarus) defending the royal capital from raiding monsters.
A KING'S TALE: FINAL FANTASY XV Key Features:
Deep Combat System – Combos, counters, and Regis' signature "Warp Strike" combine for lightning fast real-time combat that rewards fast reflexes and smart tactics.
Companions – Three distinct companions offer unique and new ways to attack as well as tailored super moves that deal massive damage.
Magic – Ignite the battlefield, freeze your enemies, or electrify your foes with Fire, Ice, and Lightning magic.
Summons – Call upon epic Astral entities to decimate your foes in jaw-dropping ways.

FINAL FANTASY XV is available now worldwide for the Xbox One and PlayStation®4 system. For more information on FINAL FANTASY XV, visit: http://www.finalfantasyxv.com/