Films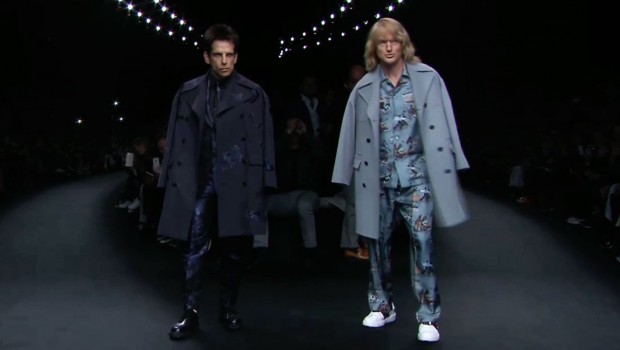 Published on February 21st, 2016 | by Damien Straker
New Film Reviews – Zoolander 2 and 45 Years
Reviewed by Damien Straker on the 21st of February 2016
Paramount presents a film by Ben Stiller
Produced by Stuart Cornfeld, Scott Rudin, Ben Stiller and Clayton Townsend
Written by John Hamburg, Ben Stiller, Nicholas Stoller and Justin Theroux
Starring: Ben Stiller, Owen Wilson, Will Ferrell, Penélope Cruz and Kristen Wiig
Music by Theodore Shapiro
Cinematography Dan Mindel
Edited by Greg Hayden
Running Time:
Rating: M
Release Date: the 12th of February 2016
Score: 3/5
The honesty film critics discuss refers to conceding that a film was poor and that the reviewer wasn't overwhelmed by the hype or the occasion. But admitting that one enjoyed a film that has been otherwise panned is equally as important. Zoolander 2 is not a great film or even essential but it fulfilled its overall purpose, which was to make me laugh. It is not a textbook example of consistency and comic genius but in spite of its patchiness it is funny and humorous, which springs it above some of the hyperbolic criticism and hysteria flung at it from critics recently. One popular and experienced critic proclaimed how he walked out of the film because life is too short. To me, this isn't close to a movie deserving of a walkout. Meanwhile, critics are happy to praise Deadpool, which didn't make me laugh at all like this did. Deadpool pumps up its volence and attitude and somehow that's justified as being clever and subversive. While not brilliant, at least Zoolander 2 and its predecessor can, unlike Deadpool, claim to be about something, particularly fleeting celebrity culture and narcissism. In the first film, Derek Zoolander (Ben Stiller) was a self-absorbed male model at the top of his game who was eventually eclipsed by his rival and fellow idiot Hansel (Owen Wilson). Together, they became embroiled in a brainwashing plot to kill the Malaysian Prime Minster at the hands of their nemesis Mugatu (Will Ferrell).
In this sequel, both Derek and Hansel have been forgotten by the world and are facing the prospect of parenthood as the film parodies the emphasis on the American family. Derek goes in search of his son who was taken away after the collapse of the reading centre. The film is essentially a silly spy caper. It misses the trippy, headspin feel of parodying the art world in favour of mocking films like The Dark Knight Rises, James Bond, and similar spy films. There are also too many cameos which lessens their impact. But when the jokes and lines work its very funny, starting with the opening where Justin Bieber is blown away but takes a selfie in his last moment. The wordplay in the dialogue is also clever such as when spy agent Valentina (Penelope Cruz) apologies to Derek and he replies: "None taken!" Some of the humour might seem cruel, such as when Derek and Hansel debate about whether being fat makes a character a terrible person, but its revealing their shallowness, a point also expressed when Derek crashes his car while using a selfie-stick. It's a ridiculous, often bizarre movie but very knowing of itself and the pop culture targets it paints on the self-absorbed, pretentious and vein. But now that he's made the same points again, Ben Stiller can move on because as shown in the Noah Baumbach films he's made recently he has the smarts to match his humour. He's no Derek Zoolander and he's sure as hell not Deadpool.
Reviewed by Damien Straker on the 21st of February 2016
Madman Films presents a film by Andrew Haigh
Produced by Tristan Goligher
Screenplay by David Constantine and Andrew Haigh, based on the short story "In Another County".
Starring: Charlotte Rampling, Tom Courtenay, Geraldine James
Cinematography Lol Crawley
Edited by Jonathan Alberts
Running Time: 95 minutes
Rating: M
Release Date: the 18th of February 2016
Score: 3.5/5
If you can stay with 45 Years' subdued filmic style there's much to admire. It is an extremely quiet and unsettling film that uses a very simple idea to create high tension, conflict and social ideas. The film stars Charlotte Rampling (Swimming Pool) as Kate, a woman who is living in a small house with her husband Geoff (Tom Courtenay). They've been married for forty-five years. One day, he reads a news story about a woman who has been discovered dead in the Alps. Before he met Kate, he knew that this woman died many years ago when they were on a mountain expedition together but because her body was frozen she was only found now. All this information and backstory is addressed through the dialogue alone and what amounts from these conversations is a story about deception and jealousy. The frequency through which Geoff he talks about this woman from his past sparks Kate into believing that if she were still alive today, she and her husband might not be together and that everything in the time they've know each other might be a lie or based on conditional love.
Both the mood of the film, specifically the cold locations and the boredom of a minor lifestyle, are matched with characters details that accumulate into a reflection of Geoff's dissatisfaction with the world. A repeated line is that he once called one of their friends a fascist because she liked Margaret Thatcher and at one point in a café he hides a book about climate change he's reading, indicating that the politics of their friends has drifted away from their beliefs. Similarly, when he visits a workplace he used to belong to he grumbles about how it's changed from what he experienced. He's blinded by the nostalgia of his once exciting life in the past, which impacts not only on his worldview but his feelings for his wife, including their sex life in one scene. It's always impressive when cinema draws upon memory as a concept and the film's visually silent but no less intense rendering of the past and memory is very simply the image of Kate sitting in an attic looking at a photograph and clicking through the screens of a slideshow. It's a film that tests your patience because of the gentle way its angst unfolds and the measured, glacial time it provides for Charlotte Rampling to display a master class of subtle, buried pain that surfaces in her eyes. Our reward for persisting with the cold atmosphere and paying attention is a strong finish, which memorably compiles all the drama and conflict of its two characters into one clear tug of a hand. That gesture alone is a great summary of how the film is at once quietly observant and punishing for its characters.