Hardware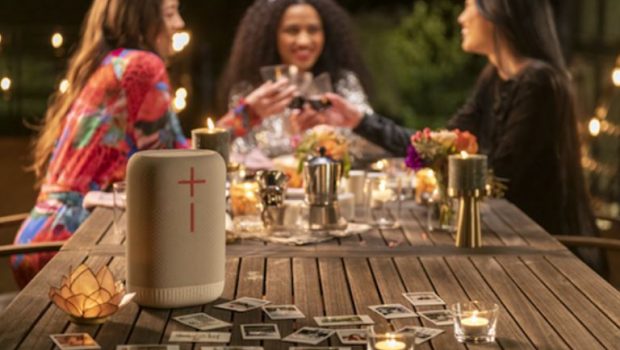 Published on September 6th, 2023 | by Adrian Gunning
New EPICBOOM Speaker Launches with Fresh, Portable Design and Huge 360° Sound
Ultimate Ears, a brand of Logitech (SIX: LOGN) (NASDAQ: LOGI), today announced the addition of EPICBOOM to its lineup of beloved portable BluetoothⓇ speakers. Made of 100% post-consumer recycled polyester fabric and a minimum of 59% post-consumer recycled plastic, EPICBOOM showcases an all-new, innovative, oval design that makes loud, 360° bassy sound more portable, unleashing an unexpectedly big sound for its size.
"We design our products with our customers and their lifestyles in mind," said Jonah Staw, general manager of Ultimate Ears. "Customers want huge sound in a conveniently portable package and that's what we have delivered with EPICBOOM. This speaker boasts our signature Ultimate Ears high-fidelity sound while delivering plenty of volume. We're excited to add EPICBOOM to our product portfolio. This speaker will no doubt be a part of life's epic moments."
Designed for big sound, built for epic moments 
EPICBOOM's oval design creates an impressive internal acoustic volume, and is coupled with a 4.6" woofer for bass clarity and immersive sound. With an IP67 rating, EPICBOOM is waterproof, dustproof, and floatable, making it the perfect companion for epic moments at home and outdoors. When you want to move a party from indoors to outdoors, EPICBOOM's internal microphone dynamically adjusts EQ and balances the sound accordingly, so you never miss a beat.
Product features 
EPICBOOM is available in two sleek colourways: Cotton White + Lipstick Red and Charcoal Black + Lime. The speaker allows for up to 17 hours of playtime and has a Bluetooth range of 55 metres. Instead of a fussy manual setup, the speaker has a one-touch NFC feature available for NFC-compatible smartphones with Android 8.0 or later. The sensor establishes a Bluetooth shortcut that allows users to simply power on, pair, connect, and play, also making it easy to switch between multiple people's playlists within seconds. Additional EPICBOOM features include an LED battery indicator and a USB-C connector.
All-new BOOM app 
Through the BOOM app, which is updated as of today, you can choose between different preset EQs including Signature, Bass Boost, Game/Cinema, Podcast/Vocal, and the all-new Deep Relaxation mode. You can also customise the mids, highs, and lows of the sound based on your personal preferences. These modes optimise sound for solo and group activities including yoga, meditation, parties, beach days, and more. The fan-favourite feature on the BOOM app, PartyUp, lets you pair multiple Ultimate Ears speakers together so you can kick your parties up a notch. Wirelessly connect EPICBOOM, BOOM, BOOM 2, BOOM 3, MEGABOOM, MEGABOOM 3 and HYPERBOOM speakers for the ultimate sound experience. And to get the party going in larger spaces, Outdoor Boost cranks up the bass even further.
Sustainability
Logitech's mission is to help all people pursue their passions in a way that is good for people and the planet. This means considering environmental and social impacts as part of every design decision, from the moment raw materials are sourced right through to the end-of-life of a product. EPICBOOM is made of 100% post-consumer recycled polyester fabric and a minimum of 59% post-consumer recycled plastic to give a second life to end-of-use plastic from consumer electronics. The paper packaging of EPICBOOM comes from FSC™-certified forests and other controlled sources. By choosing this product, you are supporting responsible management of the world's forests. All Logitech products are certified carbon neutral. We reduce the net carbon impact of Logitech products by designing for sustainability and using renewable energy where possible during manufacturing. We also compensate for our residual impact by purchasing high-quality, certified offsets and removals from forestry, renewable, and climate-impacted communities.
Pricing and Availability
Ultimate Ears's EPICBOOM will be available for purchase on www.ultimateears.com as well as retailers across Australia for a RRP of AUD $499.95 on September 25, 2023. For more information, please visit www.ultimateears.com or connect with us on Instagram.