Films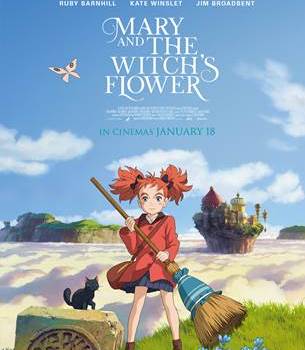 Published on December 5th, 2017 | by admin
New English Language Trailer Released For Studio Ponoc's Debut Film 'Mary and the Witch's Flower'
5 December, 2017 – The new English language trailer for the highly anticipated film MARY AND THE WITCH'S FLOWER has been released online today. The film marks the debut feature from the newly established Japanese animation house Studio Ponoc.
Based on Mary Stewart's beloved novel, 'The Little Broomstick', MARY AND THE WITCH'S FLOWER is a story about the courage that exists beyond magic and will sweep audiences along with its charming tale.
MARY AND THE WITCH'S FLOWER's voice cast includes Kate Winslet (Titanic), Ruby Barnhill (The BFG), Jim Broadbent (Paddington), Louis Ashbourne Serkis (Jungle Book), and Ewan Bremner (Wonder Woman). The film will also screen at select locations in original Japanese language.
Studio Ponoc was founded by producer Yoshiaki Nishimura (The Tale of the Princess Kaguya, When Marnie Was There) and director, Hiromasa Yonebayashi (Arrietty, When Marnie Was There) – both Oscar®-nominated former key staff from the unrivalled and world-renowned Studio Ghibli.
One day, while spending the summer with her great aunt, Mary follows an odd cat into the nearby woods. There she stumbles upon flowers which hold a strange, luminescent power that brings a broomstick to life — which then, in a heartbeat, whisks her above the clouds and off to a strange and secret place. It is here she finds Endor College – a school of magic!
Even though the penalties for imposters are harsh, Mary enters the Endor College campus. And despite a complete lack of magical knowledge, she demonstrates surprising promising abilities. However, she quickly discovers that all is not as it seems at the school – there have been strange experiments taking place behind closed doors, and all too soon, she comes face to face with great danger – and a life-changing choice.
MARY AND THE WITCH'S FLOWER is a must-see animated adventure for the summer and is releasing in cinemas on the 18th of January 2018. Learn more at: www.maryflower.com.au