Events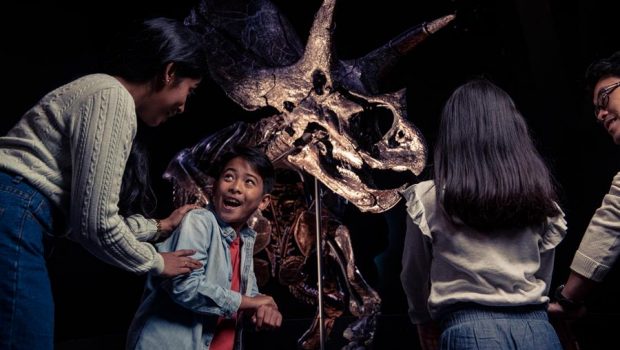 Published on March 23rd, 2022 | by Adrian Gunning
New DINO-mite activities across Museums Victoria for autumn school holidays
Get ready for some roar-some school holiday fun at Museums Victoria with activities for curious kids and their dino-loving families. From Saturday 9 April, learn about our newest resident Horridus the Triceratops with an array of programs for budding palaeontologists at Melbourne Museum, splash into Scienceworks to explore a wave of water-led activities, enjoy cultural festivities at Immigration Museum and experience exclusive new screenings at IMAX.
Triceratops Dino Dig
11 – 17 April | Federation Square | Free | Daily, 10am – 5pm
Children of all ages are invited to Fed Square to dig, discover and uncover fossilized Triceratops bones. The Melbourne Museum's Triceratops Dino Dig will be a not-to-be-missed immersive experience that will bring out the palaeontologist in everyone. Prizes are up for grabs, and families will be able to remember the day out with a dino-themed snap.
Complete your dino expedition at Melbourne Museum's Triceratops: Fate of the Dinosaurs exhibition.
Triceratops Masks
9 – 25 April | Daily, 11am-3pm
Celebrate the arrival of Horridus, one of the world's most complete Triceratops fossils at Melbourne Museum, by creating your very own 3D face mask! Crease, tuck and fold your mask into shape then decorate it with the Colours of the Cretaceous palette created by the exhibition's official Colour Partner, Coloursmith by Taubmans®. Fossil hunters and fashionistas of all ages welcome!
Triceratops in Technicolour
11 – 22 April | Surcharged | Dates and times vary
Create your own augmented reality Triceratops at Melbourne Museum. In this Learning Lab studio workshop, participants will engage with digital art technologies to design and colour a digital 'skin' for their very own augmented reality Triceratops. Starting with an immersive experience that shares behind-the-scenes knowledge of the discovery of the Triceratops, by the end of the workshop, participants receive a digital file which enables them to view their augmented reality Triceratops at home.
The (Very) Big Laugh Out
12 – 24 April | Free, bookings essential | Dates and times vary
Melbourne Museum and Melbourne International Comedy Festival present The (Very) Big Laugh Out! The best stand-up, physical and musical comedy performers.  It's exciting, it's surprising, it's unpredictable – it's The (Very) Big Laugh Out! A fabulous line-up of action-packed, free-flowing family fun running right through the school holidays. The best bit? It's totally FREE!
Open Horizons Family Weekend
23 – 25 April | 10am-5pm
Yiasou! Join us for a weekend of Hellenic-themed activities to celebrate the opening of our international exhibition Open Horizons: Ancient Greek Journeys and Connections. Enjoy exhibition talks, tours, delicious Greek food, and activities for children of all ages.
Road to Zero: Photo Booth & Direct your own TV ad
11 – 22 April | Dates and times vary
Learn about bike, scooter and skateboard safety and pick up tips to fit your helmet correctly. After correctly fitting your helmet, choose some props for a Polaroid photo to take home and to add to our Helmet Hero Wall.
Budding young directors can bring their vision to life by creating their very own road safety video advertisements using state-of-the-art technology. Young road users can design television advertisements about the importance of wearing helmets and protective gear when riding bikes, scooters and skateboards.
SEE THE FULL MELBOURNE MUSEUM SUMMER SCHOOL HOLIDAY PROGRAM HERE 
SCIENCEWORKS
The Water Hunt  
9 – 25 April | Daily
Gather your wits about you and go on a hunt for Wanda the water droplet.  We've hidden clues around Scienceworks for you to explore and uncover. Find the water sources and discover lots of science all around us! Can you spot all the Wandas and find the secret code to find a prize?
Tricky Sticky Water  
9 – 25 April | Daily, 11.30am & 1.30pm
Join us in the Scienceworks Amphitheatre for splishy splashy demonstrations exploring the weird and wonderful properties of water and why it's so important to look after this precious resource.
Discover the sticky nature of water and how it can do some amazing tricks. Look on in disbelief as water defies gravity, travels on a tight-rope, and performs other spectacular sticky tricks. Be prepared to have a splashing fun time learning about the special properties of water and why it is so important to look after this precious resource.
Pumping Station Tours  
9 – 25 April | Daily, 11.30am & 1.30pm
Hear some of the smelly stories from the straining well and explore the magnificent engine room as you marvel at the engineering feat that helped overcome the stench of 19th century Melbourne in our daily Pumping Station tours.
Lights, Energy, Action!
Daily | Surcharged | Daily, 12pm, 1pm, 2pm & 3pm
Explore all things ENERGY through three rounds of electrifying demonstrations. The show investigates different kinds of energy, including light, sound, electricity, and how they intertwine. We'll make lightning dance with our 'singing' Tesla coils and show how storing energy can produce explosive results. We'll also investigate how energy can change. Can you turn electricity into sound? What about sound into light? And what energy secrets can be revealed by a small, obscure crustacean? Including spectacular demonstrations, high voltage equipment and charismatic presenters, there's no better place to spark your curiosity.
SEE THE FULL SCIENCEWORKS SCHOOL HOLIDAY PROGRAM HERE 
IMMIGRATION MUSEUM
Night at the Museum: Minus 18 Youth Party
9 April | Free | Online | 7pm-10pm
An exclusive teen program broadcasting LIVE from Immigration Museum, Team Minus18 will be on the ground at the museum, to bring you an incredible digital live show of LGBTQIA+ performances.
Expect a high res, unforgettable night of LGBTQIA+ performers, live music, new pals, community vibes, youth pride, and QUEER EXCELLENCE.
Day at the Museum: Minus18 Pop Up 
13 April | Surcharged | 10am-3pm
Team Minus18 is hosting an in-person youth hang out at the Immigration Museum to explore the Becoming You exhibition. Meet the Minus18 Young Leaders and get drawing and participate in an Abbey Rich craft workshop (limited spaces, $5 per person). It's a low-key day to hang with your LGBTQIA+ youth community – come and go as you and hang as you please!
Clothes Revival Workshop with Abbey Rich
14 April | Surcharged | 10:30am, 12pm & 2pm
Learn sustainable ways to re-vitalise your wardrobe with artist Abbey Rich these school holidays. Abbey will teach you how to use bright colours, found objects, stamps and brushes to print and paint designs onto fabric.  You'll create your own designs and patterns to upcycle old clothes, tote bags, fabric scraps – you name it!
Ramadan at Immigration Museum
13 April & 20 April | Free, bookings essential | 11am-12pm
Join us these school holidays for Ramadan inspired stories and activities. Throughout the month of Ramadan drop in and make your own geometric tile and add it to our growing mosque.  During the school holidays join us for free multilingual story time sessions in Farsi and English, followed by lantern making workshops on Wednesday 13 and 20 April at 11am.
SEE THE FULL IMMIGRATION MUSEUM PROGRAM HERE 
IMAX MELBOURNE MUSEUM
ASTEROID HUNTERS 3D 
New for the Term 2 School Holidays, IMAX Melbourne is exclusively screening ASTEROID HUNTERS 3D, taking viewers deep into space for a fascinating look at asteroids, their cosmic origins and the potential threat they pose to our world. Narrated by Daisy Ridley, ASTEROID HUNTERS 3D interviews the best line of defence between Earth and an asteroid's destructive path – and reveals the cutting-edge tools and techniques they use to detect and track asteroids and the technology that may one day protect our planet.
DINOSAURS OF ANTARCTICA 3D 
To round out an epic dinosaur day at the Museum, guests can experience DINOSAURS OF ANTARCTICA 3D to see the amazing and bizarre prehistoric creatures, that inhabited Antarctic forests and swamps hundreds of millions of years ago, come to life.
Book with museum entry  or Book through IMAX