Games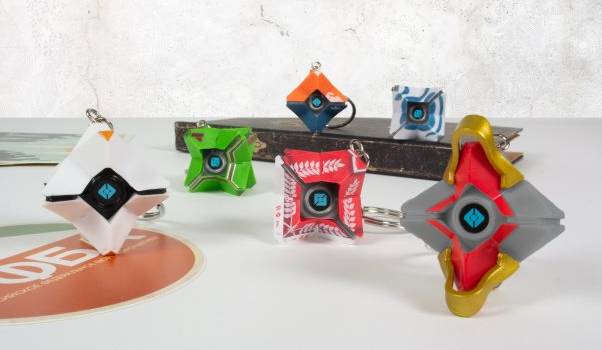 Published on July 31st, 2018 | by Admin
New Destiny 2 merchandise to celebrate Destiny 2: Forsaken expansion launch
Bungie and Numskull Designs are proud to formally announce the addition of an official series of Destiny 2 Ghost Shell 3D keychains to Numskull's range of pre-existing Destiny 2 merchandise, to celebrate the launch of Destiny 2: Forsaken, this Fall's highly anticipated expansion for Destiny 2, which is due for release on 4th September 2018 for PS4, Xbox One, and PC.
This series of Ghost Shell keychains will delight even the most casual Destiny player, as they represent six fan favourite Ghost models – the Generalist Shell Ghost, Cayde-6 Ghost, Kill Tracker Ghost, Lambda Ghost, Last City Ghost, and Hunter Ghost – in a collectible product range that make perfect companions for your keychains, or as replica miniatures to display on your desk.
In addition to this highly collectible series of Ghost keychains, Numskull has also updated its pre-existing range of official Destiny 2 merchandise with even more awesome goodies based on the hit franchise, including:
Engram Candle Set:
Get your very own real life Engrams, taken straight from the hit Destiny video game series! We created this awesome set of candles based on these iconic in-game items. Whether you light them for an immersive gaming experience, display them as ornaments, or simply want to add to your Destiny collection, these high quality candles are sure to put a smile on any Guardian's face!
Inspired by the Encrypted, Decoherent, Legendary, and Exotic Engrams from the game, this set includes four individual coloured candles.
Cayde-6 Graphic T-shirts:
Cayde-6 might just be the most popular character from the Destiny universe, thanks to his light-heartedness and general familiarity. These three vastly different Cayde-6 t-shirts (available in UK sizes XS – 2XL) let you to express your loyalty to the Hunter Vanguard, regardless of your personal style.
Cayde-6 Snapbacks:
Guardians need to look stylish while protecting their eyes from the Traveler's Light (and the sun), and these high quality Cayde-6 snapback hats more than fit the bill. With two completely unique variations, these are the perfect for any Destiny fan.
The full range of new and pre-existing items can be viewed here.
Designed, manufactured and distributed by UK based merchandise specialists Numskull Designs, the Destiny range has been supported by a long list of high profile retailers and distributors, in over 12 different countries.
The full range is now available for pre-order at Geekstore, and will also be available at retailers including Amazon, GAME UK & Spain, GameStop Italy & Ireland, Koch Media Germany, EB Games Australia & New Zealand, and many more from Sept 4th.
Visit http://www.numskull.co.uk for more information on stockists.