Games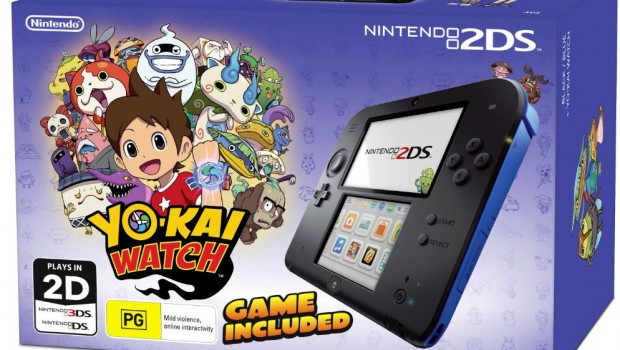 Published on October 29th, 2015 | by admin
New Console Bundles Heading to Australia and New Zealand in Time for the Holidays
29th October 2015 – With Christmas fast approaching, Nintendo is introducing a number of limited console bundles to get you started on some of the hottest current and upcoming games – one featuring Nintendo 2DS and the other featuring Wii U.
Firstly, to celebrate the launch of YO-KAI WATCH™ on 5th December, two value-bundles will arrive on the same day, each including a Nintendo 2DS system (Black/Blue or White/Red) with a copy of YO-KAI WATCH, all for a suggested retail price of AU$169.95! If purchased separately, the Nintendo 2DS hardware and game would have suggested retail prices of AU$149.95 and AU$59.95 respectively.
Nintendo 2DS plays all Nintendo 3DS and Nintendo DS games in 2D, and the system is designed to give first-time players an accessible entry point into the exciting world of Nintendo hand-held video games! The upcoming Japanese phenomenon YO-KAI WATCH makes for a great pairing, featuring hundreds of sometimes cute, sometimes spooky and usually mischievous Yo-kai that inhabit our world. Players must use their Yo-kai Watch to find Yo-kai, befriend them, and turn them into a team to battle other Yo-kai. More than 200 Yo-kai are hidden all around the world, and each Yo-kai has its own unique skills and strengths.
Coming soon on 5th November, the Mario Kart 8 + Splatoon Wii U Premium Pack will make its way to Australia and New Zealand at a suggested retail price of AU$439.95. Containing a black Wii U Premium pack console* and two of Nintendo's global million-selling multiplayer games – the anti-gravity racing action of Mario Kart 8 (pre-installed) and the colourful shooter Splatoon (download code**) – this Wii U bundle is the ideal bundle for anyone looking for instant fun at a great price.
If you're new to the world of Splatoon, it's a completely fresh take on the action shooter genre, where its online matches** pit two teams of four players against one another, competing to claim turf by covering it in their team's colourful ink. Players can splatter opponents, and after covering the level with ink, they can transform into squids and swim quickly through their own ink or use it to take cover and hide from enemies, making for a unique gameplay experience.
Whether you're looking for fun at home or on the go, Nintendo has you covered this Holidays with these new great-value console bundles.
* Wii U Premium Pack consists of: a Wii U console (black); Wii U GamePad (black); 32 GB internal flash memory, part of which is reserved for system data; Wii U GamePad Cradle; Wii U GamePad Stand; Wii U Console Stand; Wii U AC Adapter; Wii U GamePad AC Adapter; Sensor Bar; HDMI Cable (1.5m).
** Wireless broadband internet connection required.