Hardware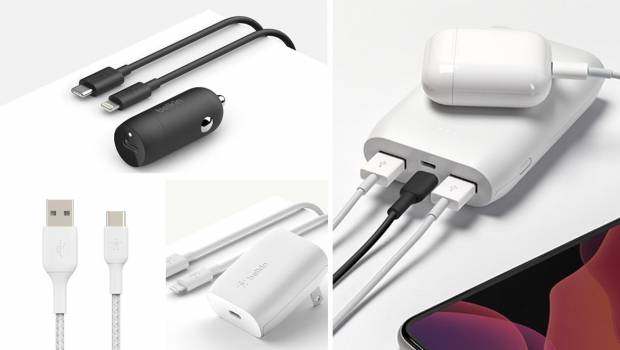 Published on June 4th, 2020 | by Adrian Gunning
New charging accessories from Belkin to keep you powered up all day
Check out these excellent charging options from Belkin and more importantly, perfect for tax-time!
The new range includes two USB Power Delivery (USB-PD) enabled chargers, including a wall charger for the home and a car charger for those on the go. USB-PD is a fast charging technology that is supported by certain iOS and Android devices, that delivers much higher levels of power than standard charging. USB-PD can charge your device up to 70% faster than standard 5W charging, delivering up to 100W of power.
Off the back of the success of Belkin's Pocket Power range, a new power bank is also being introduced to the mix, a new multi-port offering allowing you to charge up to three devices at once.
Belkin has also launched an alternate version of the popular 10W Wireless Charger, this time without an AC adapter to make for a more affordable option for consumers, as well as a new range of cables that vary from 15cm in length, up to 3m.
BOOST↑CHARGE USB-C Wall Charger 18W + USB-C to Lightning Cable | RRP $54.95 | Available from Belkin.com/au and leading technology retailers
A fast-charging solution for your home, this compact 18-watt wall charger offers USB-Power Delivery*. It can charge an iPhone 8 or later from zero to 50% battery in just 30 minutes with the included cable, and other smartphones/tablets at optimal speeds.* Purposely designed to be travel-friendly, this pocket-sized charger easily fits to any environment at home or when you're out and about. A connected equipment warranty protects your devices for added peace of mind. *Fast Charging for your USB-PD-enabled devices, including iPhone 8, iPhone X, XR, XS, iPhone 11
BOOST↑CHARGE USB-C Car Charger 18W + USB-C Cable with Lightning Connector| RRP $49.95 | Available from Belkin.com/au and JB Hi Fi, and other leading technology retailers
Make the most of travel-time when it comes to in-car charging with this sleek and nifty USB-Power Delivery enabled charger. It will fast charge your iPhone 8 or later from 0 to 50% in just 30 minutes, or enjoy optimal charging for other compatible devices with USB-C and USB-Power Delivery. Designed for high wattage and a seamless fit to your dash, this compact car charger measures in at only 54mm by 20mm. Despite its small size, this car charger has plenty of power to offer, with 18-watts and USB-Power Delivery to fast charge any compatible device.
BOOST↑CHARGE™ Power Bank 10K (Multi-port) | RRP $59.95 | Available from Belkin.com/au
Offering versatile power for up to three devices, this handy power bank has one USB-C port and two USB-A ports, to keep everything from your headphones to your smartwatch or smartphone powered up while you're on the go. With 10,000 mAh of power on board, you will get an additional 36 hours of battery life to your smartphone.*
* Maximum additional video playback hours calculated by comparing the mAh capacity of this power bank with the maximum video playback hours achievable by the iPhone 11 under normal conditions. Actual results will vary depending on differing factors for individual users.
BOOST↑CHARGE™ Braided Cable Range | RRP $19.95 (15cm) / $24.95 (1m) / $29.95 (2m) / $34.95 (3m) | Available from Belkin.com/au |
Help keep your devices charged and easily sync music or photos from any USB-A port with the new Boost Charge Braided Cable range. It comes in either USB-A to USB-C (for the latest USB-C enabled Android devices, such as the Samsung Galaxy S20), or USB-A to Lightning Connector (for iOS devices, such as the iPhone 11). Multiple lengths ranging from 15cm all the way up to 3m are available in either black or white, so you can find the perfect cable for any situation.
BOOST↑CHARGE™ Wireless Charging 10W (no adapter) | Pad: RRP $49.95 Stand: $59.95 | Available from Belkin.com/au
Use this fast wireless charging option for all of your Qi-enabled devices. Offering up to 10 watts of power, you will spend less time charging and more time on your device. Engineered to work with lightweight plastic cases up to 3mm, you will also be able to charge without removing your case. Foreign objects between your phone and charger can disrupt your charge and even lead to wireless chargers emitting unnecessary power that can melt your belongings. Charge with confidence as a white LED light indicates your phone is properly aligned and charging, while an amber light alerts you to the presence of a foreign object.