Hardware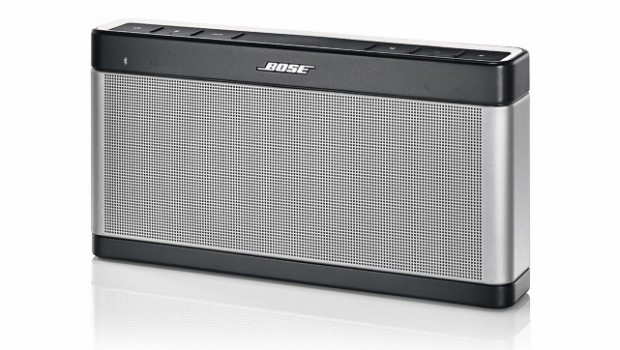 Published on February 7th, 2014 | by admin
New Bose® SoundLink® Bluetooth® Speaker III
7 February 2014 — Today, Bose has introduced the SoundLink® Bluetooth® speaker III, the latest in its acclaimed SoundLink® product line. The SoundLink® Bluetooth® speaker III is Bose's best-performing Bluetooth speaker yet, delivering a new level of audio performance, an all-new design, longer battery life, and accessory covers in five colours. It connects wirelessly to your smartphone, tablet or other Bluetooth device, instantly allowing you to share your favourite music out loud, wherever you are and wherever you go.
The new SoundLink® III integrates Bose proprietary technologies to reproduce music with fullness, clarity and depth. Four neodymium transducers and dual-opposing passive radiators combine with a new digital signal processing algorithm and improved electronics to play louder than its predecessor, while maintaining balanced and natural sound at higher listening levels.
The SoundLink® III is beautifully crafted and engineered for durability and grab-and-go use. Its new industrial design is inspired by the SoundLink® Mini Bluetooth® speaker — sturdily built, with curved edges and a thin profile that eliminates the need for a built-in cover or stand. A silicone button panel protects from dirt and dust, and a wraparound metal grille resists fingerprints. For personalisation and added protection, new accessory covers are available in gray, blue, green, orange and pink.
The SoundLink® III weighs just 1.36kg, and measures 12.7cm high, 25.4cm wide and only 5.1cm deep. It includes a rechargeable lithium-ion battery that provides up to 14 hours of listening, so the speaker will play all day long without the need to recharge.
The SoundLink® III streams music wirelessly via Bluetooth® A2DP, with a powerful antenna for reliable connectivity. New Bluetooth LED signal lights make pairing and/or switching a Bluetooth device easier. The six most recently used Bluetooth devices are stored in memory, eliminating the need to pair again. And control is simple: use the buttons on the top of the speaker, or through the smart device itself.
The Bose® SoundLink® Story Designed to work with most Bluetooth devices — iPhone®, iPad®, Android™ phones or other tablets — Bose® SoundLink® speakers have been globally recognised for delivering the category standard for audio performance, mobility and durability. First introduced in 2011, the original SoundLink® Mobile speaker quickly redefined Bluetooth speakers. It was updated in 2012 to offer even better audio quality. In June, 2013, the SoundLink® Mini Bluetooth® speaker joined the product line, instantly becoming a market leader in ultra-portable options. Today, the SoundLink® III pushes the boundaries further — sounding better, playing longer, and still built-to-last, with a new look and profile, and accessories to add and change colours.
Pricing and Availability The new SoundLink® Bluetooth® speaker III is now available and will retail for AU$399 (NZ$549). The SoundLink III will be available from authorised Bose resellers, Bose retail stores, Bose.com.au and Bose.co.nz and toll-free at 1800 173 371. Accessory covers are available separately for AU$49.95 (NZ$64.95) each.