Films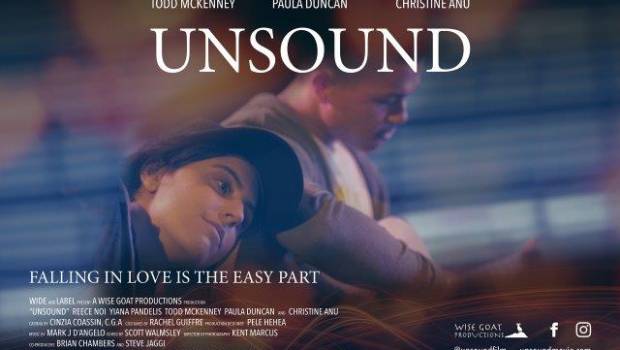 Published on October 15th, 2020 | by Admin
NEW AUSSIE FILM UNSOUND MAKING NOISE OVERSEAS AND AT HOME
Inclusive and diverse impossible love story, UNSOUND, has been making its mark in Australia and around the world.
"We wanted this story to make a difference to the lives of young people who are made to feel Other. We are so grateful that UNSOUND is making its mark around the world," says producer Tsu Shan Chambers.
When gigging guitarist, Noah (British actor Reece Noi, who has appeared in Game Of Thrones, When They See Us and Hit & Miss), quits the band of his '90s pop icon mentor (played by legendary Aussie singer Christine Anu), he returns to his mother's home in Sydney, seeking connection and rejuvenation. Clashing with his mother (screen icon Paula Duncan) over old wounds, Noah seeks solace elsewhere, and soon finds himself swept up in the vibrant, passionate life of a young, emerging trans-man, Finn (Yiana Pandelis), who is a proud, Auslan-only speaker who, together with his father (AUSLAN ambassador and renowned Australian entertainer Todd McKenney) runs a local centre and nightclub for his deaf community. Together, the pair traverse new ground, sharing their languages – Noah's music and Finn's signs – with one another.
In a huge boost for the film's makers, UNSOUND has scored a number of awards and festival appointments ahead of its Australian theatrical release in December through Filmink Presents.
After screening at Damn These Heels at The Utah Film Center in July and The CinefestOZ Film Festival in September, this deeply moving, ground-breaking drama will screen at The Warsaw International Film Festival (October 9-18); The Schlingel 25th International Film Festival For Children And Young Audiences (October 10-17); The 32nd Vienna International Children's Film Festival (November 14-22); The Seoul International Pride Film Festival (November); and The Hamburg International Queer Film Festival (October).
Boasting fine performances and top-tier tech credits, UNSOUND has also been drawing attention at a number of awards ceremonies around the world. Since its world premiere at The Mardi Gras Film Festival in January 2020, the big screen debut from veteran TV and theatre director Ian Watson, was a finalist for Best Fiction Feature at The 2020 ATOM Awards, Best Original Screenplay at The 2020 AWGIEs, Best Casting In A Feature Film at The Casting Guild Awards 2019 and Best Editing In A Feature Drama at The 2020 Australian Screen Editors Awards. UNSOUND also won Best Australian Feature Film at MQFF and is in contention for a number of AACTA Awards.
In short, it's been a dazzling debut for this local success story, which has also been picked up for distribution in Austria, Germany, Switzerland, UK, France, Poland, US and Canada.
"UNSOUND has been enjoying much well-deserved success," says Filmink Presents co- director, Dov Kornits. "It's a highly original film, and I can't wait for Australian audiences to see it on the big screen in December."
UNSOUND will release in Australian cinemas in December 2020