Hardware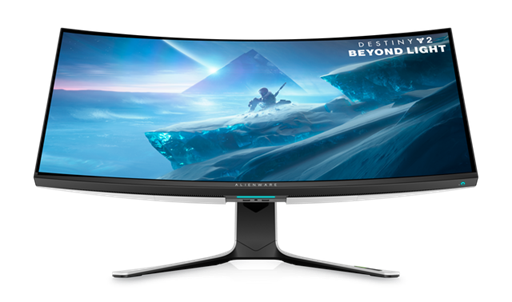 Published on October 9th, 2020 | by Adrian Gunning
New Alienware Products Deliver Performance Every Gamer Deserves
Alienware has always prided itself on creating high-performance PCs that power the most immersive gaming experiences on the planet. Never afraid to push the envelope is what has allowed Alienware to stand out in the gaming industry for decades.
This desire to drive innovation and performance continues to be reflected in our newest Alienware devices. We're not only bringing the latest & greatest technologies to market, but we're doing it in a way that pushes the design to the limit, giving our customers the ultimate battle station. With the newly announced NVIDIA® GeForce RTX™ 30 Series GPUs and 360Hz NVIDIA® G-SYNC® – combined with our engineering ingenuity – Alienware's gaming products take another giant leap forward in performance and provide stunning visuals.
Alienware Aurora gets cooler with custom graphics
Delivering the same high-level experience at home as it does in the world's most demanding esports arenas, the Alienware Aurora R11 is for gamers and creators everywhere. Available with custom-engineered NVIDIA GeForce RTX 30 Series GPUs and up to 10th Gen Intel® Core™ i9 10900KF processors, the new Aurora builds on its future-ready promise through a tool-less upgradable chassis.
Knowing gamers prioritise graphics performance, we've figured out a way to dissipate heat and give players an extra boost when they need it most.  Our brilliant engineering teams designed a custom graphics card built with cooling, airflow and efficiency in mind:
Extensive cooling – Our new thermal design includes quad 10mm copper heat pipes with integrated vapor chambers. This provides exceptional gaming performance and is our largest diameter heat pipe design to date.
Innovative airflow – The way air moves through the card is unique in itself—it's another Alienware first that includes a dual axial fan design with positive rear pressure relief. This allows heat to escape from specially located vents, helping to aid with flow and thermal management.
Maximum efficiency – These custom graphics cards have been designed to maximise space.  They are short (measuring 267mm in length), cover 2.5x PCI slots (vs. 3) and offer a 8-pin PCI-Express power connectors.
What does this mean for existing Aurora and Ryzen edition owners? It means to be on the lookout for these custom engineered GPUs. The unique design of the card's architecture will need to be based on NVIDIA's GeForce RTX 3080 and 3090, which will provide even more cooling to help you prioritise graphics performance and ensure your favourite games are running in turbo mode. When looking for these cards, double check to make sure you are getting the correct size.
Alienware Aurora R11 is available in Australia and New Zealand with NVIDIA's RTX 3080 and 3090 GPUs from 16 October, starting at AUD$5,199
Alienware monitors put innovation on display
We know that great visuals drive a great gaming experience. That's why we've pulled out all the stops to bring you a range of new Alienware gaming monitors that crank up the immersion in three different sizes.
Esports players demand blazing-fast refresh rates and incredibly low latency, and that's exactly what the Alienware 25 Gaming Monitor (AW2521H) delivers. This 24.5-inch model features the world's fastest refresh rate of 360Hz1 , 1ms grey to grey response time, FHD resolution and the revolutionary NVIDIA Reflex Latency Analyzer – a system latency measurement tool.  It detects clicks coming from the mouse and then measures the time it takes for the resulting pixels to change on screen, providing a much more complete and accurate understanding of the mouse, PC and monitor performance.  As part of Alienware's extensive ecosystem, our Alienware gaming mice (AW610M, AW510M and AW310M) are compatible with this revolutionary technology on our AW2521H monitor. Thanks to NVIDIA G-SYNC and fast IPS technology, PC games run buttery-smooth with virtually no screen tearing or blurring, while enjoying consistent colours from every angle.
Said differently: this monitor provides the motion clarity that's previously been unheard of until now. It's available in Australia and New Zealand from 27 November, starting at AUD$1,199 and NZ$1,397. This model is only available in dark side of the moon colour.
Our new Alienware 27 Gaming Monitor (AW2721D) offers lightning-fast 240Hz refresh rate, QHD resolution, 1ms grey to grey response time, NVIDIA G-SYNC ULTIMATE certification and captivating visuals with VESA DisplayHDR™ 600 for gamers to get that win. The fast IPS Nano Color screen ensures a rich and consistent colour experience at any angle. It's available in Australia and New Zealand from 27 November, starting at AUD$1,349 and NZ$1,559.
The Alienware 38 Gaming Monitor (AW3821DW) is designed to fully draw you into the game, featuring a 37.5-inch, fast IPS Nano Color curved screen and WQHD+ resolution. With NVIDIA G-SYNC ULTIMATE certification and VESA DisplayHDR™ 600, you can enjoy smooth, tear-free ultra-low latency gameplay coupled with strikingly realistic images. It's available in Australia and New Zealand from 27 November, starting at AUD$2,249 and NZ$2,589.
Alienware Area-51m with 360Hz panel for on-the-go gameplay
If mobility is important, while keeping the same powerful desktop performance, then look no further than the new Alienware Area-51m. Based on our Legend industrial design, the Area-51m stands apart as one of the most powerful gaming laptops in the world. Already the best 17" front-of-screen experience on the market, now we're taking that to the next level with a stunning 360Hz FHD panel that improves the visual experience with the smoothest, fast-paced gameplay.
The new Area-51m is equally impressive on the inside, with 10th Gen Intel® Core™ S-series processors, vapor chamber cooling and first-to-market 12-phase HyperEfficient Voltage Regulation to maintain power levels and drive performance for marathon game sessions. Available now starting from AU$4,899.
We're thrilled to share these announcements with you and the enhanced experiences they will provide whether you're a casual or competitive gamer. Let us know how you use, or plan to use your gaming PC!  Please tweet or Instagram your experiences @Alienware and tag #Alienware.
By Vivian Lien
[1] *Based on Dell analysis of publicly available display data, September 2020.