Hardware
Published on June 22nd, 2014 | by Admin
Network Video Recorder DNR-322L Review
Summary: The DNR-322L is a great asset in your security arsenal.
mydlink Network Video Recorder
Model No: DNR-322L
Product: Network Video Recorder
Company: D-Link
URL: http://www.dlink.com.au/home-solutions/mydlinktm-network-video-recorder
Cost: $329AUD (June 2014)
Reviewer: James Wright
Network security cameras (or IP cameras) are the eaisest way to monitor both your home, office and business that not only offers affordability but sometimes unparalleled quality, especially those cameras that support 1080p. Most network cameras have the ability to record video footage which includes e-mail notifications or direct uploads to your PC, and FTP.
Although when you start adding multiple cameras on your network, this is not ideal but one solution is the mydlink Network Video Recorder (DNR-322L) which plays an important role to security by not only being a standalone device but also allowing the user or users to access their security footage from anywhere in the world via the internet through their mydlink account. Best of all, there are no additional costs associated to this feature whatsoever.
Computer Specifications
| | |
| --- | --- |
| Computer | CPU: Pentium 4, 2.4 GHz, RAM: 512 MB, Web Browser: Internet Explorer 7 or above, Operating System: Windows7, Windows Vista 4 or Windows XPSP2², CD-ROM Drive |
| Storage | 1 x Internal 3.5″ SATA 2.0 hard drive, 2 x Hard drives (sold separately) for RAID |
| Internet Access | Cable or DSL modem, subscription with an Internet Service Provider (ISP) |
| Application | iPhone ,iPad or Android devices |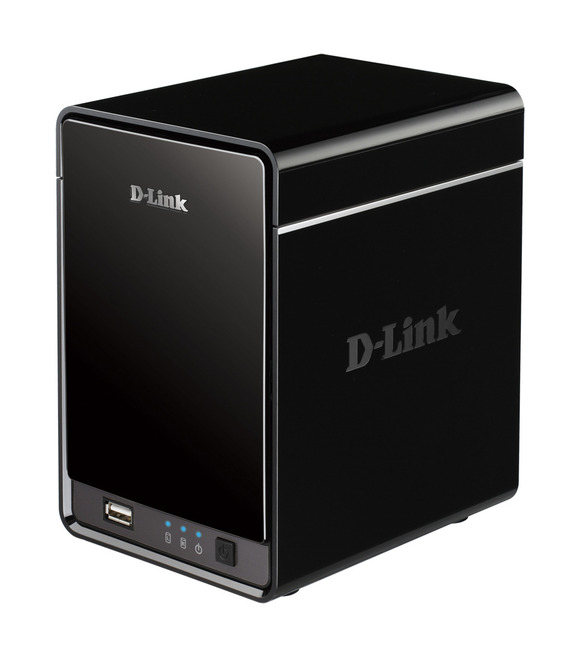 Product Highlights
Concurrent Viewing
Easy Setup and Configuration
Dependable Data Security
In essence, the DNR-322L is like a standalone security server for your network that directly connects to your router and while this product operates 24×7, it also part of the D-Link Green family which means it is eco-friendly and assists in keeping your power costs down.322L, they enter a standby mode and the silent fan is also used when the temperature increases.
In terms of hard drives, the unit is not shipped with any so it is up to the user to install one or two hard drives, depending on what needs to be monitored and recorded on their network. We tested the product with a 4TB Western Digital hard drive but it should also be noted that the DNR-322L can be configured for RAID 0 or RAID 1. Which ever configuration you choose, both work well.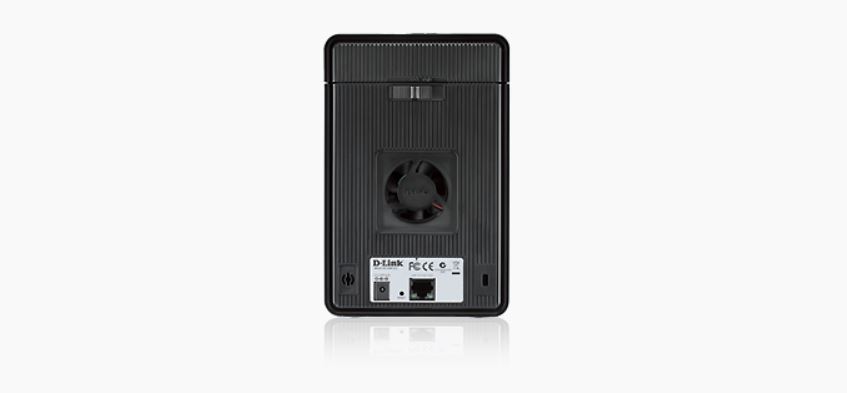 Features
USB Port(s) – 1
Video Channels – 9
Number of HDD(s) Supported (Bays) – 2
HDD Interface – SATA
Camera Compatibility – D-Link Cameras
mydlink-enabled
In terms of size, this little black box measures at 115 x 146.4 x 178.5 mm and weighs just under 1 kilograms at 0.875kg which is quite lightweight. On the front of the box near the bottom of the case, there is a USB port for UPS updates, three LED's (Left & Right Hard Drives and Power). Next to the LED's is a power switch. On the back of the case is the Gigabit Ethernet LAN port, a reset button and DC-in jack for the power cable. Overall it's a well designed product that is quite light, even with one or two hard drives installed into it.
Package Contents
DNR-322L 2-Bay mydlink NVR
Power Adapter
Ethernet Cable
Quick Installation Guide
Power Cable Holder
CD-ROM with:
Software
Product Documentation
The DNR-322L is also powered by the Linux operating system and the machine itself boasts 256MB of DDR II RAM plus 128MB of Flash ROM. Accessing the DNR-322L is done through your PC via a web interface that works quite well by accessing its IP address directly or through the mydlink website for remote access. This also solves the need for any tricking of the DNS as well.
In order to successfully install the DNR-322L, D-Link try to make the entire process as pain free as possible, however given the fickle nature of PC's, users may experience some issues. Thankfully D-Link have included a wizard on the installation the CD that takes the user through the process which includes putting in a SATA Hard Drive which just slides into the case and then connecting the power and Ethernet cable to the unit. Once the DNR-322L has the hard drive plugged in and it's connected to your network, the wizard will then proceed to format the hard drive which is the longest part of the process.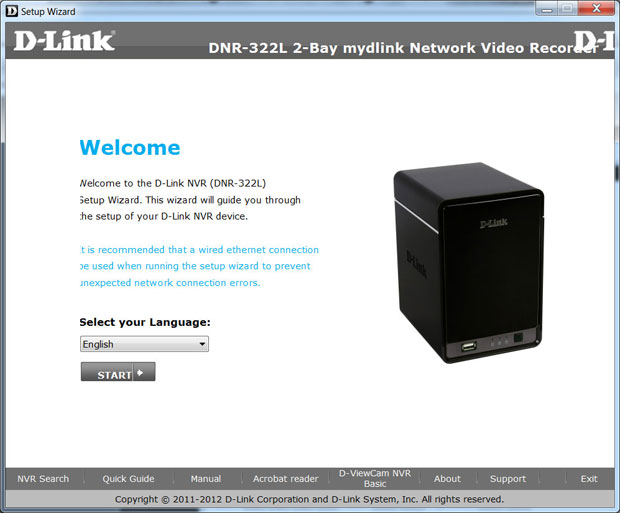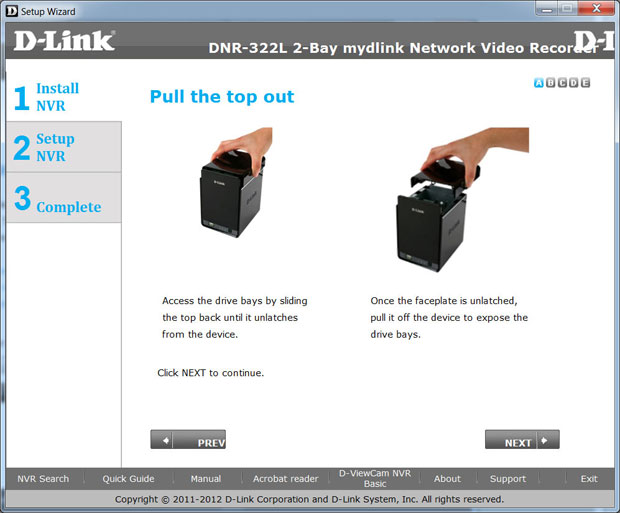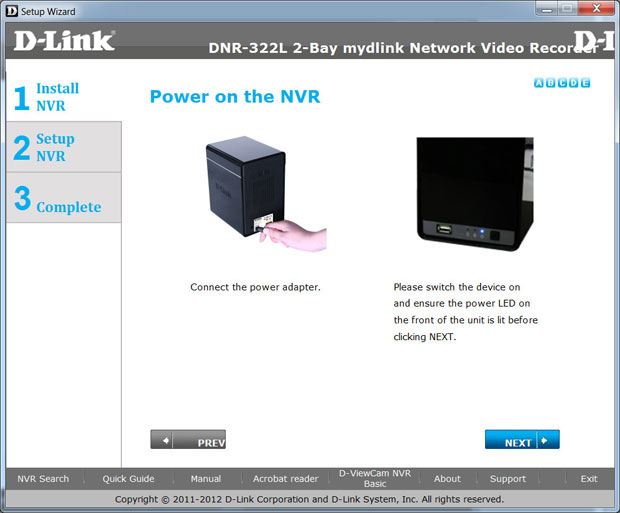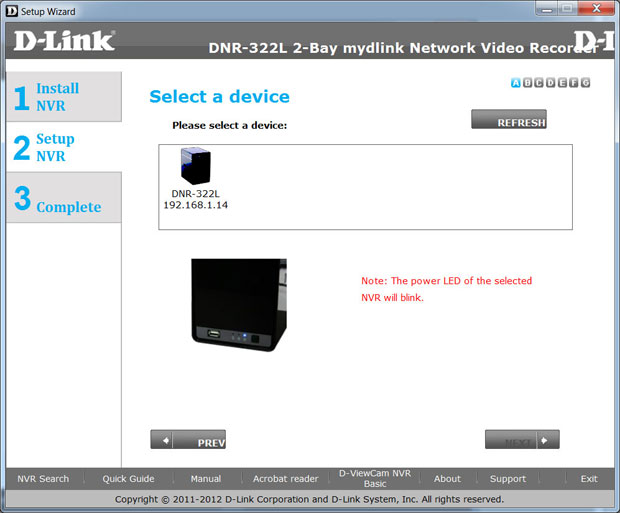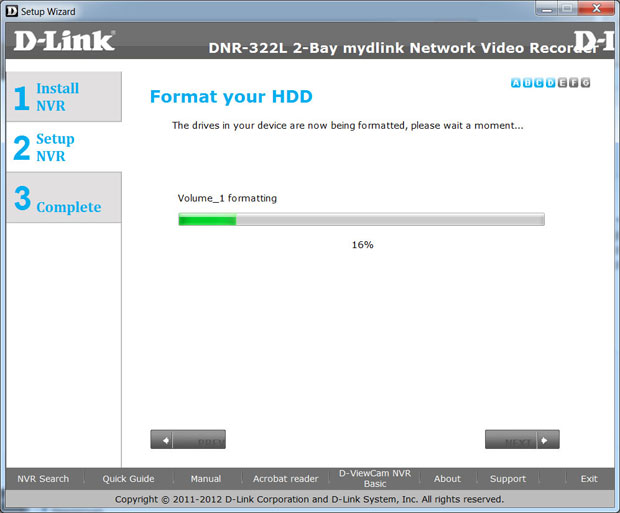 In terms of camera support, D-Link has a list of all their cameras which support this product at http://files.dlink.com.au/Products/DNR-322L/REV_A/SetupGuides/DNR-322L_Camera_&_HDD_Compatibility_List.pdf. It also lists what hard drives are compatible with this unit as well.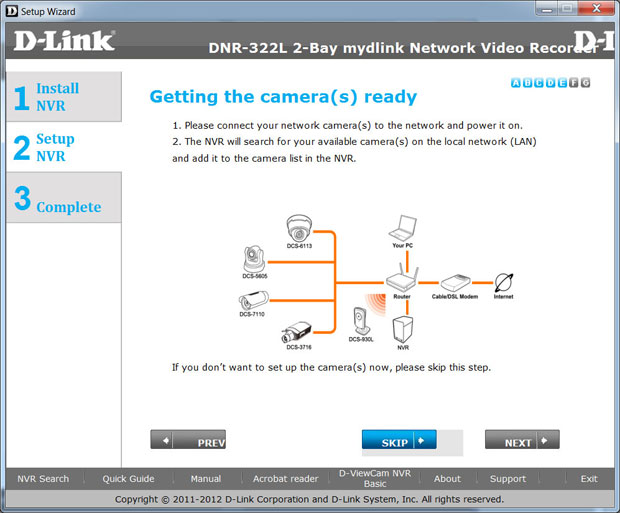 When the drive is formatted, the wizard will then scan your network for IP cameras and you simply click on the cameras you want this unit to monitor. You also have to register the unit with D-Link which gives you access to http://www.mdlink.com which allows you to access the DNR-322L remotely. The other way of accessing NVR is via its IP address directly such as 192.168.1.14 which gives you more control over the unit opposed to mydlink. With that said, we had a few issues in accessing both mydlink and its IP address directly.
The issue was with Active X on mydlink was through Internet Explorer 9 and then java. By installing Active X on the mydlink website, it allowed us to access the product remotely but we had a few issues with downloading Active X from the Singapore D-Link servers. The other issue with Java did not load the Live Video when connected to the IP address so we had to add a Java exception through the Java control panel. Nonetheless we solved the issues and if you do get stuck somewhere in the installation or everyday use of the camera, D-link do offer a great support system both online and offline that is 24/7. We also accessed the unit both through Internet Explorer 9 and Google Chrome.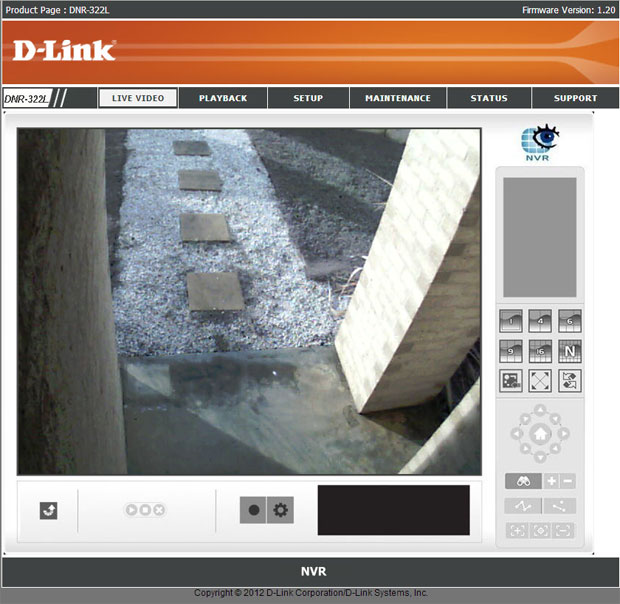 Once setup, you have your own security system silently monitoring and recording your network which allows you to watch live video from your various cameras, look at past footage and even create a recording schedule and other useful options such as e-mail setup, event notifications (camera triggers), maintenance options (e.g. firmware upgrades) and the overall status of your device.
For remotely access, the mydlink website is great for monitoring your network from anywhere in the world and via a multitude of devices. You do have similar options to accessing the DNR directly to its IP address such as Live Video, Setup and Playback and I also loved how you can control your cameras from either the IP address or mydlink website. Given that, both methods are a little basic but do the job well.
Hardware Specifications
| | |
| --- | --- |
| Standards | IEEE 802.3/u/z, Auto MDI/MDI-X, SATA I, II |
| Hard Disk Drive | Hard disk control & manage via PC, reformat disk, RAID 0, RAID 1, JBOD |
| Two Reset Modes | Reset firmware GUI button, HW reset button (press over 5 seconds) |
| Flash ROM | 128 MB |
| RAM | 256 MB DDR II |
| NIC Support | Gigabit Ethernet LAN port (10/100/1,000 Mb/s) |
| I/O Ports | RJ45 port, DC-in jack |
| Power Adapter | 12 V / 3 A |
| Reset Button | Reset to factory default |
| Security | Device lock hole |
| Power Consumption | Maximum Power Consumption: 25.20 W, Standby State Maximum Power Consumption: 0.23 W |
| Temperature | Operating: 32 to 131˚F (0 to 55˚C), Storage: -4 to 158˚F (-20 to 70˚C) |
| Humidity | Operating: 5 to 90% (non-condensing) |
| Dimensions (H x W x D) | 7.03 x 4.53 x 5.76″ (178.50 x 115.00 x 146.40 mm) |
| Weight | 1.93 lb (0.87 kg) |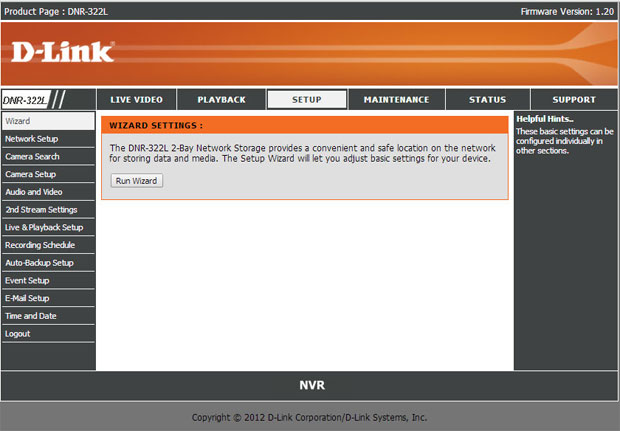 The highlight of this product is accessing pre-recorded footage which could be from triggers from each camera such as motion control, manual recordings or even scheduled recording such as making a particular camera record from 6pm to 8am in the morning. The camera also supports a variety of video modes that include everything up to FULL HD (1080p) recordings.
If you have used IP cameras before, you can send e-mail notifications to the users if something was triggered which then allows you log onto your network and either check the live footage from each camera or pre-recorded footage. With that said, this product is definitely ideal for homes or small businesses, especially with its ability to monitor 9 cameras simultaneously.
Video modes
Maximum Capacity (NVR Mode Only): H.264 1080P (bitrate): 90 Mb/s, H.264 720P (bitrate): 90 Mb/s, MJPEG 1080p (frame rate): 90 fps, MJPEG 720p (frame rate): 192 fps, Maximum Capacity (NVR + File Server Mode): H.264 1080P (bitrate): 68 Mb/s,, H.264 720P (bitrate): 68 Mb/s, MJPEG 1080p (frame rate): 70 fps, MJPEG 720P (frame rate): 150 fps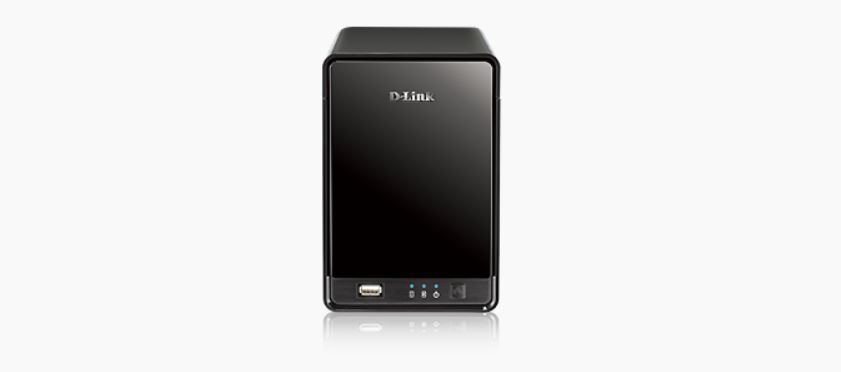 Final Thoughts?
The mydlink Network Video Recorder is a very powerful product that gives users wishing to monitor a home or office some great peace of mind, especially with the ability to easily access the product remotely. Currently the product costs $329 but if you add two 4TB hard drives, the cost does increase so you have to weigh up between a standalone unit or the DNR-322L. But with that said, you could virtually keep months of footage on these hard drives so its value definitely increases in terms of what it can do or store.
With that said, computers are fickle creatures and if you have issues with Java or Active X, things may not run as smoothly as you intended but once again D-Link offer excellent 24/7 support to get you over these bumps if you're not a computer expert. Overall, installation was easy, setup was relatively painless and although we encountered a few hiccups, these were easily resolved. With excellent video quality which of course is dependent on your cameras, the DNR-322L is a great asset in your security arsenal, provided you have D-link security cameras.
Specifications
OS
Linux
Camera Support
Supports all D-Link network cameras, includes support for auto-discovery and up to 3 Mp resolution
Recording Performance
Maximum Capacity (NVR Mode Only): H.264 1080P (bitrate): 90 Mb/s, H.264 720P (bitrate): 90 Mb/s, MJPEG 1080p (frame rate): 90 fps, MJPEG 720p (frame rate): 192 fps, Maximum Capacity (NVR + File Server Mode): H.264 1080P (bitrate): 68 Mb/s,, H.264 720P (bitrate): 68 Mb/s, MJPEG 1080p (frame rate): 70 fps, MJPEG 720P (frame rate): 150 fps

1

Please Note:

To enable the File Server function will affect the recording performance. It also differs by video compression.

close

Camera Search
UPnP
Recording
Synchronized audio and video recording
Compression Format
H.264, MPEG-4, M-JPEG (depends on the network cameras)
Video Setting
Resolution, quality, frame rate, enable audio, go to camera interface
Recording type
Record by schedule, manual record, and event recording (motion detection from camera)
Remote Live View
Supported via IE browser (Maximum. 9 simultaneous channels), supports mydlink portal via IE or other browsers (Maximum. 1 simultaneous channel)
Remote Live View Control
+ Live view, preset/go, patrol, focus, PTZ functions, snapshot, full screen, digital zoom, e-map, multiple view(1/4/6/9/16/25/36/48) with duplicated camera
Remote Playback
Supported via IE and NVR client, playback system with timeline GUI, search by event, area, cameras, date and time, IE & NVR client support 1 channel playback , digital zoom in to specific area
Remote Playback Control
Playback with normal, fast forward / rewind, and step forward / rewind
Overwrite Recording
Auto recycling when disk storage is full
Export
Export videos to AVI or ASF file, export images to BMP or JPG file
User Account
Additional accounts can be created to allow user access to the system, and specify authorization for the camera channels, PTZ, etc
DDNS
D-Link DDNS server support
System Time
Set the system time (D-Link NTP, Input time, Sync with computer)
Remote Backup
Remote software can back up raw data to redundant storage, auto back up video from the previous day to the FTP server
System Status
Camera and System status, still picture EMAP support
Network Service Protocols
IPV4, ARP, TCP, UDP, ICMP, DHCP Client, NTP Client (D-Link), DNS Client, DDNS Client (D-Link), SMTP Client, HTTP Server, PPPoE, UPnP , IP filtering
User Interface
mydlink web portal – Internet Explorer 7 or later, HTTP web browser – Internet Explorer 7 or later (32- bit OS only), NVR search utility