Hardware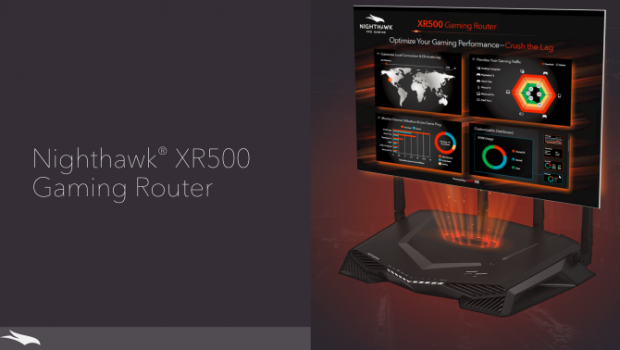 Published on June 1st, 2018 | by James Wright
Netgear XR500 Nighthawk Pro Gaming Router Review
Summary: The Netgear XR500 Nighthawk Pro Gaming Router is definitely built for gamers and contains some impressive features to ensure you get the best possible connection!
Welcome to Netgear's new XR500 Nighthawk Pro Gaming Router which has been designed for gamers in mind. At its core, the XR500 is a Wi-Fi Router that gives the user a wealth of features in order to maintain a stable connection and even the ability of geofiltering so that you connect to your closest designated server in order to reduce latency.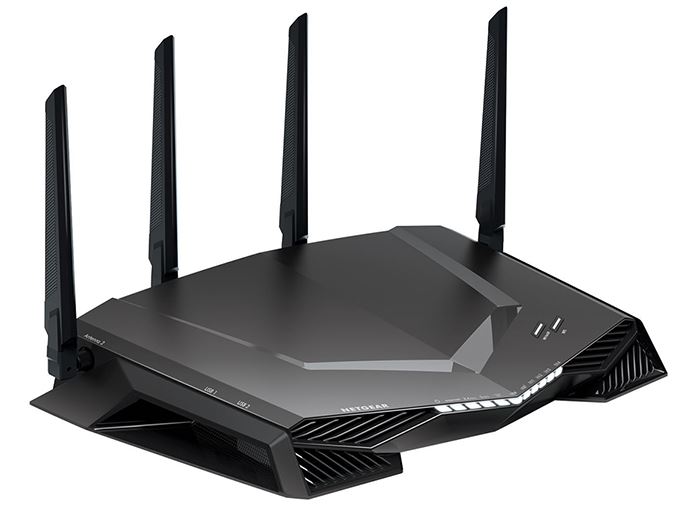 The theoretical speed of the XR500 is 1733Mpbs (5Ghz band) and 800Mbps (band 2.4Ghz) that puts it line with other class AC2600 routers. The unit is powered by a dual-core 1.7Ghz CPU with 512MB RAM and it includes MU-MIMO and beamforming to manage multiple devices and improve its wireless range.
Adding to its specification is the DFS technology which stands for Dynamic Frequency Selection and allows you to change to different frequencies on the 5Ghz band, provided your devices have this feature. Unlike the slower 2.4Ghz band, 5GHz is more prone to interference so hopefully DFS can eliminate these aspects. It also has the most impressive interface on any class AC2600 router which we'll get to a little later.
Netgear XR500 Features
IEEE 802.11 Standard: a/b/g/n/ac
Class: AC2600
Speed (Mbps): 2,533 (800+1,733)
CPU Processor: Dual core 1.7GHz
Frequency: Dual band (2.4GHz+5GHz)
RAM Memory: 512MB
Ethernet Ports: 1 Gigabit WAN; 4
Gigabit LAN: Flash Memory         256MB
USB Ports: 2 USB 3.0
Guest Wi-Fi: Yes
Antennas: 4×4 external (detachable)
Parental Controls: Yes
Spatial Streams: 4 (2.4GHz); 4 (5GHz)
MU-MIMO: Yes
Modulation: 256-QAM 5/6
Beamforming: Yes
Security: WPA/WPA2-PSK, WPS support
Setup: App or Browser
Size (cm): 32.25 x 24.x38 x 5.58
Weight (kg): 0.81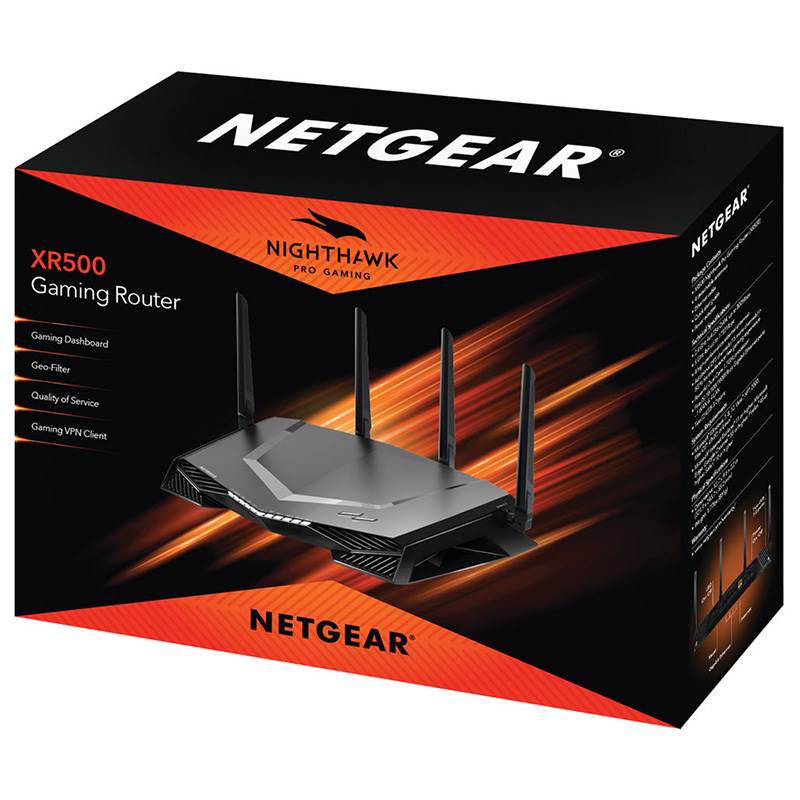 The first thing that I noticed about the XR500 was its futuristic design that looks like something out of the Transformers or some other blockbuster sci-fi film. Given that, it is on the larger side of routers that measures at 32.25 x 24.x38 x 5.58cm with a weight of just 0.81kg so you do need some space to house it. Inside the box, you get the power supply and an Ethernet cable to connect it to your PC.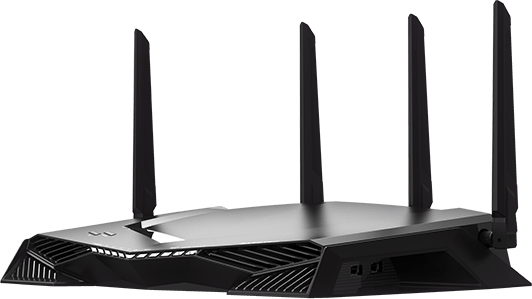 Supporting its design for range and speed, it has four dual-band antennas (2.4Ghz, 5Ghz) and as mentioned beamforming which helps target your Wi-Fi signal to ensure a stronger connection. It even has two accessible USB 3.0 ports on the side of the XR500 which allows you to connect external hard drives or printers to share.
On the front of the Netgear XR500 Nighthawk Pro Gaming Router are the LED's which includes power, internet, 2.4Ghz, 5Ghz, Guest Wi-Fi, USB 1, USB 2, Eth 1 (Ethernet), Eth 2, Eth 3 and Eth 4. These easily allow you to quickly glance at the router to see what it is doing thanks to the careful positioning by Netgear.
The top of the router has a Wi-Fi button that allows you to turn this feature on or off plus a WPS (Wi-Fi Protected Setup) button to help connect other devices which support this feature. WPS is a great feature because all you do is push the button on the router and then your device and presto, a connection is established.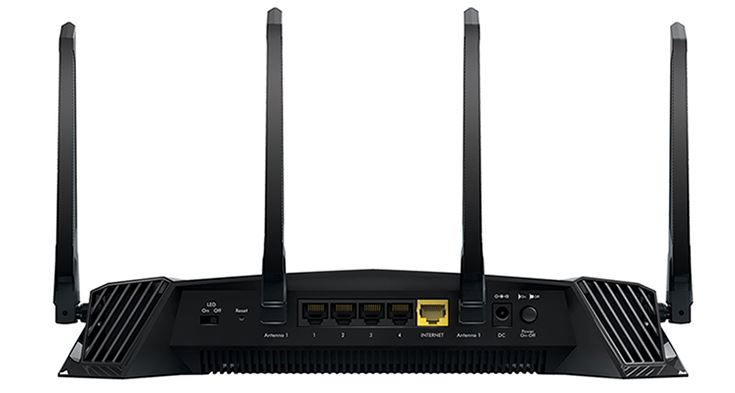 On the back of the router are four gigabit LAN ports, one gigabit WAN port, a DC power port, reset button, power button and interestingly, a switch to disable the LED lights on the front if you want to get fully immersed into your gaming. All in all, it's a well-designed product which gives you easy access to all facets of the product, including what the XR500 is up with a quick glance courtesy of the LED's.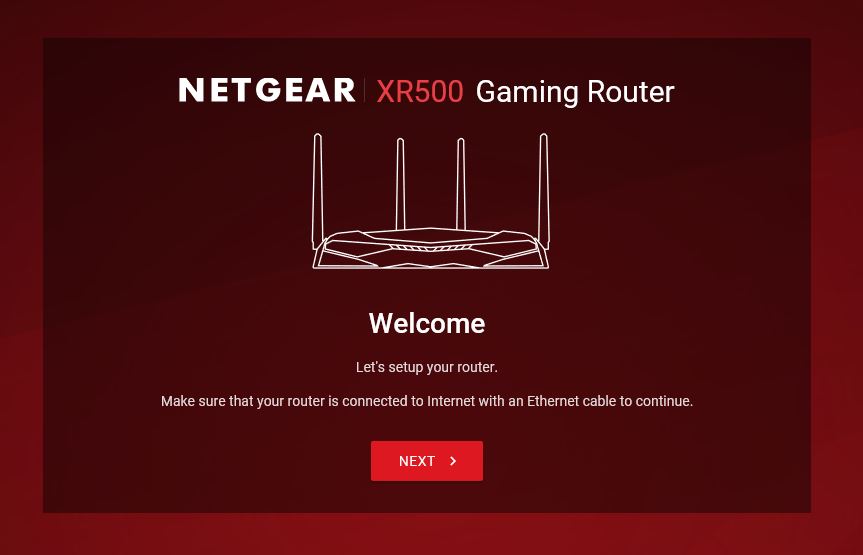 Setting up the Netgear XR500 Nighthawk Pro Gaming Router is a relatively easy process and thanks to the wizard, we had the device up and running in just a few minutes as we entered our Telstra account details for the NBN. Like other high-end routers, the XR500 will choose the best band for your devices and you can even have the same Wi-Fi connection name for both bands. The wizard even checks if you have the latest firmware installed as well.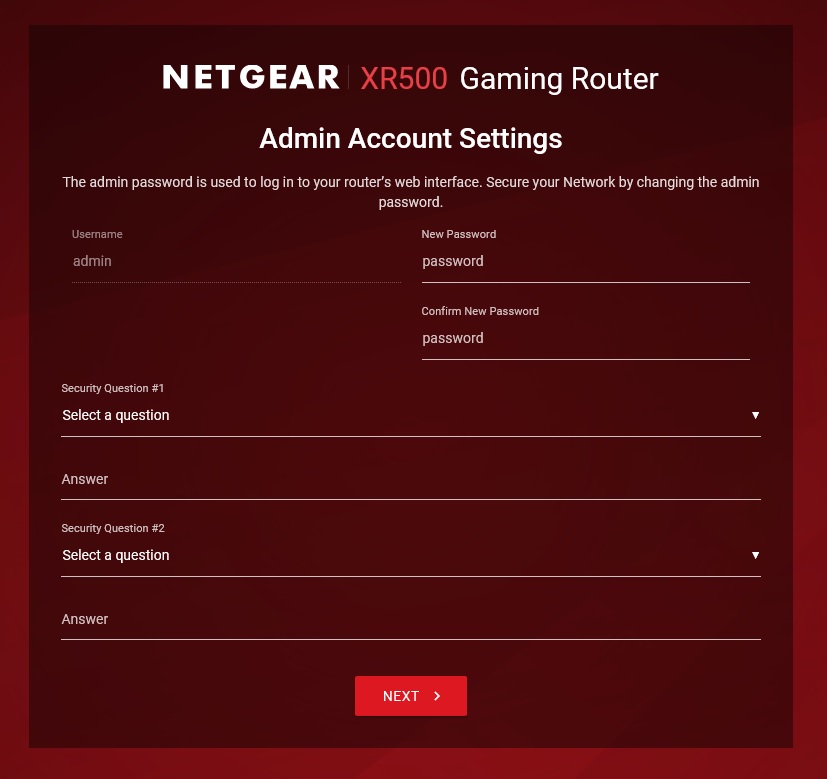 The XR500 is powered by the DumaOS which is not only responsive but quite easy to navigate, including a tutorial and even tips to ensure the best connection possible. Even if you have no IT knowledge, the DumaOS is very comprehensive to tweak, particularly from a gaming point of view. I also enjoyed the option of tweaking the dashboard and really gives you some great customisation options as you move modules around. For those gamers that want to play locally, you can set the geofiltering (e.g. a radius of 1000km) of the XR500 which can limited your servers to Australia or Australasia. Given our distance in Australia, this may cause some complications for certain games that have servers in other countries.
In terms of speed, the performance of the X500 was quite competent and on the 2.4Ghz band, the highest speed was 178Mbps and even at 20metres away, it scored a respectable 141Mbps. On the faster 5Ghz band, the XR500 managed to secure 840Mpbs at its fastest speed and at 20metres away, it dropped to 208Mpbs. Although it's not the fastest router available, the speeds produced by the XR500 were decent and I could still comfortably surf the internet from the furthest point in my backyard… you just wouldn't want to be playing games.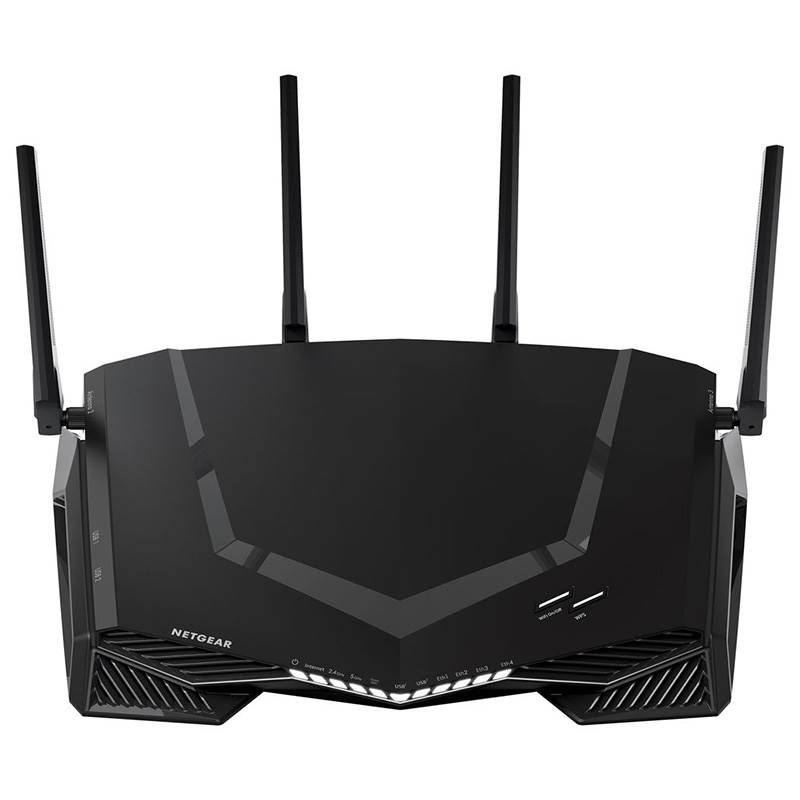 Another benefit of the XR500 is that if you are sharing your router with other users at home and need the most bandwidth for gaming, you can adjust the QoS setting with its Anti-Bufferbloat feature that basically gives your console or PC the majority of the bandwidth. This is ideal if you have someone in your house who is only using Facebook or surfing the net as they only need a fraction of the bandwidth and you can even adjust the download/upload speed of other devices. Needless to say the amount of tweaking on this router is quite impressive!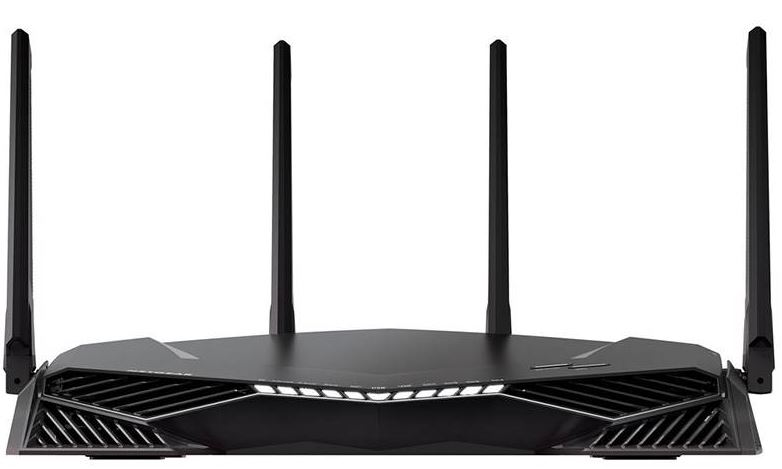 Final Thoughts?
In conclusion, the Netgear XR500 Nighthawk Pro Gaming Router is definitely up there with some of the best routers that I've tested for this magazine and others. Not only is it fast but we had no issues with connections to our devices with a stable speed. More importantly, it gives you a holistic look at your network and what devices or apps may be hogging your connection, including the ability to easily tweak the bandwidth.