Hardware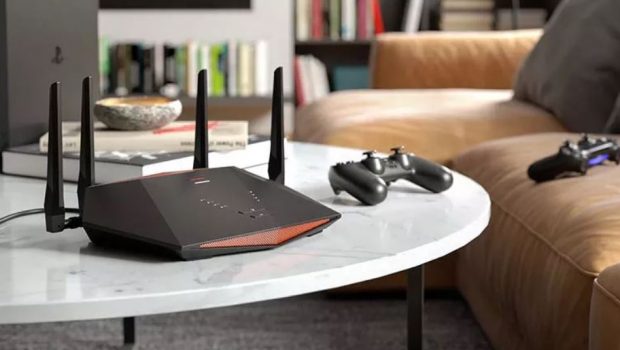 Published on October 16th, 2021 | by James Wright
NETGEAR XR1000 NIGHTHAWK GAMING ROUTER REVIEW
Summary: The Netgear XR1000 Nighthawk Gaming Router is built for gamers!
For seamless gaming, streaming, or browsing at home, the NETGEAR Nighthawk XR1000 WiFi6 Pro Gaming Router offers stable, high-speed connections across multiple devices with reduced interference
– Netgear
As gamers know, your connection to the internet, particularly over Wi-Fi can greatly influence your gaming experience, including dictating your victory… and loss. This is where the Netgear XR1000 Nighthawk Gaming Router comes into play and while it is more expensive than the standard router, it comes with a wealth of features to help ensure a stable and fast connection.
Some of these features include the latest high speed Wi-Fi 6 connectivity (up to a theoretical 4.8Gbps), USB 3.0, beamforming, 128-bit AES encryption that is powered by a 1.5Hz Triple-Core processor with 512MB of RAM plus 256MB of flash memory to ensure the router doesn't miss a beat, including an O/S created for gamers. With the latest tech that includes ultra-wide 160Mhz data channels with MU-MIMO and choice of both 2.4Ghz and 5Ghz bands, it's perfect for gaming, however the router works great for other devices as well, especially those that love their Netflix or Disney+ streaming services.
.
.
Highlights
Powered by DumaOS 3.0
Enjoy fast online gaming and smooth streaming with the router operating system built especially for gamers.
Geofencing
Customise, and filter which game servers you play on for an elevated gaming experience
Ping heat map
Ping your favourite game servers to display your connection quality to each server on a world map
Connection benchmark
Test your connection speed, ping, and performance under peak congestion
 Bandwidth allocation (QOS)
Prioritize gaming devices, and allocate the bandwidth per device or application
 Traffic controller
Blocks the traffic by device or application on a schedule
4.5 times of AC performance
Six-stream Wi-Fi with up to 5.4 Gbps for fast wireless speeds
160MHz channel support
Enjoy greater than 1 Gbps Wi-Fi speeds for fast streaming and downloading to newer mobile devices
Superspeed USB 3.0 port
Up to 10x faster than typical USB 2.0, it enables faster streaming, backup, and easy access to your stored media
Five Gigabit ports
Connect more wired devices for faster file transfer and uninterrupted connections with one WAN and four LAN Ethernet ports
Maximise range
Four high-power external antennas extend the wireless range coverage indoors and out
Beamforming+
Improve the range and performance for both 2.4 and 5GHz devices
Additional DFS channels
Reduce interference from neighbouring networks
Smart Connect
Intelligently selects the fastest Wi-Fi band for every device connection. One Wi-Fi name for the entire home
Nighthawk app
Easily set up your router and get more out of your Wi-Fi. Includes remote access to manage your network away from home
NETGEAR Armor
Cybersecurity for your home. Advanced cyber threat protection for your home network and your connected devices
 Automatic firmware update
Delivers the latest security patches to the router
Latest security standard
Supports WPA3, the latest and quality Wi-Fi security protocol
 Antivirus and ransomware protection
Keeps you safe from phishing and online fraud
 Vulnerability assessment
Scans and identifies network security flaws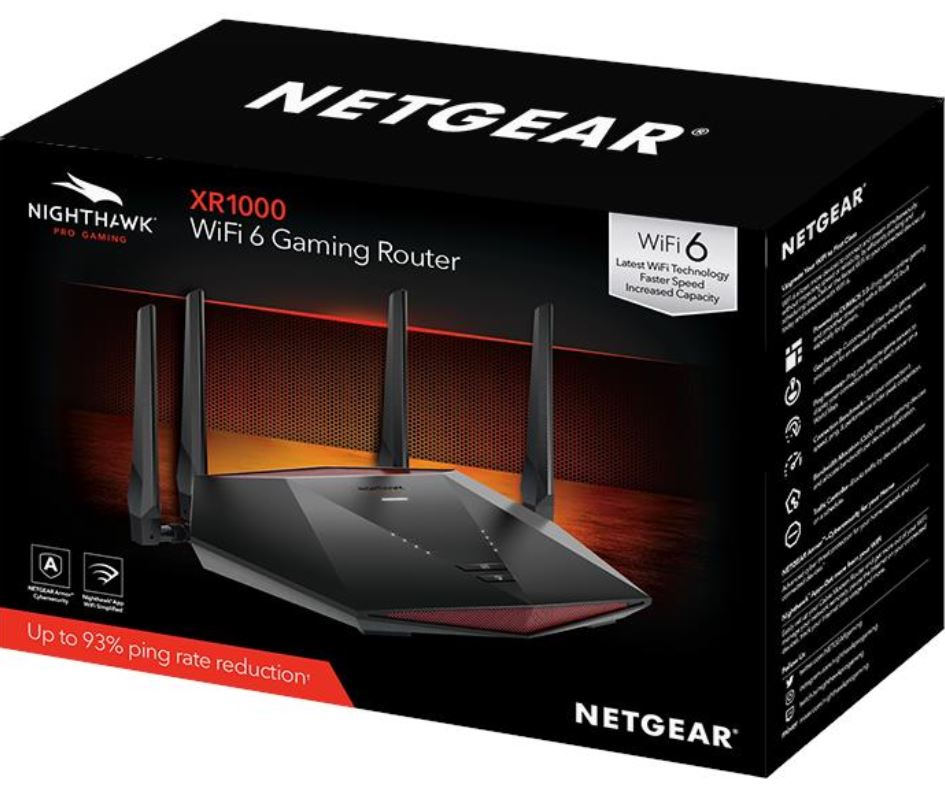 Box Contents
1x WiFi6 Pro Gaming Router (XR1000)
4x Detachable Antennas
1x Ethernet Cable
1x Quick Start Guide
1x Power Adapter
Out of the box, the XR1000 is a well-built and designed product with a measurement of 29.4cm x 20cm x 6.35cm and a weight of 600 grams. It also looks different than regular routers and aesthetically looks alien or robotic which does suit the market demographics of this device well. There are also four detachable antennas on the Nighthawk that also need to be connected by the user. For additional peace of mind it comes with Netgear's 24-month warranty.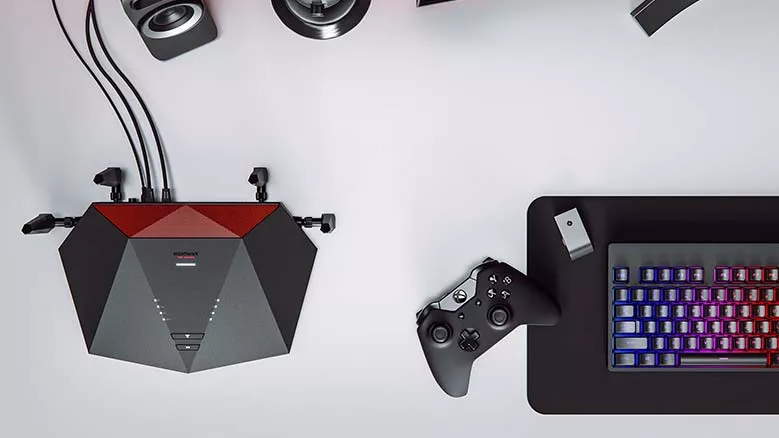 On the front besides the handy informative coloured lights (red is bad) you will find a handy Wi-Fi on/off button plus the WPS button, whereas on the back, there is an on/off switch and reset button. The ports on the back include USB 3.0, 4 x Gigabit Ethernet and Internet with the later connecting to your modem. Given that, buttons and ports are well placed on the Netgear XR1000 Nighthawk Gaming Router.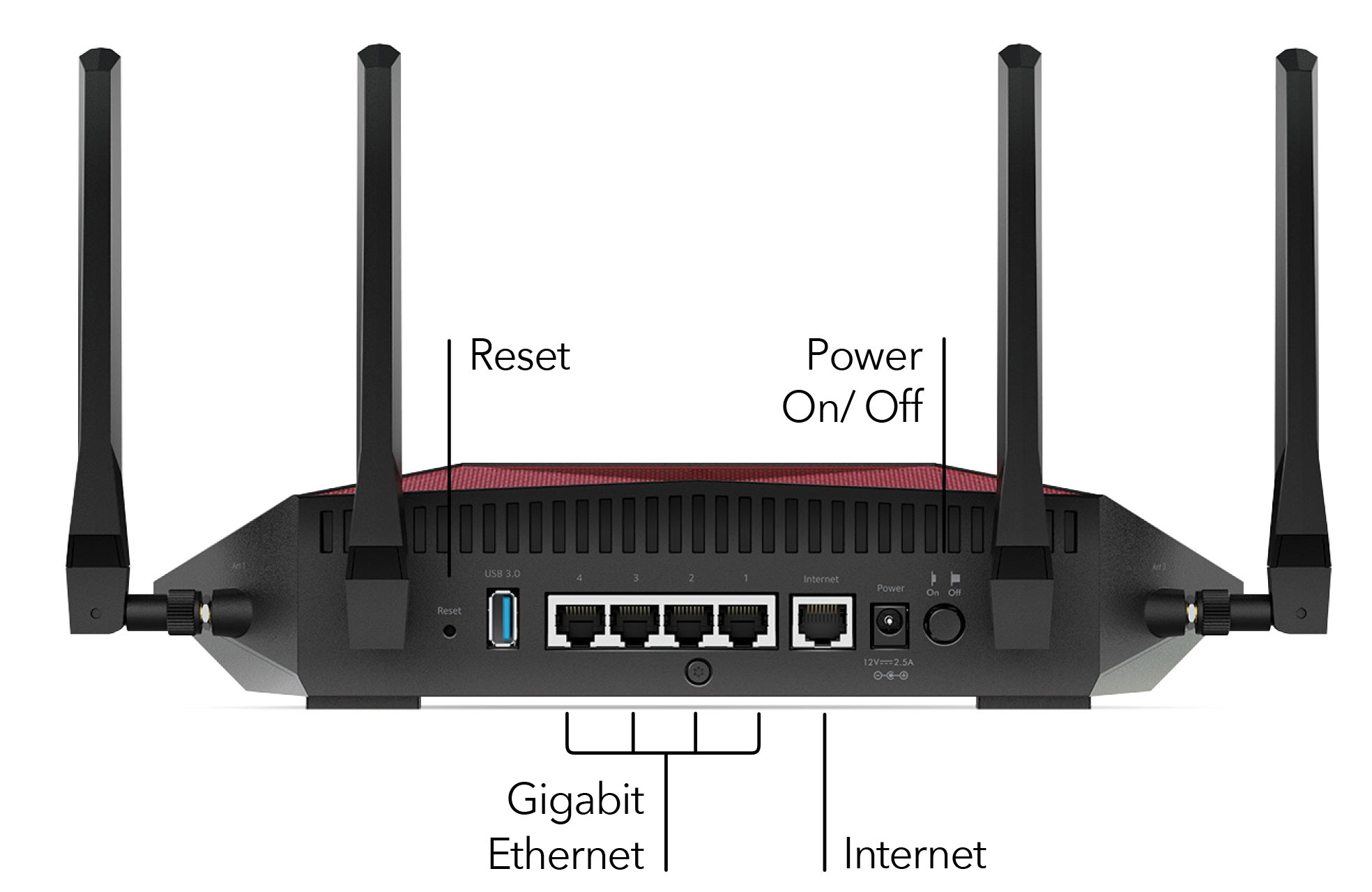 Setting up the router to your existing internet connection is easy and by downloading the Netgear app for either Apple or Android, it takes you through the setup process, including the steps needed to connect your modem to the device. You'll be up and running in no time and best of all, the app is a great way to keep an eye on your network. For purists, you can access the router vi routerlogin.net through a browser for setup which also gives you considerably more detail and control over the XR1000 opposed to the app.
The XR1000 is also powered by the DumaOS which has been designed to support gamers that includes an intuitive dashboard which highlights your network overview, CPU usage, internet status and wireless status. However the highlight for gaming is the Geo-Filter which searches for the best gamer servers plus an insightful ping heatmap which gives you a great insight into your favourite servers. It also comes with the usual router features from QoS, device manager, settings, security (requires subscription) and a network monitor as some of the additional features in the DumaOS. Needless to say, a well designed and clever operating system for the router with gaming at the forefront.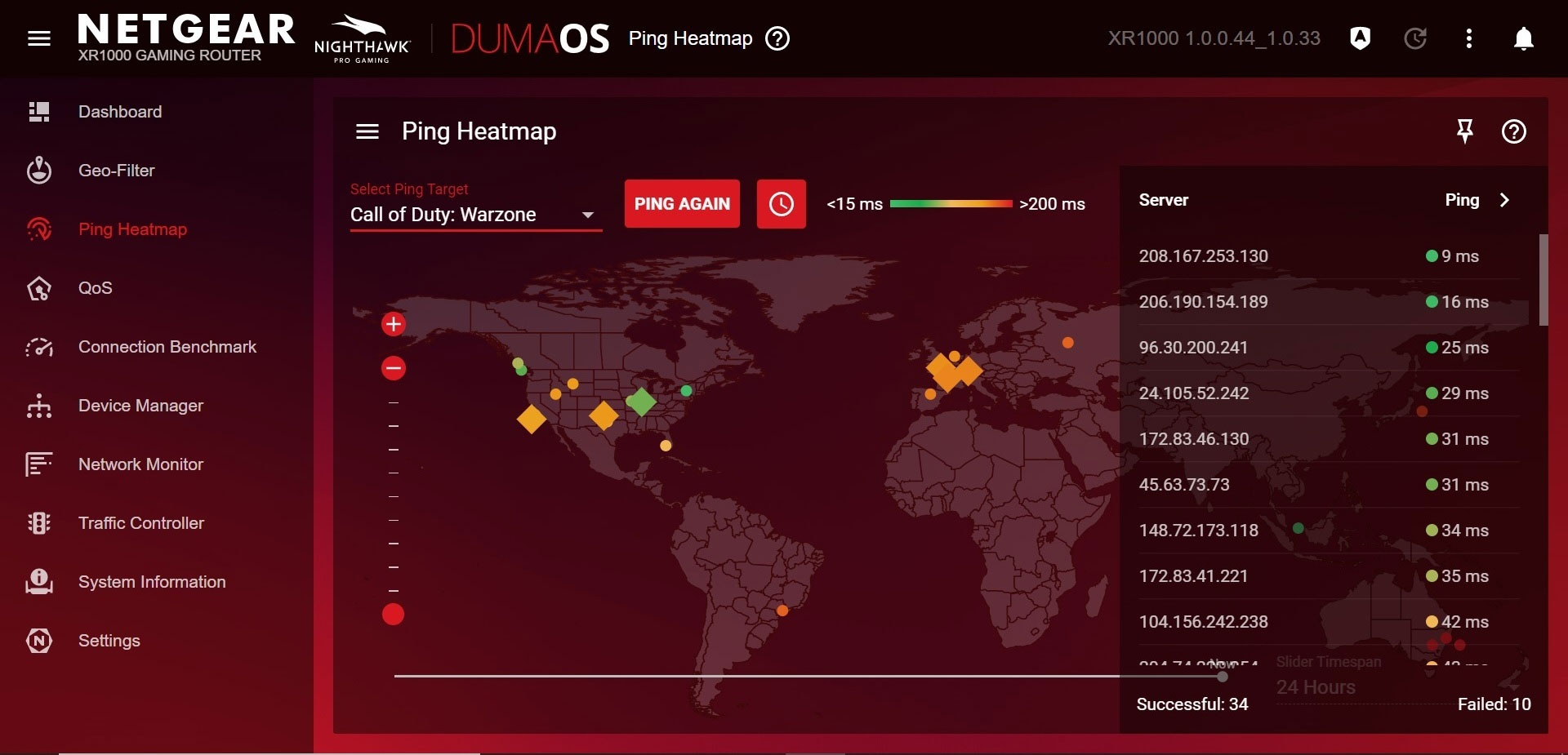 While the router is theoretically capable of the advertised speeds, in our "dimension", things are a little different as we're not in a perfect world. During our testing, the wireless to the router is super fast at 955Mpbs which was 2 metres away from the Nighthawk in direct line and at 5 metres away, still quick at 904Mbps. Outside near the edge of my property which was 15 metres away, the router performed quite admirably at 251Mpbs which is still great for wireless so I can mow the grass and listen to Deezer. Of course, walls, what your home is made from, appliances can all affect the bandwidth but compared to our regular router, the XR1000 was ahead considerably with no dropouts, lag or latency issues.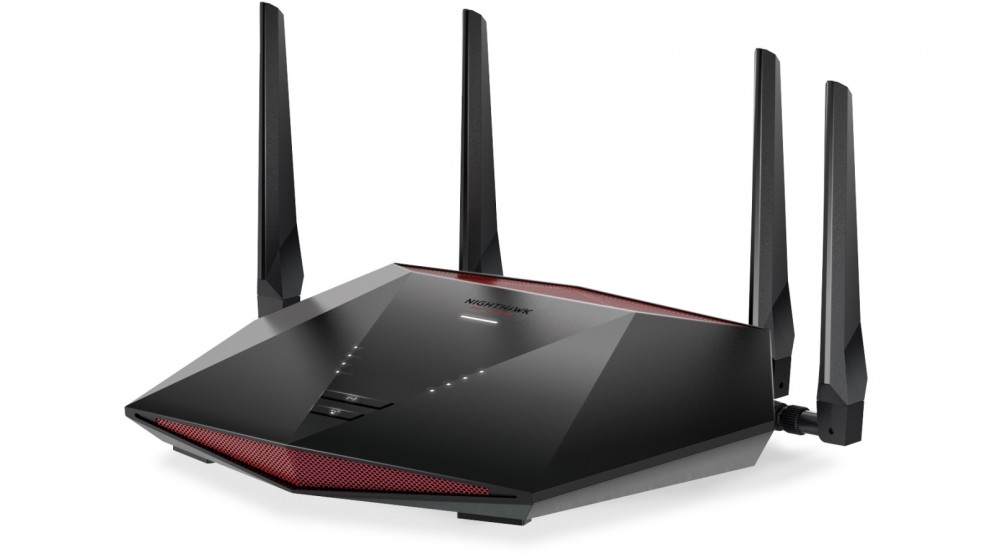 Final Thoughts?
The Netgear Nighthawk XR1000 Gaming Router is a great product from this company and if you're an online gamer, being able to find your fastest servers is a breeze with this device. Additionally, you can limit other devices bandwidth when you game, especially if this is your home router. All in all, a very powerful and fast router that worked like a treat on our family's network that included a PlayStation 5, two laptops, two mobile phones, 2 Amazon Alexa's and a Ring Video Doorbell.