Hardware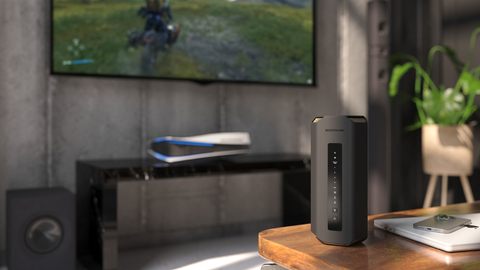 Published on October 17th, 2023 | by Adrian Gunning
NETGEAR INTRODUCES THE FIRST WIFI 7 ROUTER, UNLOCKING THE NEXT GENERATION OF HIGH-PERFORMANCE CONNECTIVITY
NETGEAR®, Inc. (NASDAQ: NTGR), the leading provider of award-winning connected products designed to simplify and improve people's lives, today launched the first WiFi 7 router with its new addition to the award-winning Nighthawk line. Built by an experienced team with 25+ years of pioneering WiFi expertise, the NETGEAR Nighthawk RS700 Router is spearheading the WiFi 7 revolution. Packed with unprecedented power, the all-new RS700 delivers up to 19Gbps∞ of blazing-fast WiFi, more than doubling the speed of previous generations.
Entering the world of WiFi 7
The WiFi requirements of modern, hyper-connected homes continue to push the boundaries of today's WiFi standards. With the rise of faster multi-gig internet speeds now available to more and more households, the growing number of connected devices per family and the ever-increasing growth of bandwidth hungry 4K/8K video streaming, HD Zoom calls, hybrid collaborative graphics-intensive work, highly interactive real-time gaming and AR/VR applications and experiences, WiFi continues to evolve to support faster speeds, lower latency and increased capacity. While WiFi 6E opened the 6GHz band as a superhighway for the latest, fastest devices, WiFi 7 makes good on that promise by unleashing unprecedented speeds and performance. Maximising that power, NETGEAR's RS700 router, powered by Broadcom's BCM6726/3 WiFi 7 system on a chip (SOC), achieves speeds up to 19Gbps. The tri-band WiFi 7 router, from the creators of tri-band technology, enables a dramatic decrease in latency for real-time responsiveness for next-generation AR/VR gaming or smooth UHD Zoom calls and 8K streaming for multiple simultaneous users.
The RS700 also features a 10Gb internet port, to support the fastest internet speeds of today and tomorrow, as well as a 10Gb and four 1Gb LAN ports for fast, flexible wired connections. The router comes with one year of NETGEAR Armor™ Powered by Bitdefender®, providing an automatic shield of security for all connected devices. Unlike traditional endpoint antivirus products, Armor is built into the router as a comprehensive security solution to monitor activity going to and from the internet, protecting computers, security cameras, baby monitors and other IoT devices and flagging external threats and nefarious outbound activities from IoT devices while eliminating the need for multiple security subscriptions or software.
New aesthetic, maximum performance
The Nighthawk RS700 Router sports a new, slender chassis with high-performance antennas providing 360 degrees of coverage optimised to support up to 200 concurrent client devices throughout the home. The 3D antenna design provides the best connection for all varieties of homes from sprawling ranch styles to multi-story brownstones. Meticulously designed radio frequency circuits drive maximum power to push WiFi signals to the farthest range, up to 325 sqm. The slim profile also makes for a smaller overall footprint, helping the router to fit unobtrusively on a bookshelf or tabletop.
"With the launch of our Nighthawk RS700 Router, we're setting the pace for adoption of the next generation WiFi," said David Henry, president & GM of Connected Home Products and Services at NETGEAR. "The RS700 is purposefully constructed for the highest possible performance. We've deployed our decades of RF expertise to maximise antenna range within a compact design that minimises interference while fitting flawlessly into any home environment."
The router includes link aggregation for concurrent multi-gig internet and LAN access, which offers a graceful transition for a home network to upgrade to a multi-gig network. A USB hard drive can be connected for network attached storage to facilitate large file backup or sharing as well as high-quality media streaming.
Technical specifications:
320MHz high-capacity channels & 4K QAM – New, ultra-wide bandwidth means 2.4x the speed to your connected devices. WiFi 7 smartphones and laptops can get speeds up to 5Gbps.
Multi-Link Operation – Uses multiple WiFi bands at once to improve network reliability, reduce latency, and ensure data is delivered with maximum speed.
Lower latency – Dramatically upgrades gaming and interactive online experiences and opens the door for immersive next-gen AR and VR.
More Capacity for Data-Intense Activities – Connect up to 200 devices, such as security cameras, smart home devices, and speakers, while enjoying 4K/8K video streaming, online gaming and HD video conferencing.
Multi-Gig Speeds with 10GbE Internet Port – Use the 10 Gig internet port for cable and fiber plans up to 10Gbps. Compatible with any internet service provider.
More wired ports on every device – Plug in wired devices to improve performance via a 10Gbps and four 1Gbps LAN ports.
More to com
Although powerful on its own with high speeds and broad coverage, RS700 routers can be networked together via Nighthawk Mesh to provide wall-to-wall WiFi speed even in the largest homes. The router also enables four separate networks to maximise performance. In addition to a main and a guest network, users can create a priority network for low-latency applications such as streaming and gaming, ensuring a lag-free experience without interference from slower devices. Smart home devices can be isolated on the IoT network to prevent any possible intrusion from affecting the other networks. These features will be available in future software releases.
Availability
The NETGEAR Nighthawk® WiFi 7 Tri-Band Router RS700S will be available for pre order from Tuesday 17th October on NETGEAR.com.au first and at other major retailers subsequently. MSRP: $1,499.