Hardware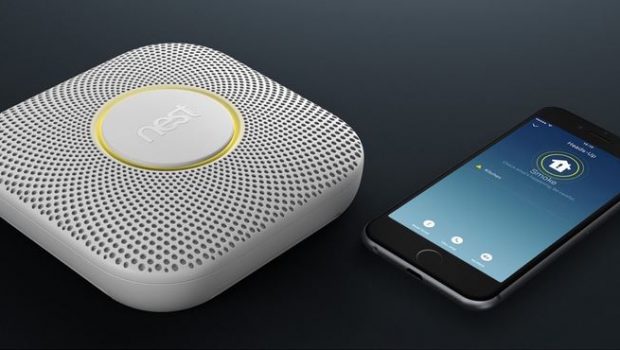 Published on January 23rd, 2019 | by Admin
Nest Protect Review (2019)
Summary: The Nest Protect takes the common smoke detector and gives it artificial intelligence
Welcome 'back' to the future with the Nest Protect which at its core is a smart smoke detector which not only acts as a traditional device (e.g. alerting you to danger from fire or smoke) but it even informs you of this danger if you're away from your home, courtesy of its smart capabilities which are then relayed back to your smartphone.
So while it detects if there is a fire in your home courtesy of its super fast sensors, it also monitors carbon monoxide levels and even acts as a motion path-light in the dark to light up your way. The Nest Protect follows Australian Safety Standards and can be used in conjunction with your existing smoke alarms or work alongside them and more importantly, boasts super simply installation and connectivity to your existing network.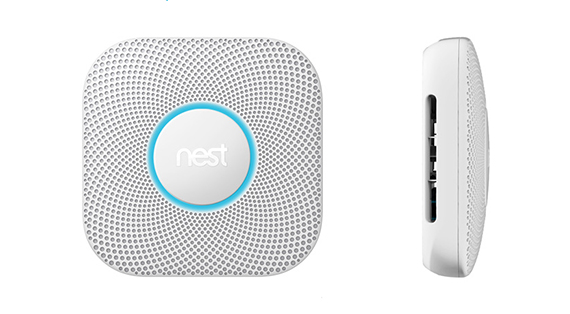 Further supporting the smart features of the Nest Protect is Google Home connectivity, including access to the IFTTT (If This Then That) protocol which tailors how it communicates with smart devices. Check out the clever tweaks below for IFTTT that people have created for the Nest Protect.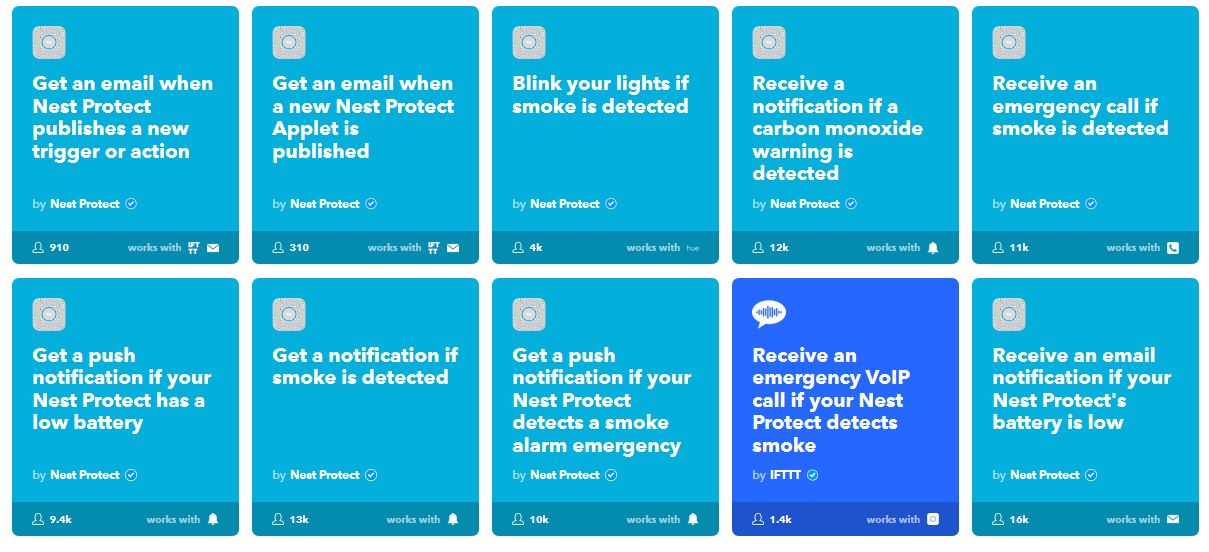 Key Features

Get alerts on your mobile.
Nest Protect sends you a message when there's a problem or the batteries are running low.
Tells you what, and where.
Nest Protect speaks up if there's smoke or CO and tells you where it is so that you know what to do.
Sees the CO that you can't.
Carbon monoxide is an invisible, poisonous gas. Nest Protect tells you where it's hiding.
A light in the dark.
Nest Protect usually has its light turned off, but when you walk underneath it, Pathlight can light your way.
Every second counts.
The Split-Spectrum Sensor looks for both fast- and slow-burning fires.
Silence from the Nest app.
Just burned the toast? Silence the false alarm with your mobile, not your tea towel.
Up to 10 years life span.
Nest Protect's long-lasting sensors keep you safe and sound for up to a decade.
Sleep safely and soundly.
Nightly Promise is a quick green glow that can be seen when you turn off the lights, letting you know everything's working as it should.
Well packed, the first thing you may notice about the Nest Protect is its device that although has parallels to traditional smoke detectors, is a little larger, although is still a relatively unassuming safety device which means you could have this installed in a variety of homes or office as it busily works in the background. In the middle of the device is a large button which is used to test the Nest Protect and to initiate the setup process.
Another highlight is the impressive 10-year battery, including alerting you if the batteries need changing. No matter your technological skill or handy person skills, the developers ensure that you have everything you need in connecting this device to your network, your smartphone and of course the ceiling thanks to the detachable ceiling plate. Supporting the user are very easy to follow instructions, including the best place to mount this product in your home or office.
There is also a light ring on the main face of the Nest Protect which inform the user on what the product is actually doing with five different colours. The blue light is used for setting up the Nest Protect and testing it, with green discretely informing the user that it is working correctly and the colour white is used as its motion sensor light. Lastly, there's yellow for early warnings and then red which is emergency and the Nest Protect will sound its internal alarm and it's probably time to call 000 in Australia because it has detected either a fire or dangerous levels of carbon monoxide. Interestingly, the Nest Protect even talks to you (female British accent) and is especially useful while setting up the device.
Another clever feature of the Nest Protect is the ability to schedule a self-check which allows you to run a test once a month at a certain time and how's this, it even sends you a notification in case you need to postpone it! As we tested two devices, this procedure even checks both products which is very useful. You can even link this device to other Nest devices like the Nest Cam so it can send you a video clip should something activate its alarm.
The device also uses the latest technology and with its Split‑Spectrum Sensor, it looks for both fast and slow-burning fires. According to test, it uses a 450 nm wavelength of light to detect the tiny particles created by fast fires and a second 880 nm infrared wavelength to look for the larger particles created by smouldering fires. It's also the first sensor in a home alarm to use two sources of light to get a more accurate picture of a fire and further, there's even a humidity sensor that helps with reducing false alarms.
Unboxing and Installation Photos
Setting up the Nest Protect is super simple. The first step is to download the app for your phone and then start the pairing process with the device and your network. Once you have the app running and have created an account, the wizard will give you a step by step guide such as entering your home address, naming it, linking it to your Wi-Fi and testing the Nest Protect. Below are some screenshots from the setup process and the 'virtual' setup took just a few minutes.
The app is quite intuitive (see below) and I like how the main page has your local weather but more importantly, this allows you to test the device and if you have a false alarm, you can easily disable it if you happen to burn something like toast.
Once the Nest Protect is running, the next step is to physically attach the device to your ceiling (recommended) or even a wall and this is another simple process. You basically take the four included screws and attach the black plate to the ceiling… no drill required as the screws simply screwed into the plaster. Once attached, you just line up the Nest Protect with the grooves on the device and twist it in place. That's it and Nest do recommend you test the device once it has found it's permanent home. Here's our photos below, including a short video of the test.
Nest Protect video.
Final Thoughts?
The Nest Protect is a very clever smart device protects that allows you to monitor your home or office from anywhere. More importantly, it's easy to setup and once installed, it silently monitors your house or office for fires and carbon monoxide. Furthermore, it comes with some great features like motion detection, scheduling of tests and of course, it works like a traditional smoke detector with an impressive 10-year batter. The only downside is that as its running through Wi-Fi so if this goes down, you will lose notifications but fortunately it's still a very powerful smoke detector.
Recommended!
For more information, please visit https://nest.com/au/smoke-co-alarm/overview/