Hardware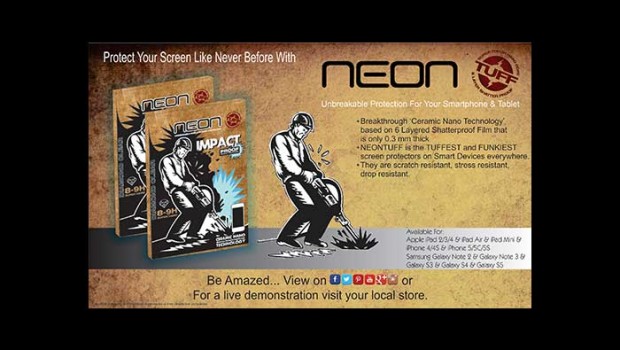 Published on August 11th, 2014 | by Admin
NeonTuff Impact Proof Screen Protector Review (Samsung Galaxy S5)
Summary: Easy installation, amazing protection and some great colour options, it's definitely the funkiest screen protector available!
NeonTuff Impact Proof Screen Protector
Product: Screen Protector
Colour: Electric Blue
Company: CMI
Phone: Samsung Galaxy S5
Reviewer: James Wright
NeonTuff is one of the strongest screen protectors available for a variety of smart phones and tablets. It uses ceramic Nano technology that is based on 6 layered shatterproof film with a thickness of just 0.3mm. The product also comes in a variety of colours that include Electric Blue (Reviewed), Matrix Green, Lava Orange, Solar Yellow and Clear. If you select one of the NeonTuff screen protectors with a colour, it puts a soft colour around the edges that actually looks quite cool.
Given that, installing the NeonTuff on your Samsung Galaxy S5 is almost like attaching a piece of glass to your smart phone which considerably increases the protection of the screen from scratches, stress, grime and accidental drops. The developers even boast a 9h hardness rating which gives the user an additional peace of mind should the unthinkable happen.
Contents
NEONTUFF screen protector
Cleaning solution
Dust removal cloth
2 dust-remove stickers for tuff dust
Front and back disposable covers with pull-off tags
24 month warranty
In terms of the technology used, the 6 layers of protection is broken down into 4 layers of acrylic and 2 layers of patented ceramic Nano layering technology that creates this glass-like product which is actually stronger than glass. Once installed, it feels almost identical to the touch screen of your smart device with 99% optics for crystal clear viewing. It should also be noted that the screen protector does not affect the touch sensitivity of your Samsung Galaxy S5 screen at all.
Installation is also quite easy and the developers ensure that the user has everything they need to take them through the process. The trickiest part of the installation is lining up the NeonTuff screen protector with your smart device. I also like how the product comes with a cleaning solution plus 2-dust stickers to help get rid of the grimiest grime. Once you have the screen protector lined up, you gently push down on the protector and if any bubbles occur, you simply push these to the side. It's also a product that all Samsung Galaxy S5 owners should investigate because of its protective properties.
Final Thoughts?
With a recommended price of $39.95AUD, the NeonTuff Impact Proof Screen Protector is a must have piece of technology that we could happily recommend to Samsung Galaxy S5 users as it gives their phones another layer of protection that is like wearing a bullet proof vest. Easy installation, amazing protection and some great colour options, it's definitely the funkiest screen protector available!