Comics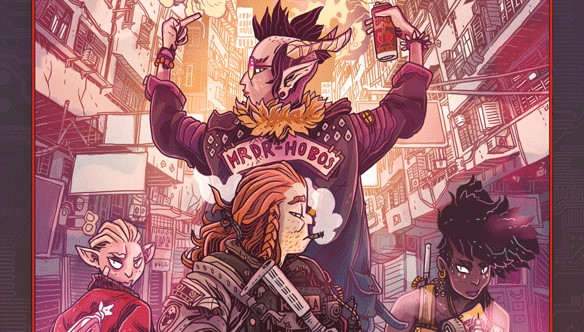 Published on July 17th, 2018 | by Dana Folkard
RAT QUEENS SPECIAL: NEON STATIC (ONE-SHOT) REVIEW
Summary: Kurtis J. Wiebe and Will Kirkby join forces to weave a futuristic neon-infused adventure set in an alternate Rat Queens universe.
Kurtis J. Wiebe and Will Kirkby join forces to weave a cyberpunk neon-infused adventure set in an alternate Rat Queens universe. Mercenaries are replaced with hackers, swords with guns and trolls with internet trolls, yet the Queens are still as badass and sassy as ever!
The story follows the Queens on a routine mission in Palisade as they try to find and capture a virtual scammer who is deceptively raising funds for their grandma's funeral. After capturing the slimy fraud, they quickly discover that he is only a pawn in a much greater game. Through him they learn that an anonymous hacker is working through the dark web, using dating sims to steal identities and blackmail innocent people for coin. In order to stop this internet troll, the Queens must work together, using the dark web and their own special hacking abilities to find and stop this menace before he dupes another poor soul.
Wow, so this is an awesome take on the Rat Queens, that I found to be a helluva fun ride in this flavour of a new and exciting world. Palisade has been transformed from a small backwater town to a giant sprawling futuristic metropolis, where the dark web reigns supreme and overcrowded streets are flooded with all manner of creatures, robots and aliens. I particularly loved the cyberpunk transformation of the Queens, who now work as elite shadow operatives, tracking down hackers and dangerous cyber-criminals. This new take on the Queens brings a fresh dynamic to this ragtag team of misfits, with their energy and ever-entertaining banter is still as funny and entertaining as usual. My only criticism is that this is a one-shot, and just as the story was gaining momentum, it ends. I'd love to see more of this futuristic-infused Queens world and see their adventures expanded on, however, I get that this is a one-shot so it's unlikely to happen.
Artist Will Kirkby lends his artistic skills to visually bring this alternate Palisade to life. This is now a neon-saturated world filled with skyscrapers, holograms and cool futuristic tech that Kirkby visualises in a highly animated and vibrant way. There is a fresh, playful sense of energy spilling out of each page. Every corner is jam-packed with chaotic details and busy linework, which gives the impression that Palisade is bursting at the seams. The Queens themselves look dramatically different, resembling a hardened group of cyber hunters with their punk hairstyles, military jackets and cybernetic implants and mods. The palette is colourful and vivid, and almost appears like a filter has been overlayed, creating an interesting effect with light. Think bright neon lights at night and the ambient glow that lights up a city.
Overall, I thought that this was a fun and thrilling jaunt into an alternate Queens world. The writing is sharp and witty and the art is filled with a fresh sense of energy. I recommend fans of the Rat Queens to definitely give this one-shot a go, and I also believe that lovers of sci-fi will enjoy this one also.
I'm giving this one-shot 4 out of 5 stars!
---
COMIC DETAILS
CREATIVE TEAM: Kurtis J. Wiebe and Will Kirkby
PUBLISHER: Image Comics/Shadowline Comics
GENRE: Cyberpunk/Science Fiction
PUBLICATION DATE: July 18, 2018
REVIEWER: Dana Folkard