Comics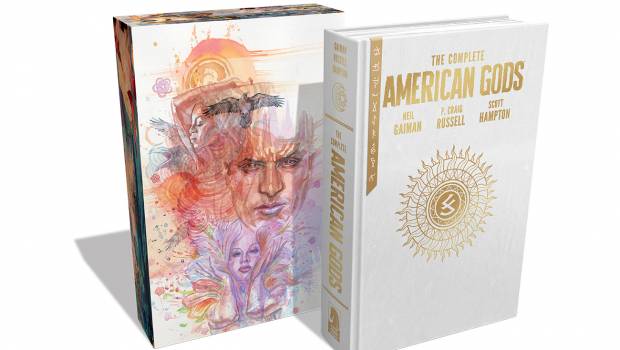 Published on February 5th, 2021 | by Andrew Bistak
Neil Gaiman's 'American Gods' Collected into an Oversized Hardcover
Experience The Complete American Gods comic series collected into a deluxe, oversized hardcover. Adapted by P. Craig Russell from the award-winning novel by Neil Gaiman, this complete edition of American Gods comes with a slipcase illustrated by David Mack and a bookmark ribbon with a gold pattern.
Shadow Moon, fresh out of jail, finds his wife dead, his life in shambles, and nowhere to turn. But a chance meeting with the mysterious Mr. Wednesday thrusts him into the center of a conflict between new and old gods, where the future of human and divine life is at stake.
The Complete American Gods hardcover collects American Gods: Shadows #1-9, American Gods: My Ainsel #1-9, and American Gods: The Moment of the Storm #1-9 featuring art by Scott Hampton, P. Craig Russell, Glenn Fabry, Walter Simonson, Colleen Doran, Mark Buckingham, and Galen Showman with colors by Scott Hampton, Lovern Kindzierski, Laura Martin, Colleen Doran, Adam Brown, and Jennifer T. Lange. It will be available everywhere books are sold September 14, 2021. It is available for pre-order on Amazon, Barnes & Noble, TFAW, and at your local comic shop and bookstore. The Complete American Gods sits at 720-pages and will retail for $124.99. It is the perfect addition to any Neil Gaiman collection.
Praise for American Gods:
"It should come as no surprise that American Gods is a quirky, involving story that mixes the best qualities of a fairy tale with the most compelling aspects of a classic road novel." –Tasha Robinson, The Onion (Focus section)
"It's a rich, lyrical homage to the repository of narrative bequeathed to us by the mythology and folklore of all cultures, and a generous gift from an inveterate romantic and mythmaker who manifestly loves nothing so much as the simple art of storytelling." –Bruce Allen, Boston Globe, Sept.9th 2001
"Gaiman—who is best known as the creator of the respected DC Comics Sandman series–has a deft hand with the mythologies he tinkers with here; even better, he's a fine, droll storyteller."–The New York Times
"There's something raw about American Gods, too. It's a polished piece of writing, no doubt about that, but it has that simultaneous urgency and sprawl of a writer finding their feet."–The Guardian
"Gaiman exhibits his usual deft characterization and keen ear for dialogue and wordplay, but the book represents a step forward for his prose…American Gods is assured and ambitious, resembling nothing except
Gaiman's Sandman stories." –Tasha Robinson, The Onion (Focus section)