Events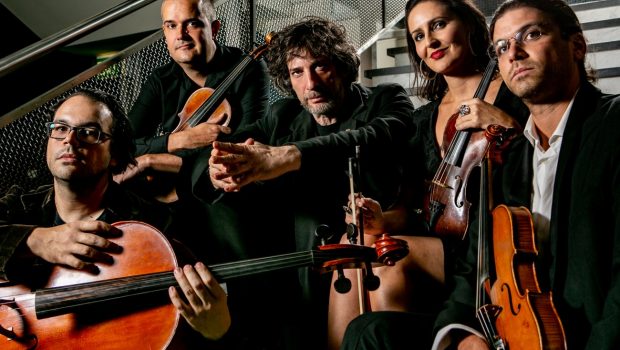 Published on October 20th, 2023 | by Andrew Bistak
Neil Gaiman and FourPlay String Quartet debut album performances at Arts Centre Melbourne
Best-selling British author Neil Gaiman and Australia's electric string quartet FourPlay will perform their debut album, Signs of Life, as well as a selection of unreleased material, at Arts Centre Melbourne's Hamer Hall on 18 January 2024.
Prior to their Melbourne show, the group will take to the Concert Hall stage at Sydney Opera House, with these Australian dates marking the global live performance debut of the collaborative album.
Signs of Life was released in April 2023, debuting at #1 on the Billboard 'Classical Crossover Albums' chart and earning an ARIA Award nomination for 'Best Classical Album'. The genre-bending collaboration is an eclectic blend of classical and indie rock, intersected with thought-provoking poetry and prose.
Credited as one of the most beloved and celebrated writers of our times, Neil Gaiman writings transcend genre, age and format. The prolific writer's musings span novels, television, film, short stories, comic books, radio plays and theatre.  His novels Good Omens (co-written with Terry Pratchett) and American Gods were recently adapted into a TV series for Amazon Prime Video. His revolutionary and landmark comic series, The Sandman, has been adapted for television by Netflix and Warner Bros Television and held the #1 spot globally in Netflix streaming for several weeks.
FourPlay String Quartet are a unique proposition in the world of string quartets. More a band than a classical ensemble, FourPlay improvise, jam out ideas and use extended instrumental techniques and effects to create startlingly original sounds.
Neil Gaiman and FourPlay first crossed paths in 2010 when the quartet was commissioned by Sydney Opera House's Graphic Festival to compose a soundtrack for Gaiman's then-unreleased story 'The Truth Is a Cave In The Black Mountains.' They released this story as a Graphic Novel, which hit #1 on the NY Times Best Selling Graphic Novels list, toured the world, sold out Carnegie Hall and embarked on a decade of friendship and dynamic collaboration.
"I'm not entirely certain when I fell in love with a string quartet. I remember our first date, though. It was a day spent in a tiny room somewhere in the backstage maze of Sydney Opera House. It was remarkable. It was so much fun we did it again. We started to build a repertoire, and when I was in Australia we would make music together. These are some of the things we've made together. It's been a long fallow winter, the last two and a half years. Here are signs of life," said Neil Gaiman.
FourPlay say, "Neil's mastery of storytelling, and his crafting of words, is second to none. Among the members of FourPlay, we have been fans of Neil's for many years, and it was a golden opportunity to work with him. Nevertheless, we could never have expected to find him to also be such a master of pacing, such a musical performer and wordsmith. We're joyful to count him as a friend as well as a collaborator, someone we spend pleasurable time with and someone we never fail to create beautiful, glittering things with."
Together they have created something remarkable and unique in Signs of Life. The album and ensuing performance is a gorgeous, ground-breaking and genre-bending collaboration between an iconic author and a singular musical ensemble. Part songwriting, part poetry, part story-telling; all-encompassing, all-engaging, all beautiful.
Signs of Life album reviews:
"A brilliantly engaging, often revelatory listen, and one that matches Gaiman's own disarmingly unassuming narrations on themes as profound as truth, death, history and colonialism with FourPlay's endlessly inventive, witty musical responses." The Strad (UK)
"A meeting of unconventional minds" NPR (US)