Events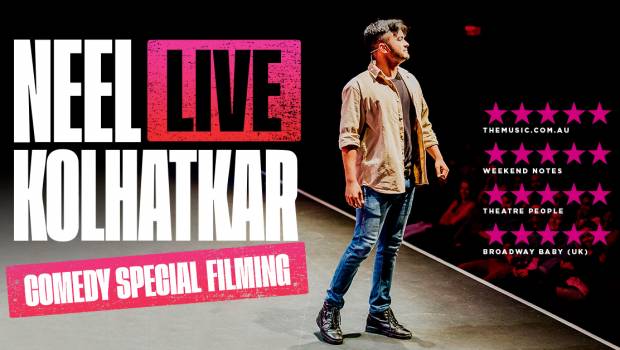 Published on August 15th, 2018 | by Admin
Neel Kolhatkar Announces Intimate Comedy Special Filming At Sydney's Iconic Comedy Store
Frontier Comedy are thrilled to announce an intimate recording of comedian, writer and actor Neel Kolhatkar's third live stand-up comedy special. Neel will record his latest special at The Comedy Store in Sydney for one night only on Wednesday 21 November. Tickets are on sale now and are not expected to last long.
Stand-up comedy and social media phenom, Neel has been doing the rounds of comedy clubs and theatres across Australia and around the world since he won the Class Clowns competition at just fifteen years old. His accents, impressions, short films and carefully-crafted jokes have seen him collect more than 1.2 million followers and tens of millions of video views.
'Uncanny impersonations, entertaining observations – Neel has been making waves in the Aussie comedy scene… and can't be described as anything short of a star.'
– ★★★★★ This Is Radelaide
'Fearless and feisty, Neel Kolhatkar's is a voice that everyone can resonate with, the only setback is the hour not lasting long enough' – ★★★★½ In Review
With a trail of 5-star reviews behind him for his insightful commentary on youth, pop culture, politics, gender and race in his stand-up, Neel has also been making a splash for his scene-stealing roles on TV comedies Virgin Bush and Street Smart, along with an acclaimed turn in his first feature film, the indie mockumentary Head Above Water.
Neel's most recent solo Sydney show was in 2017 when he sold out the Enmore Theatre to a rapturous crowd and queues around the block for a photo with him after the show. 2017 also saw Neel release his second self-produced stand-up special Neel Before Me, which has collected almost half a million views across the globe.
Usually playing 1200+ seat theatres, don't miss this very special event when Neel returns to his old stomping ground – Sydney's intimate Comedy Store – to film his third live stand-up comedy special.
'Kolhatkar unapologetically delivers irreverent and uncensored humour examining race, culture, and politics in Australia.' – ★★★★ Kryztoff Raw
'A deeply charismatic performer… always the master of accents and facial expressions – Neel is not afraid to rattle some cages.' – TheMusic
Don't miss a truly incredible comedy talent when he films his brand new special, live at Sydney's iconic Comedy Store!