Collectibles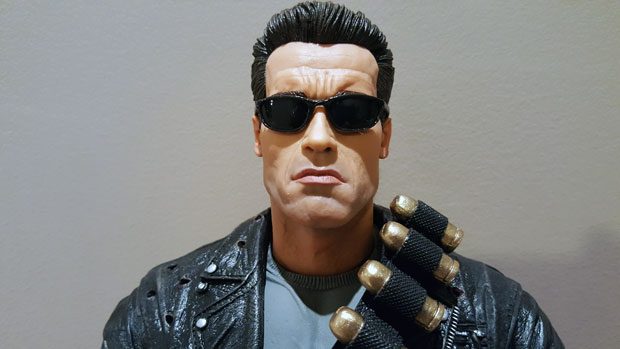 Published on October 25th, 2017 | by Andrew Bistak
NECA T-800 1/4 Scale Action Figure (Terminator 2 Judgement Day 3D) Review
Summary: The NECA T-800 1/4 Scale Action Figure (Terminator 2 Judgement Day 3D) is truly a perfect product!
Come with me if you want to 'play' …
… celebrating the re-release of Terminator 2 Judgement Day in 3D comes an amazing 1/4 scale action figure from NECA based on the iconic T-800 Terminator played by living legend Arnold Schwarzenegger.
"I'll be back"
T-800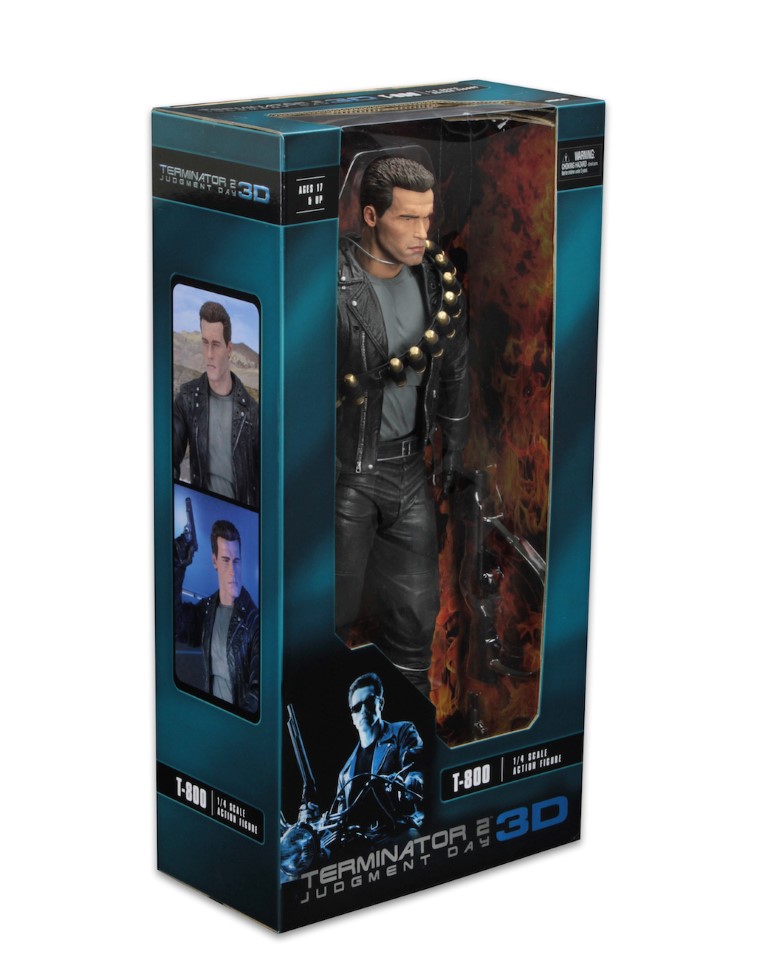 Just like other 1/4 scale action figures from NECA, the likeness of this character and more importantly Arnold is quite uncanny as this company has successfully captured the appearance of the former Governator from his facial features to his powerful presence. As a result, this action figure will definitely find a place of honor among your collection.
"Hasta la vista baby"
T-800
The T-800 comes professionally packed from NECA and its plastic window gives people a taste of what's included within this box. The packaging also channels the theme from the movie and this action figure allows owners to relive key moments from the movie such as the scene from the police station that had the T-800 wield a minigun as he attempted to protect John Connor from the nefarious T-1000.
"Chill out, Dickwad"
T-800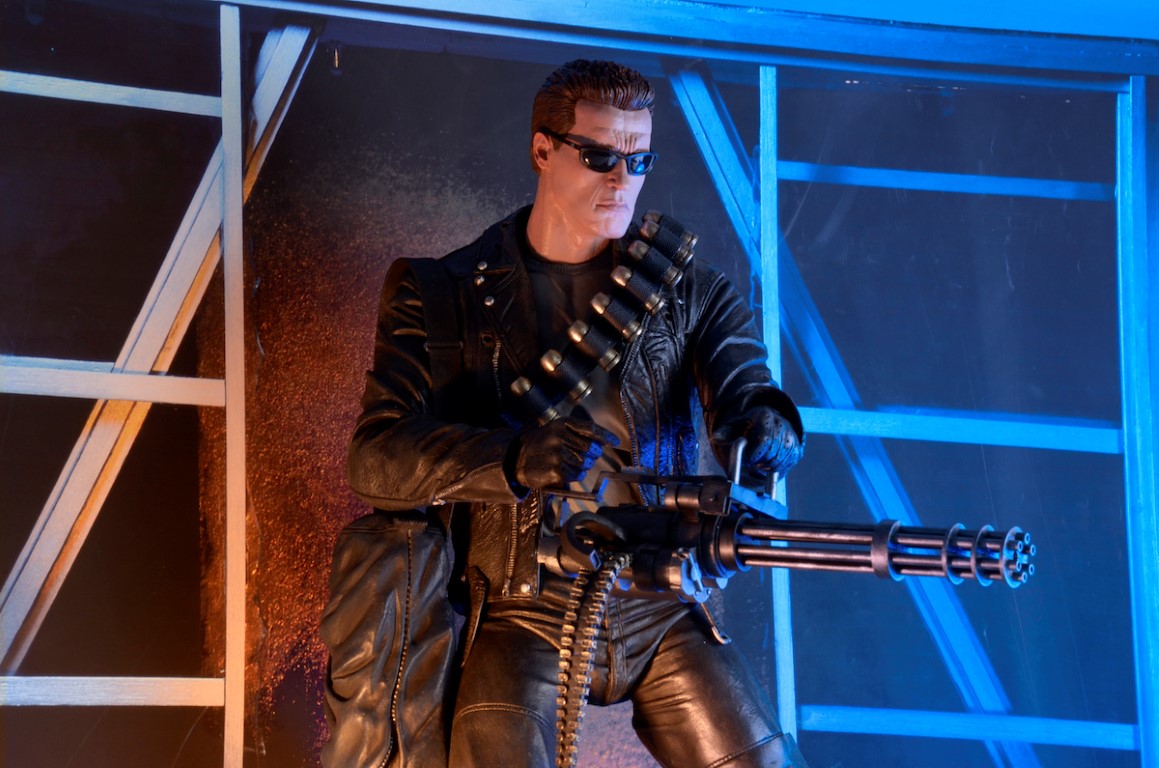 Out of the box, this action figure is massive and measures in at a whopping 18 inches (45cm) with 25 points or articulation that allows you to pose the T-800 in a variety of ways. The action figure comes with a plethora of accessories that include a removable grenade belt, minigun, ammunition bag, ammunition belt, grenade launcher, pistol and the famous 'Terminator' sun glasses.
"It's in your nature to destroy yourselves"
T-800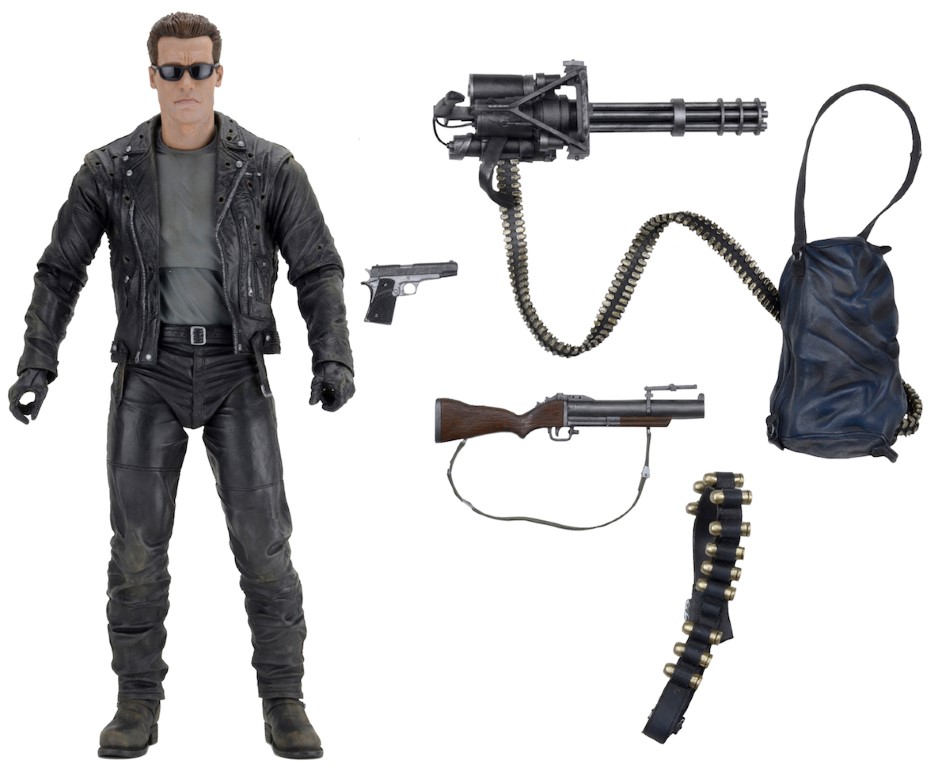 It's also quite a heavy action figure and given its size, that's totally understandable and it's a very well made figure with some excellent attention to detail. As mentioned, the face perfectly captures the frowning Arnold Schwarzenegger from the film, including his hair and bushy eye brows. As you keep on examining the figure, you'll notice other impressive elements. These include the detail on the leather jacket, the ammunition belt and even the bullet holes on the back of the jacket which is another iconic moment in pop culture history.
"I have detailed files on human anatomy"
T-800
I also love how you can add the glasses to this figure and the accessories are quite manageable in making the T-800 hold these items. With 25 points of articulation such as the hips, knees or hands, this gives you additional posing opportunities. Some of the joints did require a little more force than others and because it's quite a top heavy figure, I did find standing this 1/4 scale action figure a little difficult at times. Thankfully some Tack-it (USA) or Blu Tak (Australia) does help in posing the T-800.
"I need your clothes, your boots and your motorcycle"
T-800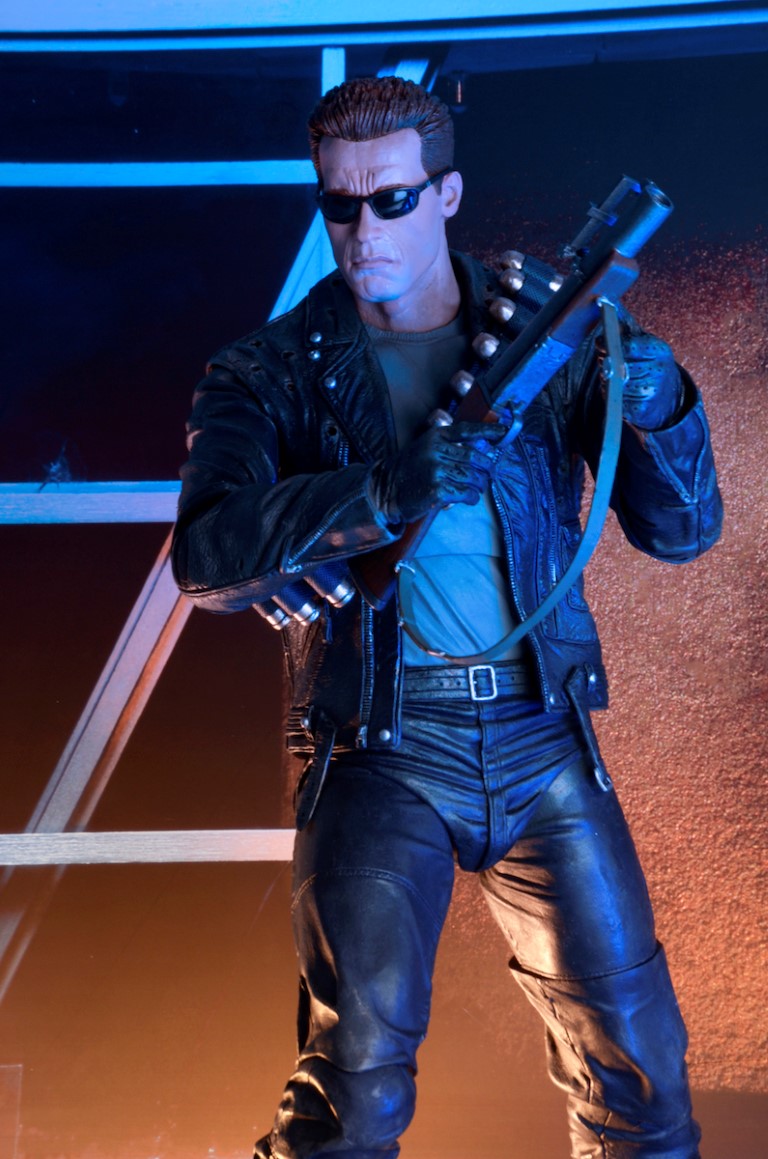 Final Thoughts?
This action figure from NECA is truly a badass product and as you can see from our gallery below, it's almost like having your own miniature Terminator with great attention to detail, well-thought out articulation and a face that successfully captures Arnold Schwarzenegger. So if you're looking for your next star in your collection, the T-800 1/4 Scale Action Figure (Terminator 2 Judgement Day 3D) from NECA may be your 'mission priority'.
http://necaonline.com/2017/01/terminator-2-14-scale-action-figure-t-800/