Collectibles
Published on June 25th, 2016 | by Andrew Bistak
NECA Marvel Avengers Age of Ultron 1/4 Scale Iron Man Action Figure Review
Summary: The NECA Marvel Avengers Age of Ultron 1/4 Scale Iron Man Action Figure is pure detail but more importantly, it lights up!!!
From the Disney Marvel blockbuster film, Avengers: Age of Ultron comes this massive (and I do mean massive) 1/4 scale action figure featuring fan favourite Iron Man that measures at a whopping 18″ tall (45.72cm) and comes with over 30 points of articulation that looks identical to its movie counterpart. Yes my dear Marvel friends, Iron Man has arrived and is fully posable!
However the action figure fun doesn't stop there because NECA have gone above and beyond with this figure by including LED lights on this Iron Man collectible which means the Arc Reactor (chest) and Repulsors (palms) plus the helmet light up just like it does in the movies. So for those wanting to get straight into the fun of this figure, it even comes with the batteries pre-installed that ensure Tony Stark's Iron Man is ready for battle which makes this the perfect interactive collectible.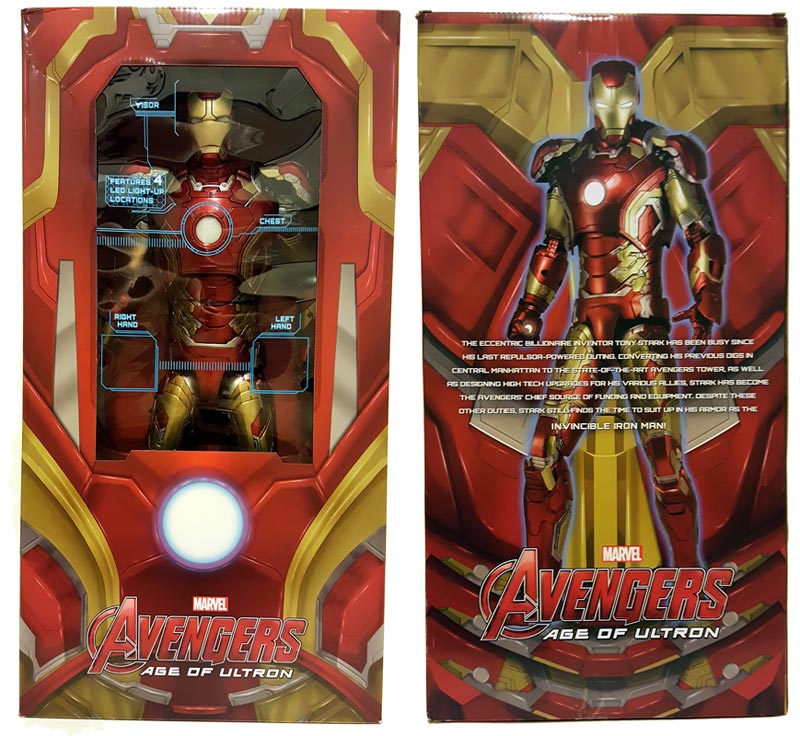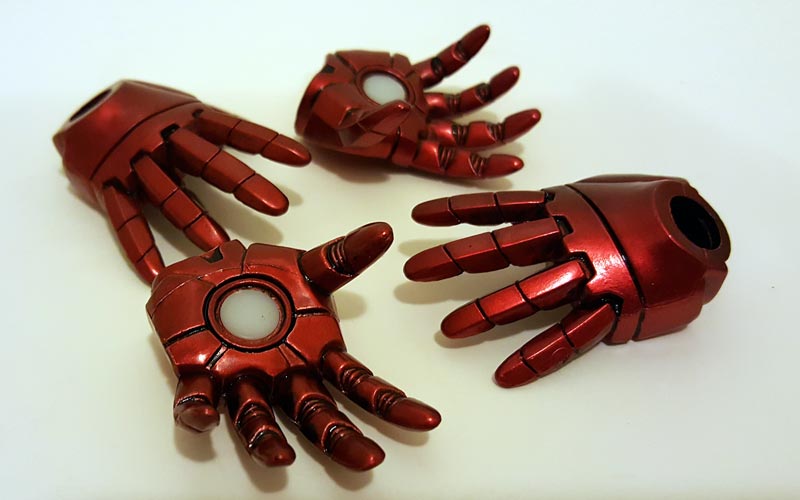 The Unboxing
Once again this 1/4 scale action figure from NECA borders on statue-like, however unlike statues, this figure can be posed in a variety of different ways thanks to the amazing articulation as the joints move to your will. The products also comes in an Avengers: Age of Ultron inspired box with all the symbols and propaganda plus a window to see inside the box.
However as all good collectors know, these items should be taken out of their protective packaging as the God of Action Figures intended. So out of the box, the first thing I noticed about this figure was its height and weight. It's a very heavy and large 1/4 scale action figure but more importantly, the detail is amazing. This Iron Man figure looks like it has just stepped out of the film itself and when it lights up… wow, it just adds to the overall awesome factor of this collectible.
In terms of the articulation, it does feel a little stiff but that's needed for the weight of this figure because anything loose would impede. Given that, I did feel a little apprehensive in adjusting the figure because of how stiff it was as I didn't want to break anything. Furthermore, It also comes with four interchangeable hands as accessories which also light up. The hands do require some force to detach and somehow I knocked off the hand guard on the right handof this figure. Fortunately a little glue helped put it back in place.
So let's talk about detail! Wow… Holy Stan Lee… OMG! Perfection… yep, these were some of the words that came to my mind once I physically held this figure in my hands. The attention to detail is flawless and what makes this figure standout even more is the colour scheme which is quite bright and vibrant. The armour is quite textured and looks like Tony Stark has just gone head to head to Captain Marvel.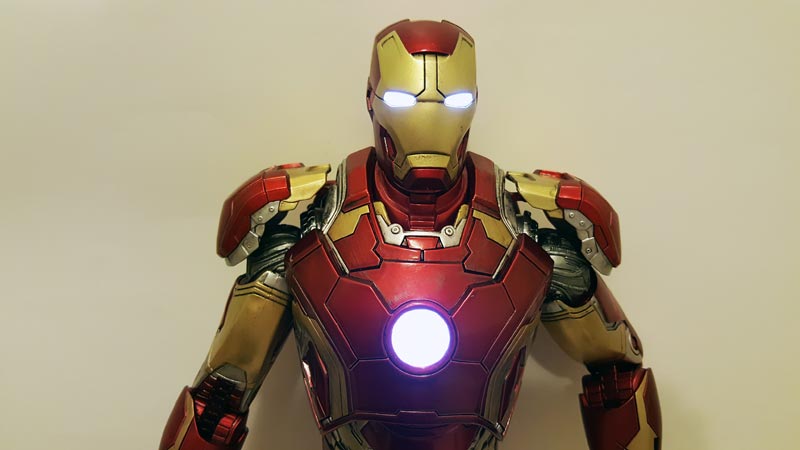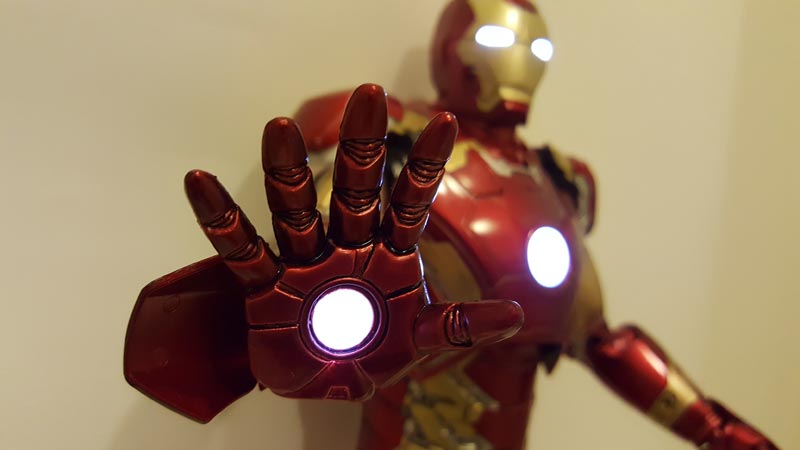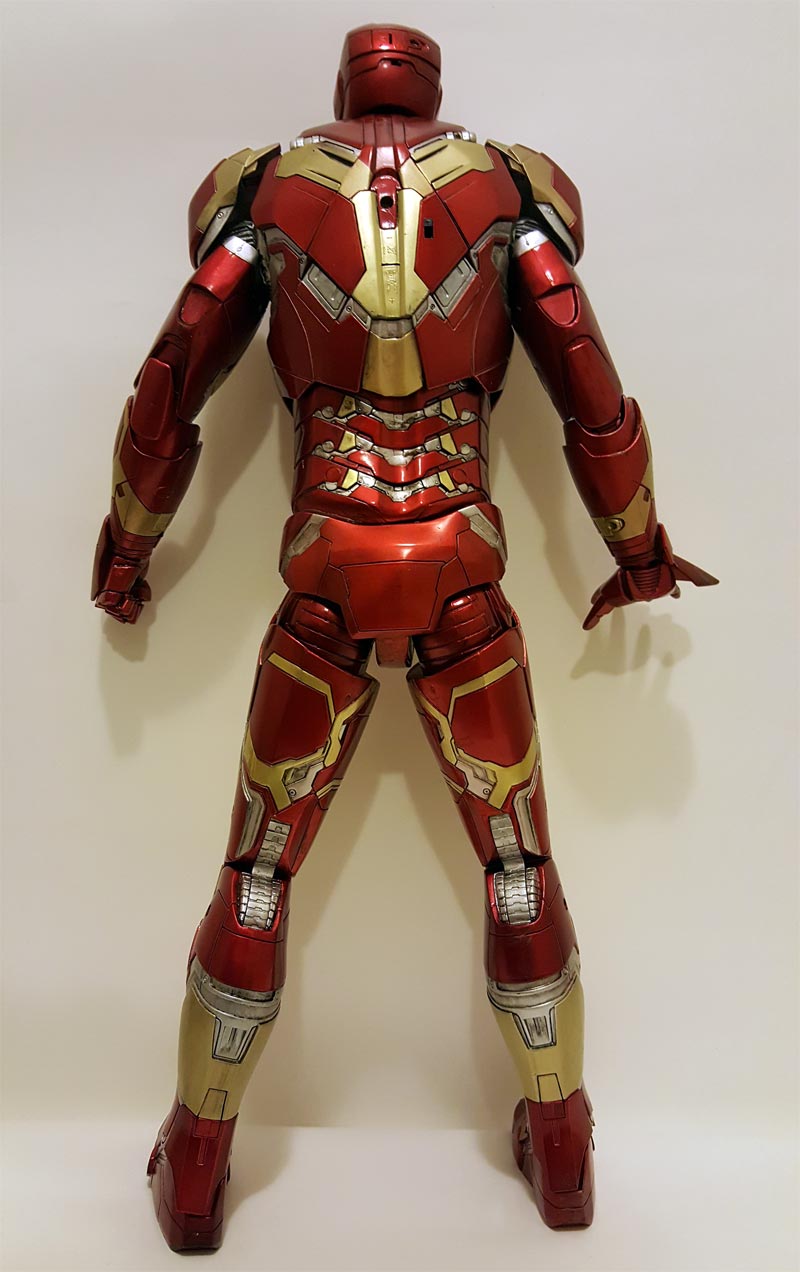 Then you have the LED lights that are located in Iron Man's head, chest and hands. There are basically four buttons that turn these LED's on and NECA have made them quite small so it doesn't distract from the figure itself. You just need to be a little careful with the hands because of the LED which does stick out and as a protective measure, it can be pushed. However if you were a little rough when swapping the interchangeable hands, you could damage the light. Apart from that, this 1/4 scale action figure stands perfectly so it shouldn't topple over while on display. All in all, another well designed product from NECA.
Final Thoughts?
The Avengers: Age of Ultron Iron Man 1/4 scale action figure in my opinion is one of the best figurines from NECA who really nail the likeness and articulation perfectly for this collectible. It's big, it's bold and best of all, it even lights up like the Iron Man suit from the film. So if you're looking for a fully interactive 1/4 scale action figure, then check out Iron Man from NECA because these things will be selling fast!
Our Gallery