Collectibles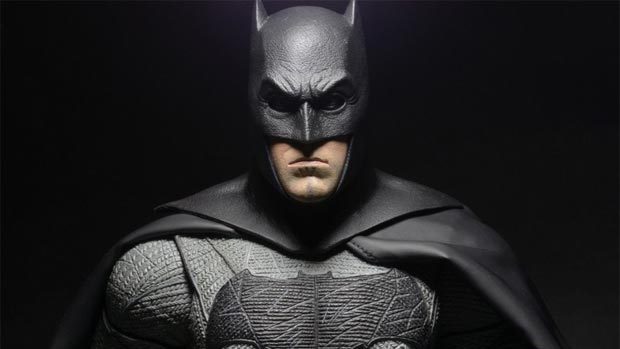 Published on June 25th, 2016 | by Andrew Bistak
NECA Batman v Superman 1/4 Scale Action Figure Review (Batman)
Summary: The NECA Batman v Superman 1/4 Scale Action Figure is a truly amazing and movie accurate product
One of the most anticipated superhero films of the year (2016) was Batman v Superman: Dawn of Justice which was directed by Zack Synder and starred Ben Affleck, Henry Cavil and Gal Gadot that put together three of DC Comics most legendary heroes on the screen, Batman, Superman and Wonder Woman. However the film received mixed reactions from both fans and critics with some condemning Batman v Superman, others praising it and the remaining shrugging their shoulders and enjoying it for what it was.
Furthermore, there was the mixed reaction to Ben Affleck as Bruce Wayne (aka Batman) but he successfully portrayed this comic book character well, even if the script was a little ho-hum but he definitely created a great rendition of the protector of Gotham City. Nonetheless, his Batman mirrored Frank Miller's Dark Knight (1986) and his costume was easily one of the best of all the Batman films… so thankfully, NECA have created a 1/4 Scale Batman action figure from the film that measures in at a massage 20 inch or just over 50 centimetres. It's also quite heavy!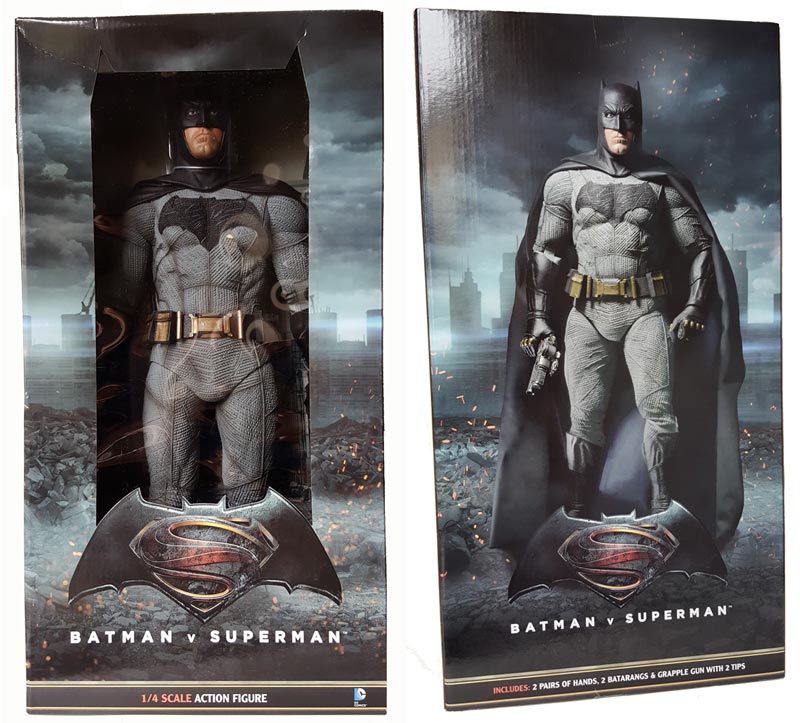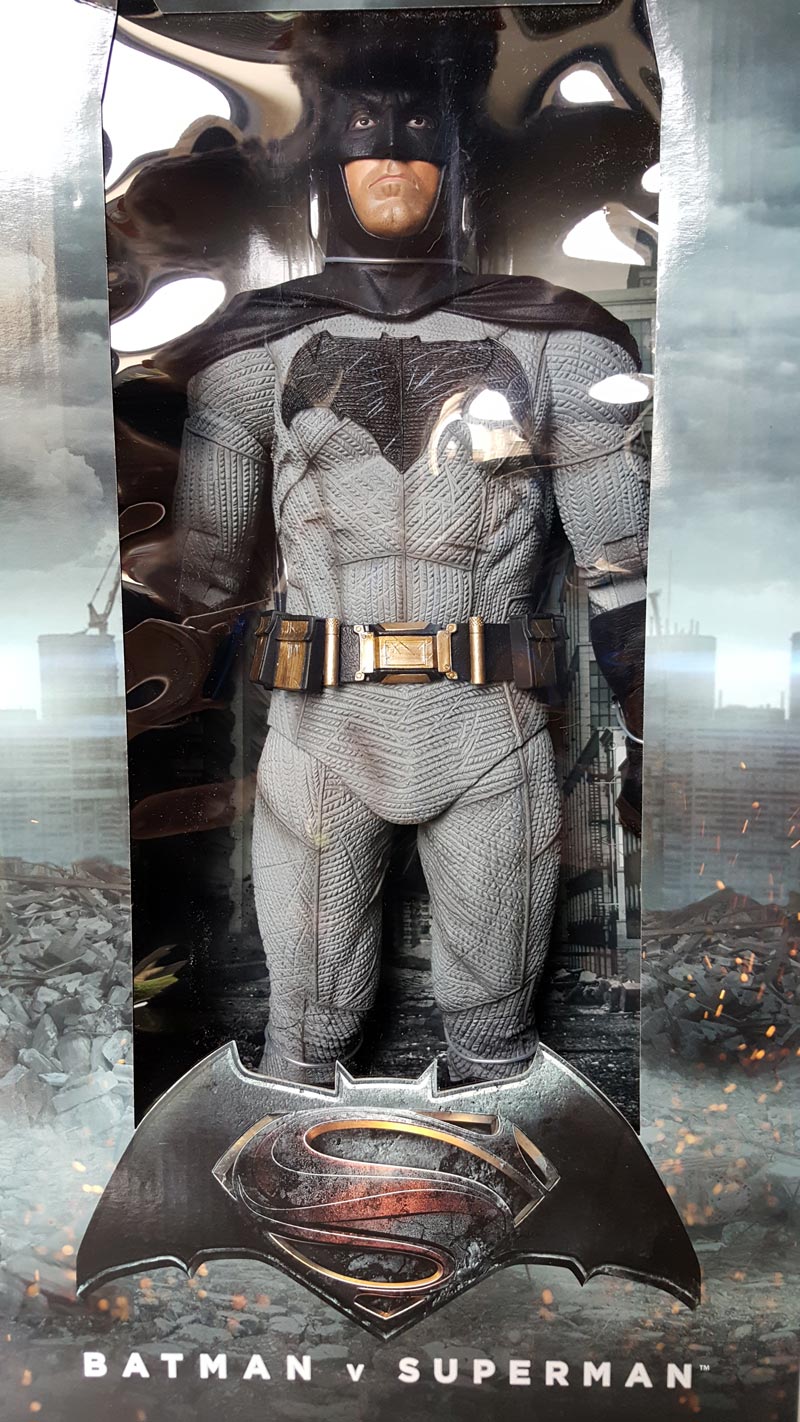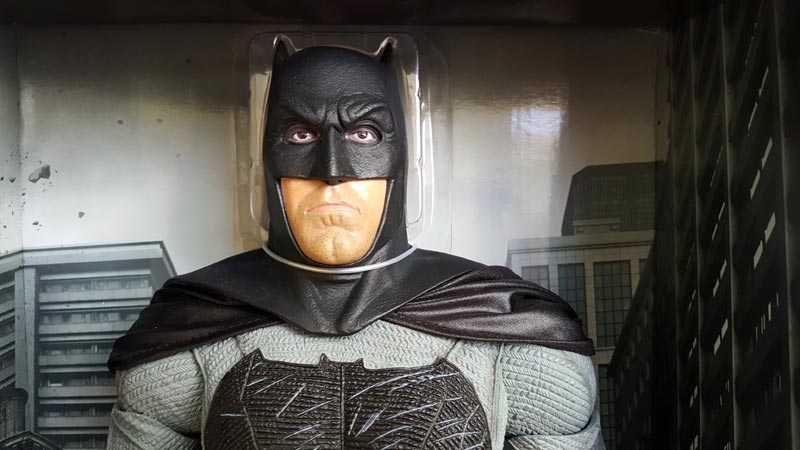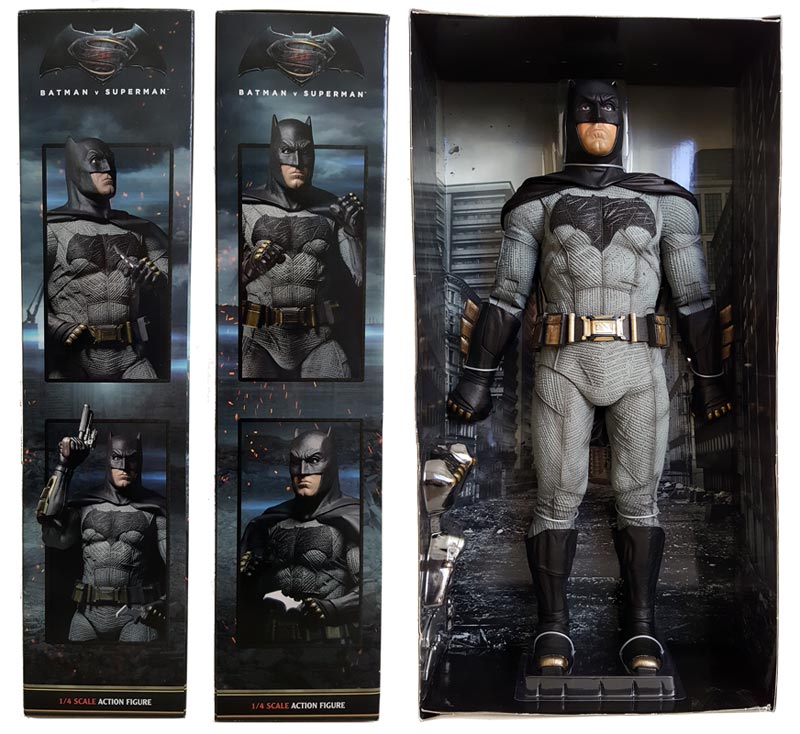 So before we get to the unboxing, the first thing that you notice about this oversized action figure which borders more on a statue than figure is the excellent packaging that really mirrors the overall tone of the film with . The box also has a plastic window which highlights this 1/4 scale action figure with its recognisable logo.  Another thing is the face of this figure looks identical to Ben Affleck so kudos for NECA in successfully capturing the likeness of this actor which creates Batfleck!
After opening the box, NECA also ensure that this figure is well packed and after freeing Batman from the box and his plastic ties, it really makes you appreciate the movie accuracy of this figure. It's pretty much a flawless rendition! There's also some great accessories that come with this figure which increases the different ways on how it can be displayed such as adding different hands, batarangs or even its grappling gun with 2 tips.
One cool aspect about the different hands is that two of them are fists with gold knuckle dusters on them which really screams badass and could punch a certain Kryptonian into space. The figure also holds the blaster and the batarangs quite well which can once again be displayed in a myriad of ways. Given that, on the hands that hold the blaster or batarangs, the thumb is removable which makes the holding the gun a hell of a lot easier.
The sculpt of this figure is perfect and the attention to detail is amazing, whether it's the various textures used on the costume or the subtle marks on the face or logo, it really makes this quite a faultless 1/4 action figure. To assist with the overall look, the eyes of this figure almost looks real and gives Batman quite a menacing or determined look.
The material cape is well attached to this figure and helps with the overall display. As the cape was neatly wrapped in the box, it will take a few days to smooth itself out. However one slight issue with the figure is that given the size and weight of it, it can make positioning it a little tricky, particularly if you want to do a more challenging pose. One way around this is to use some putty under the feet to make it more stable. These 1/4 action figures would probably benefit from some kind of clear base.
As mentioned, this figure boasts some insane articulation and whether that's moving the head, arms, legs or even waist, there's a plethora of ranges and movement possible. It's also good that these joints feel solid so it does allow the figure to keep its position well because nothing feels too loose. Unlike a solid statue, the articulation of these 1/4 scale action figures from NECA does allow for more interactive displays and adds an element of realism to it. Best of all, the articulation joints don't stand out too much either which sometimes disperse the illusion so kudos to NECA for creating such a flawless integration of the figures joints.
In relation to NECA's Arkham Knight Batman, that figure is more detailed but the 'Batfleck' is still quite an imposing figure in its own right, particularly the face sculpt. All in all, this Batman v Superman 1/4 scale Batman action figure is a very well product from NECA and comes with some great accessories.
Final Thoughts?
The Batman v Superman: Dawn of Justice Batman 1/4 Scale figure is an amazing piece from NECA that successfully captures the likeness and spirit of the world's greatest detective from the film. Then you have the perfect likeness of Ben Affleck with some great attention to detail, fun accessories and some insane articulation in order to pose the figure in a variety of ways. So if you're looking for something massive and you're a fan of Batman, then check out this amazing 1/4 scale figure from NECA!
Recommended!
Available at all good collectible stores and check out http://necaonline.com/55160/licenses/pop-culture/dc-comics/batman-v-superman-dawn-of-justice-14-scale-action-figure-batman/ for more information
Our Gallery