Collectibles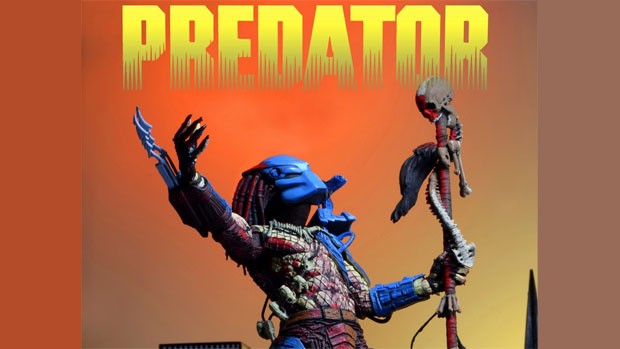 Published on July 24th, 2015 | by Edwin Millheim
NECA 25th Anniversary Dark Horse Predator Action Figure Review
Summary: If you're a fan of Predator or NECA's amazing line of action figures than this is another excellent item to add to your collection!
Predator hit the world by storm in 1987 that starred Arnold Schwarzenegger as Dutch, an elite commando who went to head to head with an extra-terrestrial hunter as his team were slaughtered one by one in the South American jungle. The 1990 sequel took a different turn of events and was set in Los Angeles which focused on Lieutenant Mike Harrigan (Danny Glover), a police officer who also went head to head with this deadly warrior but unlike the first film, this was in the streets of LA itself. Since then, both films have become cult classics.
However in 1989/1990, Dark Horse Comics released the "sequel" to the original film that focused on Dutch Schaefer's brother, detective Rasche that takes him to both South America and New York in order to find not only the Predator but also a nefarious drug lord thanks to a string or murders. I actually own the original comic and it was definitely quite revolutionary at the time. Given the franchise of Predator, the comic was a defining moment in the series and NECA is celebrating this Dark Horse story with their 25th anniversary Dark Horse Predator Action Figure… and yes, it's that good!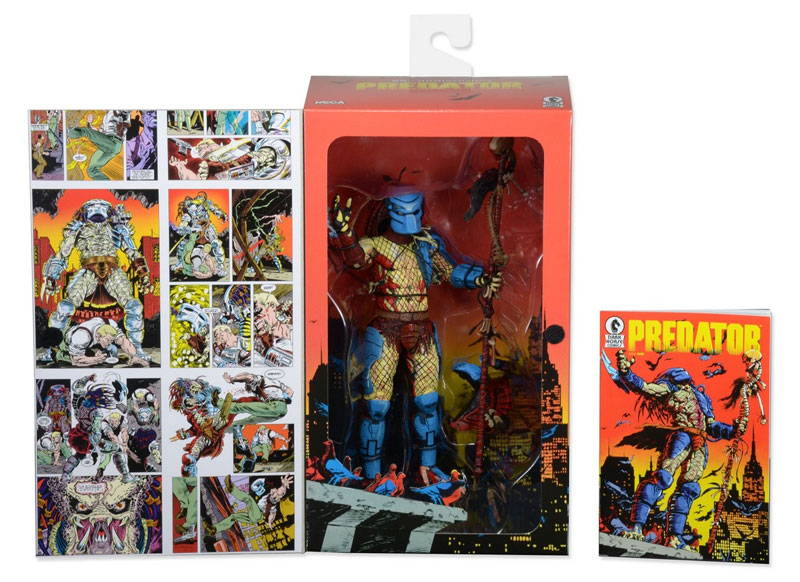 This amazingly detailed action figure measures at 7 inches (17.78cm) and is beautifully packaged in a box that looks like the original comic. On the back of the box, there is a list of NECA's other movie collectibles of 7 inch action figures that includes the Aliens and Predator franchises.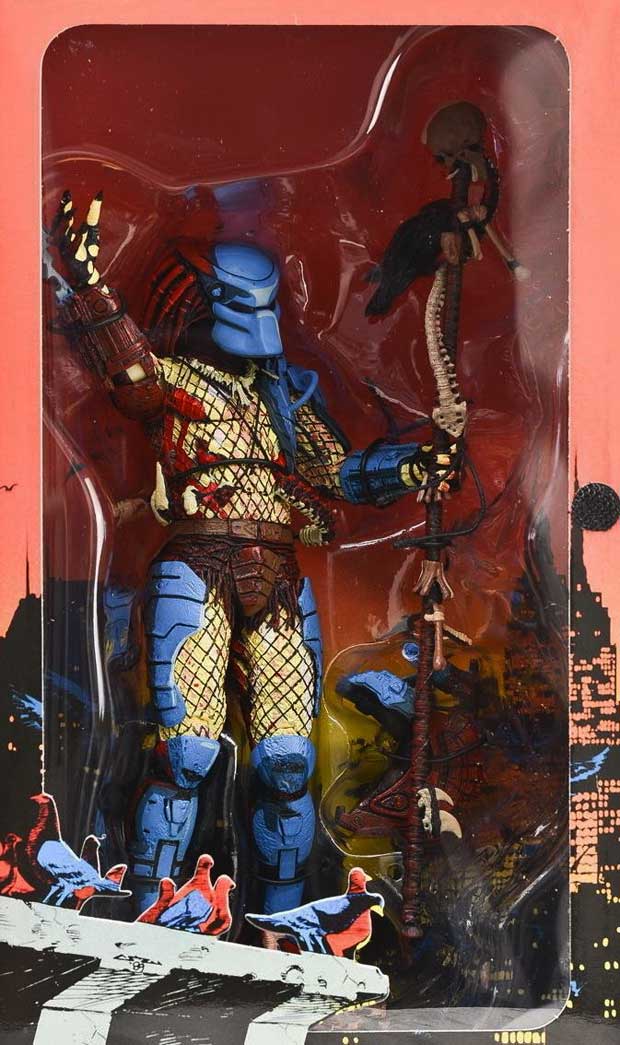 For collectors, the box can be displayed as the front opens (just like a comic) to reveal the Predator from the original comic with its familiar blue colouring helmet and armour. Needless to say, it's definitely a collector's piece as it also comes with a mini-comic.  Furthermore, the deluxe window box packaging looks identical to the front cover of the comic which is pretty damn impressive.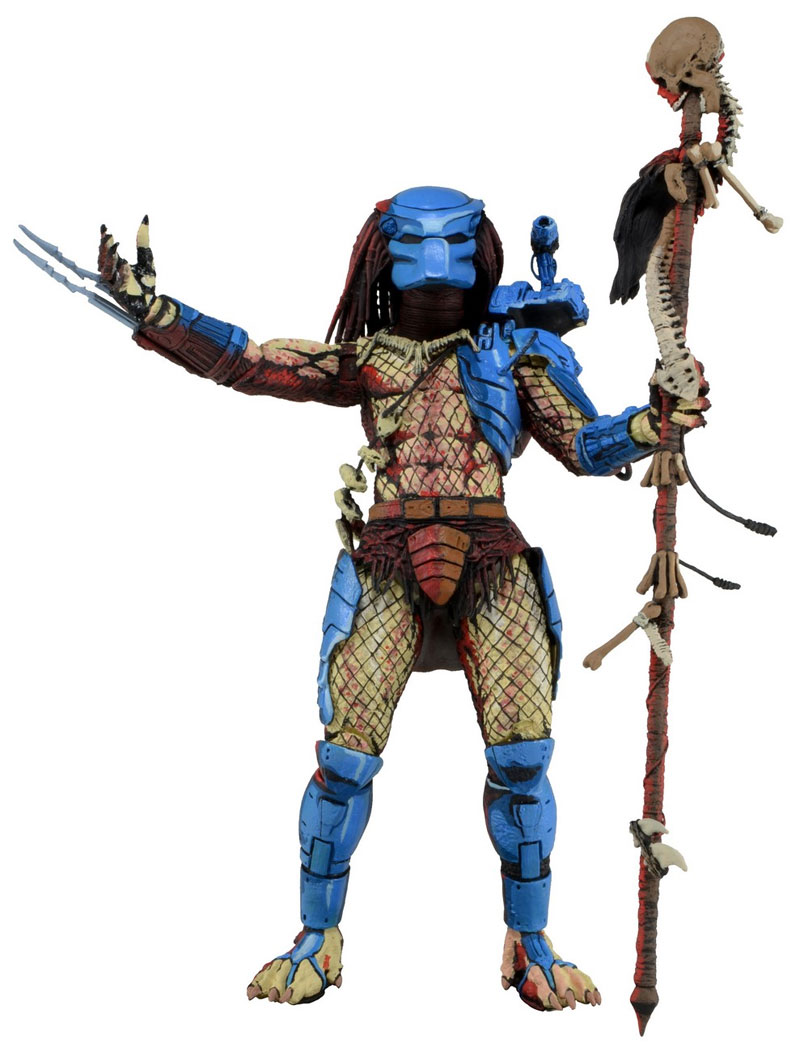 Like NECA's other 7 inch line of action figures, the detail is quite impressive and it successfully transforms the iconic comic character into the real-world. The three most striking features of this figure are the blades on the right arm, the Predator helmet with its shoulder gun and the staff which boasts a human skull on the top. To compliment the detail of this figure, other standout features include the bandolier of skulls and the Predator necklace which is a mix of fiber materials and plastic, giving it a superb and disturbing detail of the Trophy Hunter we all know and love.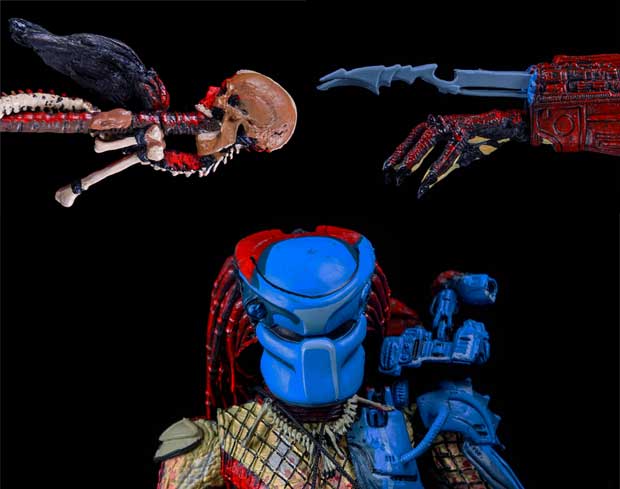 Add in the decent paint work, articulation and this figure makes the perfect addition to your collection, especially if you're a Predator fan. The only slight issue I had with this figure is that it does take a little bit of tweaking to make it stand correctly but apart from that, NECA should once again be commended on another excellent action figure.
Final Thoughts?
If you're a fan of Predator or NECA's amazing line of action figure than this is another item to add to your collection!
For more information, please visit http://necaonline.com/51399/products/toys/action-figures/predator-7-scale-action-figure-25th-anniversary-dark-horse-comic-book-predator/
Available at all good Comic Stores and stores that sell memorabilia