Hardware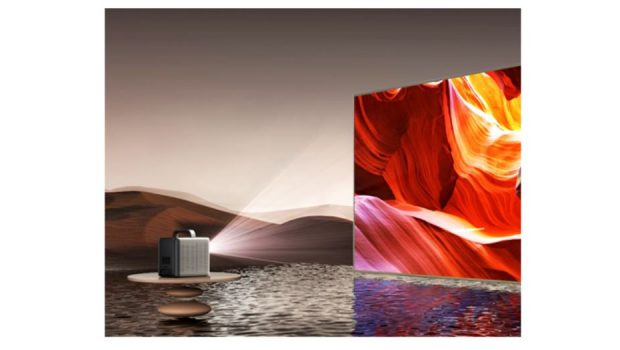 Published on May 24th, 2022 | by Adrian Gunning
Nebula Brings Out-of-this-world Laser-Powered 4K Cinematic Experience to Australia
Nebula, the leading smart projector brand manufactured by Anker Innovations, and distributed exclusively in Australia & New Zealand by Directed Electronics, today announced the launch of Cosmos Laser 4K, the company's first portable 4K laser projector featuring Android TV10.
By partnering with JB Hi-Fi, Nebula is able to launch the Cosmos Laser 4K first in Australia among the global markets, meaning Aussies will be the first to get their hands on this exciting new release.
The Cosmos Laser 4K is the company's first premium, long-throw laser projector, featuring  4K UHD resolution. As an environmentally-friendly light source with high light efficiency, laser technology brings a new evolution to Nebula's projector offerings.
The Cosmos Laser 4K is  powered by a laser phosphor light source, providing 2,400 ISO lumens of brightness and boasting a whopping 150" screen. It utilises a simple, easy-to-use and familiar Android TV 10 interface with built-in Chromecast that provides access to over 7,000 mainstream apps using the Nebula Streaming Dongle, which conveniently tucks into a compartment in the rear of the projector. These include popular streaming services such as Netflix, Hulu, ESPN, Amazon Prime, Disney+ and many more.
"As the latest offering in Nebula's catalogue, the Cosmos Laser 4K is the perfect combination of premium features and portability," says Gaspar Xie, Head of Sales & Operations ANZ. "Alongside an extensive range of apps to choose from, users can enjoy crisp, clear video experiences with ease, no matter where they are."
To complete the full-entertainment experience, the Cosmos Laser 4K features built-in immersive audio, providing two 10-watt and two 5-watt speakers.
The Cosmos Laser 4K also features Seamless Autofocus, Gridless Auto Keystone, Eye Guard, to prevent eye damage while standing in front of the projector, and Auto Screen Fit.
Pricing & Availability
Nebula Cosmos Laser 4K
RRP: AUD $4,295
Retailers: On-sale now exclusively at JB Hi-Fi