Games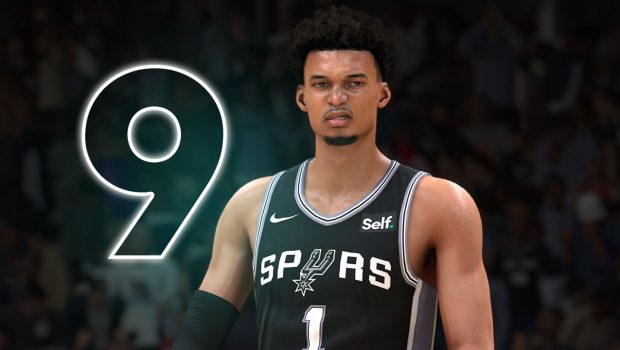 Published on October 19th, 2023 | by Adrian Gunning
NBA 2K24 Season 2: Experience the Future Starting October 20
Victor Wembanyama, the prototype of the future, leads the way this Season with new out-of-this-world rewards and more 
Today, 2K revealed that NBA® 2K24 Season 2 is bringing the future to the court along with new content and rewards for MyCAREER, MyTEAM and The W* this Friday, October 20. Season 2 features out-of-this-world rewards like a Level 39 Cyborg suit, new MyTEAM cards including a Level 40 Diamond Wilt Chamberlain, and more!
In NBA 2K24 Season 2, players can experience the future of the NBA with the international prospect who has been touted as one of the best prospects since LeBron James, Victor Wembanyama. Wembanyama has a rare combination of size, speed, and a deep bag of offensive wizardry, signaling a potential golden age of Spurs' basketball as the 2023-24 NBA season heats up. More updates include:
MyCAREER gears up for new rewards for players to unlock, including a Level 20 Slime BMX Bike (both gens), a Level 30 Mascot Costume in MyCAREER (both gens), a Level 39 Cyborg Suit (both gens) and for New Gen players a Level 40 Gold Floor Setter and for Current Gen players, an Extra Badge Point.
MyPLAYER features 20 new NBA player templates for New Gen in Season 2 and, for the first time, 2K community created templates. Templates serve as a foundation for building a MyPLAYER. Season 2 offers legendary playmakers like Jason Kidd and Steve Nash to punishing rim protectors in Blake Griffin and Dwight Howard. For even more options to choose from, prominent members of the 2K community will also have builds featured in game like SHAKEDOWN2012's 2-way, 3-level threat shooting guard archetype and BROTHA JONES's hybrid small forward leaving no shortage of options to choose from.
MyTEAM will feature new Diamond cards of basketball legends. Players will start off the season by earning a Level 1 Free Agent Victor Wembanyama and can grind through the rewards ladder to unlock a Level 40 Diamond Wilt Chamberlain card, while earning a bunch of other reward cards along the way. With two new premium collections, players can pick up a Diamond Tim Duncan and Diamond Carmelo Anthony as Collection Rewards or as Special Inserts in the Pack Market. Season 2 will also launch with a Diamond Michael Jordan available both as a Special Insert in the Pack Market, and directly in the Player Market.
The W* features seasonal rewards, including a Tiffany Hayes Jersey and a Sandy Brondello MyTEAM Coach Card, as well as weekly rewards like a Breanna Stewart Heroine Edition Jersey, Team Accelerator Boosts, Team Resilience Boosts, Sparks Logo Cards and more.
Season Pass** means players can earn even more rewards each Season. Season 2 Pro and Hall of Fame Season Pass features 40 extra earnable rewards consisting of Skull Face Paint, Carbon Fiber Cyborg Suit, Diamond Shoe + Boosts Option Pack, 45,000 earnable VC, 25,000 earnable MTP, Sci-Fi Armor and Gloves, an alternate artwork Diamond Wilt Chamberlain card, and more. To kick things off, unlocking Pro Pass for Season 2 will instantly grant players an Amethyst Donovan Mitchell along with a Hall of Fame Hyperdrive badge card, an oversized eyeball hoodie, and a pair of eyeball cargo sweats.
2K Beats will be dropping new music every Friday from renowned artists and up-and-coming innovators in celebration of the NBA 2K franchise's 25th anniversary, adding to the diverse culmination of tracks from artists around the world that represent the past, present and future of the franchise.
For all the details for Season 2 of NBA 2K24, check out the latest Courtside Report. NBA 2K24 is currently available for PlayStation 5 and PlayStation 4, Xbox Series X|S and Xbox One, Nintendo Switch, and PC platforms. For more information, please visit the game's official website.