Games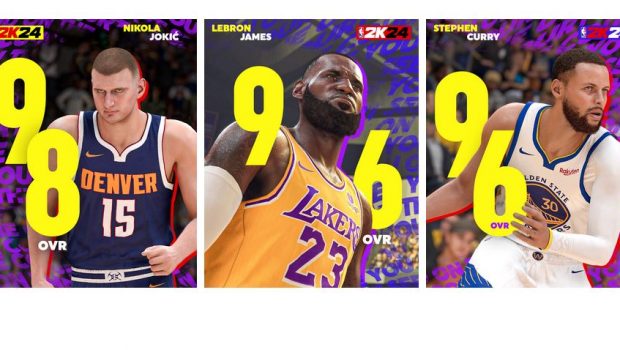 Published on August 10th, 2023 | by Adrian Gunning
NBA 2K24 Kicks off Player Ratings Reveal with Nikola Jokic, LeBron James, Steph Curry and more
The time is here. NBA 2K24 has kicked off a fan-favorite event — NBA 2K Ratings Reveal.
Alongside some game-changing rookies that were unveiled last week, such as Scoot Henderson, 2K today unveiled the top individual player ratings coming to NBA 2K24.
Denver Nuggets center Nikola Jokić: 98 OVR
Milwaukee Bucks forward Giannis Antetokounmpo: 96 OVR
Los Angeles Lakers forward LeBron James: 96 OVR
Philadelphia 76ers center Joel Embiid: 96 OVR
Phoenix Suns forward Kevin Durant: 96 OVR
Golden State Warriors guard Stephen Curry: 96 OVR
Dallas Mavericks guard Luka Doncic: 95 OVR
Boston Celtics forward Jayson Tatum: 95 OVR
Miami Heat forward Jimmy Butler: 95 OVR
Phoenix Suns guard Devin Booker: 94 OVR
Los Angeles Clippers forward Kawhi Leonard: 94 OVR
Portland Trailblazers guard Damian Lillard: 94 OVR
These ratings and more will be unveiled throughout today and tomorrow. Press assets for the top individual players can be found here. More ratings, including top international players, will also be unveiled later this week.