Games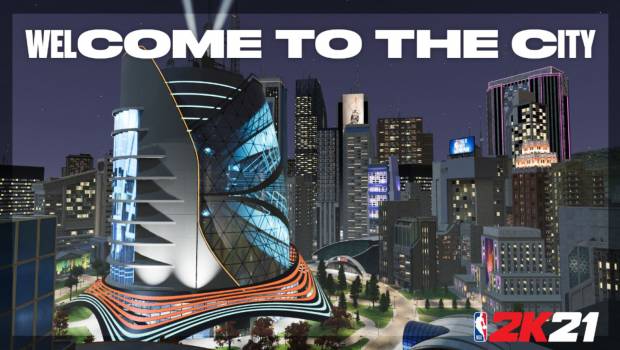 Published on November 5th, 2020 | by Andrew Bistak
NBA 2K21 NEXT-GEN CITY REVEAL #XBX #PS5, Xbox Series X, PlayStation 5, Xbox Series S
If you're still on the fence in buying one of the all-new next-gen consoles, the Xbox Series X|S or the PS5 and you're an NBA fan, this amazing trailer from 2K may just change your mind!
Here's the official write-up from 2K courtesy of Erick Boenisch, Executive Producer at Visual Concepts.
NBA 2K21 NEXT-GEN – THE CITY
We're roughly a week out from the release of NBA 2K21 for the next-gen PlayStation 5 and Xbox Series X|S platforms. I can't believe it is basically already here! As I noted in the last Courtside Report I wrote, it has been an incredibly unique year for all of us here at VC, as it has been for many of our friends in the entire video games industry. To be in this position to kick off a whole new generation of NBA 2K games, alongside the next-gen console launches, speaks to the team's unassailable hard work and dedication to make NBA 2K21 the best experience possible. My endless thanks goes out to the entire team at Visual Concepts!
So far in these Courtside Reports, we've talked about next-gen gameplay and all the innovations we're bringing to player animation, collision, AI behavior, and so much more. The graphics…we've all seen the graphics! We've also introduced all-new WNBA experiences – The W, The W Online, and MyWNBA – that bring long-awaited gameplay modes to the women's game in NBA 2K. And now, as you've undoubtedly already seen from the trailer, the team here at Visual Concepts is incredibly proud to present…The City!
But first, a little bit of history.
When we made NBA 2K14 for what was then the new, next-gen gaming consoles, we introduced "The Park." The vision was to create a competitive online basketball environment that allowed our quickly growing community of NBA 2K fans to compete against each other outside of the authentic NBA experience. This meant allowing NBA 2K players to take their custom MyPLAYERs and bring them into a whole new place where you can compete with friends and complete strangers. Just like walking onto an outdoor court to run a half-court game or waiting for 5s at your local rec center, the Park was our version of playing pick-up basketball and taking part in its unique, competitive vibe.
Over the past seven years, it has evolved and expanded with features that enriched the online experience at every stop. The Park experience quickly grew into The Neighborhood as the NBA 2K community itself flourished, and it's been our most popular feature over the years. We're very proud about what we were able to build in the past and are astonished every day by the competition and creativity that our fans demonstrate in our world.
With all this said, I am proud to be the very first to welcome you to…
THE CITY
Here is The City at a quick glance: Imagine a map that is many, many times larger than previous Neighborhoods. A design that resembles a modern metropolis, complete with towering skyscrapers, sprawling plazas, and a city center. Oh, and it houses four distinct boroughs that are controlled by four rival Affiliations. And with that, I'm incredibly proud to announce that Affiliations are BACK! I'll go into more details on Affiliations a little further below. For now, let's keep painting the picture of what The City truly is.
The City is our most ambitious execution of a virtual basketball community…ever. The sheer amount and variety of buildings and basketball courts that we were able to create and fit into the map still amazes me to this day!
Let's talk about the core components of The City and their functions:
Rookieville – Sitting just off the water's edge on the southern side of The City lies the Rookieville docks. Rookieville is exactly what it sounds like; this is where your NBA 2K21 City journey will begin. MyPLAYERs looking to dive into The City and all that it has to offer must first prove their skills amongst other rookie MyPLAYERs in this isolated cluster of basketball courts. Meet the requisite actions in Rookieville, and the gates of The City will open before you. Let's find out what awaits you on the other side…
Boroughs – As I noted above, Affiliations make their long-awaited return in NBA 2K21. Each has a dedicated space in the North, South, East, and West sections of The City that we refer to as boroughs. Each borough has its own vibe and collection of basketball courts – decked out in the Affiliations logos and colors. Additionally, each Affiliation area houses a unique Warehouse basketball court, where new MyPLAYER progression features await. More on this below!
Event Center – The heart of The City is the brand new Event Center, shining like a bright beacon, no matter which borough you view it from. Equally bright and shiny are the many different interiors of this futuristic monolith, where the court floors and walls are lined with dynamic LED screens and lighting elements that change the tone and vibe of the setting. All new and returning Events will be held inside the Event Center, and special intra-Affiliation competitions will take place here as well.
Garage Hoops – Exploration is a major part of experiencing The City. Sprinkled around The City, you will find basketball hoops attached to the side of some buildings – if you look close enough. If you happen to see one, try pulling out your basketball and shooting some hoops with it. If another player passes by and sees you shooting, they will have the ability to step on the court and shoot with you. From there you will have the option to quickly and seamlessly launch into 1v1, 2v2, 3v3, HORSE, and many other game types. Its simplicity is its strong point. And as an added bonus, there are large VC multipliers you can earn on these courts each day for your first five games played! This is a great place to start your day off as you warm up for the main event at your affiliation's courts.
People of The City – Continuing on with the theme of exploration, scattered throughout The City are quest/objective giving NPCs. If you've ever played any RPG experiences, you'll have no problem spotting them; they will be the people with colored exclamation points above their heads. Every 4-6 weeks, new quests/objectives will be added to our People of The City, such that you will find yourself with new things to do all year long.
Generally speaking, there are two lines of quests. The first is a series of single player 3v3 games you will be challenged with in the Warehouses found in the court area of each affiliation. Some of these can be pretty challenging as you'll be facing off against some of the best players to ever lace up a pair of basketball shoes. The insides of the Warehouses are actually very cool. Astute players who enjoyed NBA 2K20's Neighborhood will appreciate the throwback efforts within them! The other line of quests will encourage you to get out and play games in The City, and reward you for doing so. Simple as that. Complete all of the quests and you will earn some unique clothing items/accessories that are not sold in stores. Get out there and ball, my friends!
Gatorade Training Facility – The mecca of MyPLAYER physical training gets a makeover on multiple levels – literally. The facility has now expanded to two floors, where on the first floor, MyPLAYERs will find their usual array of training equipment that'll help beef up their abilities. The second floor houses a great new feature in The City: Rental Courts. Want an uninterrupted run of games with your friends or other ballers you just met? Rent a court in the Gatorade Training Facility and play games however you want!
Special Courts – There are a couple full-sized (one 4v4, the other 5v5) courts available in The City. These are non-affiliated courts that our team created to pay tribute to two things we are very passionate about. One of these courts was built to commemorate and celebrate the late Kobe Bryant. The surface is textured beautifully with Kobe's signature snakeskin design, and his numbers 8 and 24 mark the restricted areas at the opposite ends of the court. And overlooking the grounds is a gigantic mural of an iconic Kobe moment, where he stood triumphantly on the scorer's table as he celebrated his 5th NBA championship. I know you all are picturing the pose. What you are thinking is correct; and it is immortalized right here in NBA 2K21's The City. This is a location where you will find me playing, as I celebrate my Laker and Kobe fandom!
Fire Ball – Holding court in The City is going to come with an air of prestige in the next-gen version of NBA 2K21. On occasion, you will see a Fire Ball being used on the courts…yes, literally A BALL THAT IS ON FIRE! When your team wins 10 games in a row on Affiliation courts, the ball used in your game will immediately catch on fire and stay lit until you lose. Expect crowds to gather around your court when this happens! You already know that everyone seeing the fire ball will be like a bat signal for the best ballers to start lining up to dethrone your reign. Challenge extended!
Pink Diamond Plaza – One of my favorite basketball court designs in the next-gen version of NBA 2K21 sits atop Pink Diamond Plaza, located right in the heart of The City. Decked out in fluorescent lights and with music orchestrated by a resident DJ, Pink Diamond Plaza hosts the entirety of the MyTEAM Triple Threat Online experience. Give it a look and prepare to be impressed!
Apparel Stores – While some of your favorite shops from the old Neighborhoods will be returning, The City has been built to feature an even wider variety of apparel locations for you to express your style. Some of our closest brand partners will be receiving a dedicated space within our plaza of shops. All your favorites, including Nike, Jordan Brand, adidas, Under Armour, Puma, and many more can be found in the City. For me, two of my favorite new stores are Alter Ego and Drip Brothers; you can get some fun items in those two! Be on the lookout for all of the new self-expression items we will have available at launch and beyond!
AFFILIATIONS
The City is big. The return of Affiliations, however, may be just as big – if not bigger. For some years now, one of the most requested features from the NBA 2K community has been Affiliation-based gameplay. Naturally, we're incredibly excited to bring it back in a meaningful way that offers competitive depth to the City. This is something we have wanted to do for a number of years now, and the power of the next-gen consoles finally affords us the opportunity to see our vision through.
Let's start with the basics. There are four Affiliations in The City:
Each has their own dedicated borough and set of Affiliation courts within The City. Rep up to Pro 1 by winning a few games in Rookieville, and you'll be assigned to one of these four rival factions. If you didn't land in your Affiliation of choice, you can always head to City Hall of the Affiliation you are interested in joining and file a transfer request. The penalty for changing your Affiliation is your Rep level will reset all the way down to Pro 1 (what you had when you graduated from Rookieville); I would encourage you to think long and hard before abandoning your team to jump ship!
So, who will run The City? At the core of Affiliations gameplay is rivalry and competition. It's us vs. them. Who will be the best? We've designed this experience to be an ever-present grapple amongst the Knights, Vipers, Beasts, and Wildcats for bragging rights within The City. Here is what's in-play as you represent your Affiliation:
Player Rep – Playing on your own Affiliation's courts has its advantages; specifically, you can only achieve your full Player Rep by balling on your home court. Playing on the courts of your rival Affiliations will earn you much less rep per game played. Leveling up and strengthening your MyPLAYER will be very key for what is to come…
Rival Day Conquest – The final two weeks of every Mayor term (more on this below!) will feature the culmination of a series of events to crown which Affiliation runs The City. Rival Day Conquest is a key event where all rep-earning restrictions are removed from The City and you are encouraged to invade every other borough with your teammates and take hold of the courts. Keep a close eye on the leaderboard located in each court area; at the end of Rival Day Conquest, the four Affiliations will be ranked by score and seeded for the culmination of the season, the Rival Day Championship.
Rival Day Championship – Taking place in the Event Center, this is the final piece of the puzzle in confirming your Affiliation as the true champions of The City. Battle head-to-head with teams from other Affiliations as you engage in this culminating experience. For the Affiliation that comes out on top of this head-to-head championship, the spoils of The City await you. You'll be able to head to your Affiliations City Hall and pick up your winner's check (enjoy the free VC!), but the real prize is your Mayor will also be able to deck out your entire borough and make your Affiliation the envy of The City.
This is now the second time I've mentioned the concept of the Mayors. Let's dive in and take a closer look at what a Mayor is, and what they do for you…
MAYORS
A brand new dynamic we're introducing as part of The City are…Mayors! Each Affiliation will be represented by a Mayor; they will be very influential in your day-to-day experience within The City. So what is a Mayor, and what do they do? And how do they become elected?
Let's go over their responsibilities. Mayors are responsible for:
Affiliation Videos – Mayors will be creating assorted videos during their term that will appear in-game on the jumbotrons in the court areas. You can expect your Mayor to emit rallying cries and motivate the members of the Affiliation to perform at the peak of their abilities. After all, like you, they want to run The City!
Custom Playlists – Mayors can curate custom music playlists that only play within their respective borough/affiliation boundaries. This is actually a great feature in that each Affiliation court area will have its own vibe based on the musical selections of the current Mayor. As you move away from one court area, you will hear the music slowly fade away as you get further away. Simultaneously, you'll be approaching a new court area and hear new beats starting to get louder with each step. It is the small details like this that you will find immerse you completely in the experience of The City!
Court Design – There will be events during a Mayor's reign where if their Affiliation comes out victorious, they will have the responsibility of designing what the courts look like for their borough. Will they choose a thematic design that represents the mascot? Will they just ask for Lakers courts? They need to be thinking re-election here with every decision made!
Mural Design – Like Court Design above, there will be opportunities for Affiliations to customize the look of their court areas with highly stylized murals to really set the tone for the location when rival players come to visit!
Uniform Selection – When it comes time to formally battle the other Affiliations head-to-head, the Mayor will have the unique opportunity to select the uniform that all members will wear as they stream onto the courts of their rivals. Dressing for success will be the order here; Rival Days will be monumental periods of time during the season.
Mayors will also be interacting with their constituents via in-game polls and messaging that is all conveniently built directly into the menu system of The City.
Finally, let's talk briefly about how Mayors come to be. For the launch of NBA 2K21, we have hand-selected the initial candidates for mayors (spoiler: they will be some of the biggest names from the NBA 2K community; you know all of them!). These four big-time community influencers will be leading the charge for our Mayor program. But these positions aren't permanent! Every six weeks, we will be holding an election week in the game where you, the community representing your Affiliation, will have the final say on who becomes the next Mayor to represent the cause. These are going to be exciting times that can turn the tides of momentum! We have some fun ideas in store to make election weeks fun and memorable. Stay tuned!
MyPLAYER
With a map of this size, our objective was to populate it with as many ballers as possible. To make for a truly vibrant, dynamic environment, we're supporting hundreds of MyPLAYERs simultaneously in the City. Here's what's new for every one of them:
Walking and Balling… at the Same Time – The basketball is an integral experience in The City in NBA 2K21 (yes, we have LOTS of different balls for you to express yourself with!). You will need to have one in your inventory to participate in the aforementioned Gatorade Court Rentals and Garage Hoops games. Easily my favorite usage of the basketball is the simple act of dribbling it around The City whenever I want. You will be able to showcase your style with the real-time chaining together of a wealth of dribble moves. The dynamism in the system this year truly offers you the chance to create unique and custom showcases of dribbling the ball. One little tip for you: Somewhere out there in The City is a citizen who can teach you some of the best dribble moves around; you just have to find him!
Skateboard/BMX Improvements – One of my favorite improvements to the experience this year falls into the category of the simple joys I get while traversing The City. For the thrill seekers out there, you will find plenty of rails you can grind on with your skateboard this year. That's right, express your style and grind on any rails you can find in The City! There is a very large hill over in the Beasts of the East borough that features the longest rail grind in The City. Have fun with that one! Oh, one more thing, there is a free fully kitted out skateboard waiting for you in Decks, our skateboard shop! Make sure to stop by and pick it up so you can partake in the fun!
The BMX bike has also seen a lot of improvements to its functionality and control this year. Aside from being one of the fastest vehicles in the city, it now allows you to perform a variety of tricks to show off your style. Land the 360 and you'll get everyone's attention. I should probably note, the skateboard also has its own set of tricks you can perform, in addition to the newly added grinding abilities!
One of our new vehicles, the Chopper, is a great way to flaunt your style. It's not the fastest bike, but it's not supposed to be. This one is all about looks and catching the attention of everyone around you. I'm a fan of all the different looks available here; more on the way too. This game will never stop growing and evolving!
Cosmetics – Creating a specific look for your MyPLAYER has been one-half of an important equation in making your MyPLAYER really yours. In the next-gen version of NBA 2K21, we're opening up new customization elements to help you look just right.
Hair – This one is definitely a big ask from you, our community! We're offering a number of new hairstyles this year that will keep you up-to-date with the latest looks!
Accessories – Rep your Affiliation with the latest accessories. Make sure and hit up 'Embellish', one of our many new stores in The City this year, where you can pick up some chain necklaces to truly show off your style!
Apparel – We've got some surprise items in store, including new types of hats (spoiler: I've seen the upcoming 'wacky hats' and they are my all-time favorites!), clothing, footwear, and more. For launch, head to your Affiliation store and mask up with a custom face mask that only people within your Affiliation can sport! It's important to stay safe out there. And as always, we'll continue bringing out new gear to freshen up your look all year long!
CLOSING THOUGHTS
Here at Visual Concepts, we see the dawn of a new generation as a chance to plant our flag and showcase to the world the kind of experiences we are capable of delivering to our dedicated fanbase. Born through a vision we started many years ago, NBA 2K21's The City represents exactly that sentiment. The freedom afforded to us by the open-ended nature of The City is one we plan to grow with and into over the coming years.
2020 has been a challenging year for all of us in mankind. A global pandemic and devastating wildfires (in our neck of the woods) would have been cause for many to throw in the towel. To both my amazement and expectation, the development team here at VC buckled down, adjusted to their new norm, and delivered an experience that only we could deliver. I couldn't be more proud of the team here, and more excited for our fans all around the world!
From our homes to yours, this one is for all of you! We'll see you out there in The City!
Erick Boenisch
NBA 2K21 is available on XBX|S 10 November 2020 & PS5 12 November 2020