Games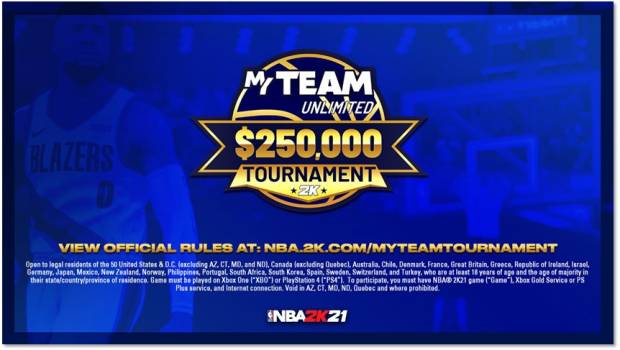 Published on September 25th, 2020 | by Adrian Gunning
NBA 2K21 MyTEAM Unlimited Tournament
NBA 2K is excited to announce the return of the MyTEAM Unlimited $250,000 USD Tournament for NBA 2K21. The tournament is already underway and will be played using the MyTEAM Unlimited Mode on NBA 2K21 for PlayStation 4 and Xbox One, which features 5-on-5 NBA-style gameplay and allows users to choose any 13 cards from their Collection.
Players can enter the tournament by pre-qualifying at the beginning of each new MyTEAM Season. Seasons are new to NBA 2K21's MyTEAM mode, and bring new content and ways to play MyTEAM all year long at no additional cost. Each new MyTEAM season features new daily, weekly and seasonal-based challenges and prizes for players to unlock.
Players need to reach the Emerald Unlimited tier in Unlimited Mode to qualify for one of four GameDays, where they will compete for the highest score by playing a series of qualifying matches. Pre-qualifying is already underway for the first GameDay.
The top four competitors with the highest score on each console family (PlayStation and Xbox) will be slotted for the final MyTeam Tournament on February 21, 2021, where 32 players will play head-to-head elimination matches until the winners from each console are determined. The two best console players will then compete in the final Championship on March 7, 2021 for their share of the $250,000 USD prize purse, where the winner will receive $200,000 USD and the runner-up will receive $50,000 USD. Due to current events, all matches including the finals will be played online.
There four GameDays in each of the upcoming Seasons are:
October 11, 2020
November 22, 2020
January 3, 2021
February 7, 2021
Pre-qualifying periods for each GameDay begins at the start of each new season:
Pre-Qualifying Period for First Game Day on October 11: Play between September 5 until October 11, 2020.
Pre-Qualifying Period for Second GameDay on November 22. Play between October 17 until November 22, 2020.
Pre-Qualifying Period for Third GameDay on January 3, 2021. Play between November 28, until January 3, 2021.
Pre-Qualifying Period for 4th GameDay on February 7, 2021. Play between January 9 until February 7, 2021.
The tournament is open to players aged 18 and over in eligible territories. Players must compete on the same platform family (PlayStation or Xbox) throughout the entire contest.
NBA® 2K21 MyTEAM Unlimited $250,000 Tournament Abbreviated Rules
Open to legal residents of the 50 United States & D.C. (excluding AZ, CT, MD, and ND), Canada (excluding Quebec), Australia, Chile, Denmark, France, Great Britain, Greece, Republic of Ireland, Israel, Germany, Japan, Mexico, New Zealand, Norway, Philippines, Portugal, South Africa, South Korea, Spain, Sweden, Switzerland, and Turkey, who are at least 18 years of age and the age of majority in their state/country/province of residence. Game must be played on Xbox One ("XBO") or PlayStation 4 ("PS4").  To participate, you must have NBA® 2K21 game ("Game"), Xbox Gold Service or PS Plus service, and Internet connection. Void in AZ, CT, MD, ND, Quebec and where prohibited.
This Contest consists of: (i) the Pre-Qualifying Period; (ii) the GameDays; and (iii) the Tournament.  You must qualify during the Pre-Qualifying Period to participate in the GameDays.  The Pre-Qualifying Period begins on September 4, 2020 at 12:00:00 AM local time.  The first GameDay takes place on October 10, 2020 and the last GameDay takes place on February 6, 2021.  You must qualify for the Tournament, which is currently scheduled to take place on February 21, 2021 at 3:00 AM AEST.
Subject to the Official Rules, which will be posted at nba.2k.com/myteamtournament.  Sponsored by 2K Games, Inc. ("2K"), a wholly owned subsidiary of Take-Two Interactive Software, Inc., 10 Hamilton Landing, Novato, CA 94949, USA.