Games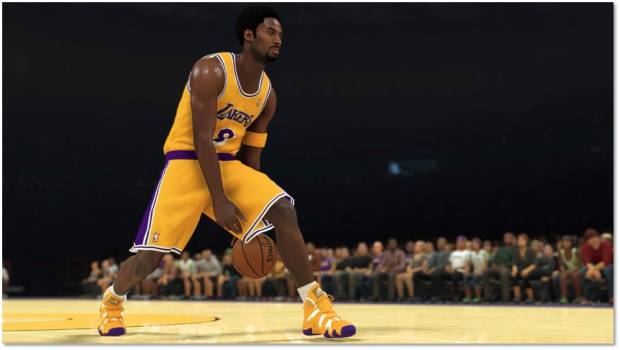 Published on September 7th, 2020 | by Adrian Gunning
NBA 2K21 – Everything is Game
The current-gen version of NBA 2K21 features several new additions and improvements, where veteran ballers and new players alike will find a variety of basketball experiences to dive into:
Realer than Ever – With enhancements across its visual presentation, player AI, game modes and much more, NBA 2K21 continues to push the boundaries as the most authentic, realistic basketball video game experience. Feel the energy of the crowd, the intensity of NBA competition, and the entertainment of the most immersive sports product in gaming today;
Elite Gameplay – Enjoy unparalleled control with the ball in your hands using the advanced Pro Stick. Aim jump shots and layups for a new level of precision and skill, and unlock new signature dribble moves with more effective ball handling;
Your G.O.A.T. Team – Build your greatest collection of latest NBA stars and legendary ballers in MyTEAM and compete against other ferocious collectors around the world. New for NBA 2K21, limited-time Seasons offer unique rewards as you compete in new and returning MyTEAM modes;
New MyCAREER Story – Ascend from high school ball to one of 10 officially licensed college programs to the NBA in a brand new, cinematic MyCAREER experience – The Long Shadow. Take your MyPLAYER to the top by making the big moves on the court and even bigger moves off of it, and make a name for yourself along this exciting, dramatic journey;
New Neighbourhood Locale – Soak in the sun as you ball out in 1v1s, 3v3s and 5v5s; the new Neighborhood in NBA 2K21 takes your game beachside with all-new visuals and layout. Flash your skills and style at 2K Beach, squad up in Pro-Am and earn prizes in dynamically updated 2K Compete Events;
All the Latest Drops and Music – From head to toe, look the part of a baller with all-new apparel and sneaker drops from your favourite clothing, accessory and shoe brands. And ball while taking in the dynamic NBA 2K21 music experience, which features the latest big artists – including two Dame D.O.L.L.A. tracks exclusively debuting in the game – from around the world and breakthrough musicians waiting to be discovered;
USA Basketball – Relive USA Basketball's championship legacy. Take the court with classic teams, collect MyTEAM cards featuring past stars and show off your pride with MyPLAYER gear.
Featuring Portland Trail Blazers' superstar Damian Lillard on the cover, the current-gen version of NBA 2K21 is available for $99.95** on Xbox One, PlayStation®4, and $89.95 on Nintendo Switch™, Windows PC and Google Stadia. The NBA 2K21 Mamba Forever Edition for current-gen features basketball legend Kobe Bryant on a unique custom cover with his No. 8 jersey and will be available for $149.95** on Xbox One, PlayStation®4, and $139.95 on Windows PC. A full breakdown of each version is available here at https://nba.2k.com/buy/.
Of note, the Mamba Forever Edition includes dual-access to NBA 2K21 for current and next-gen versions of the game on either PlayStation or Xbox consoles, providing purchasers with a copy of the standard edition of the game on the other generation within the same console family. Additionally, NBA 2K21 features MyTEAM Cross-Progression and a Shared VC wallet within the same console family (PS4 to PS5, Xbox One to Xbox Series X), enabling all MyTEAM Points, Tokens, cards and progress to be shared on both current and next-generation versions of NBA 2K21 in the same console family. Similarly, the Shared VC Wallet means any earned or purchased VC is accessible across both current and next-generation versions of NBA 2K21 in the same console family. More information is available at the Dual-Access FAQ: https://nba.2k.com/faq/.