Games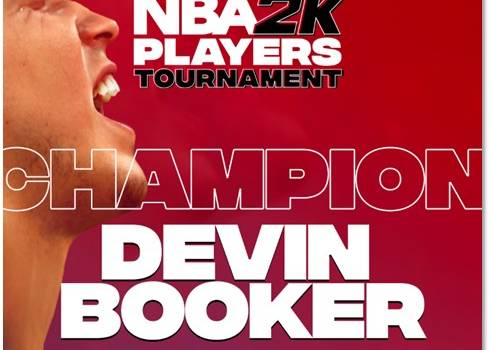 Published on April 16th, 2020 | by Adrian Gunning
NBA 2K Players Tournament – Devin Booked crowned Champion
Last Saturday, Devin Booker defeated Deandre Ayton in the Finals of the inaugural NBA 2K Players Tournament which aired on ESPN and was distributed internationally through broadcast partners. For being crowned the inaugural NBA 2K Players Champion, the $100,000 grand prize will be donated and split between #FirstRespondersFirst and the Arizona Food Bank Network, Booker's charities of choice, in support of ongoing coronavirus relief efforts.
#FirstRespondersFirst is a fund dedicated to providing essential supplies, equipment and resources for the protection of frontline healthcare workers and the Arizona Food Bank Network is a non-profit organization serving five regional food bank members across the state of Arizona and a network of nearly 1,200 food pantries and agencies.
This contribution will add to the $100,000 that Booker and the Phoenix Suns Charities each already pledged to support healthcare workers and those most in need due to coronavirus. The social giving campaign is an extension of Booker's Starting Five initiative and adds to the bench of non-profits he has directly supported.  He has committed more than $2.5 million over the next five years through Phoenix Suns Charities and was just named as a global ambassador for the Special Olympics. Additional donations can be made through Booker's Twitch Channel: Twitch.tv/DBook.
The NBA 2K Players Tournament was a single-elimination, 16 NBA player-only knock-out tournament using Xbox One that took place from April 3 – 11. En route to being crowned the inaugural NBA 2K Players Champion, Booker won matchups against Michael Porter, Jr., Rui Hachimura, Montrezl Harrell and Ayton.
The final featured Booker besting Ayton in a Best-of-Three matchup. He cruised in Game 1, playing as the Houston Rockets past Ayton as the Los Angeles Lakers in a 72-62 victory. Booker then doubled up in Game 2 to take the crown as the Denver Nuggets with a clutch 74-62 victory over Ayton, who was playing as the Milwaukee Bucks.
"With this year's NBA season on hiatus, 2K was honored to have had the opportunity to host this exciting esports competition alongside the NBA and the National Basketball Players Association," said Jason Argent, Senior Vice President of Basketball Operations for NBA 2K. "We'd like to thank everyone involved – players, partners, and ESPN — for coming together and delivering welcomed entertainment, but more importantly, helping raise relief funds for coronavirus recovery efforts."
"I had a really great time participating in the NBA 2K Players Tournament," said Booker. "Winning it was really great for my competitive spirit and I'm glad I could give our fans a little taste of basketball while supporting COVID-19 relief efforts. I hope that our fans stay safe and healthy during this time and I can't wait to get back on the court soon."
To watch video recaps of all the tournament action, fans can visit either the 2K and NBA social channels including Twitter (@NBA2K, @NBA), Twitch (@NBA2K, @NBA), YouTube (@NBA2K, @NBA) and Facebook (@NBA2K, @NBA).