Events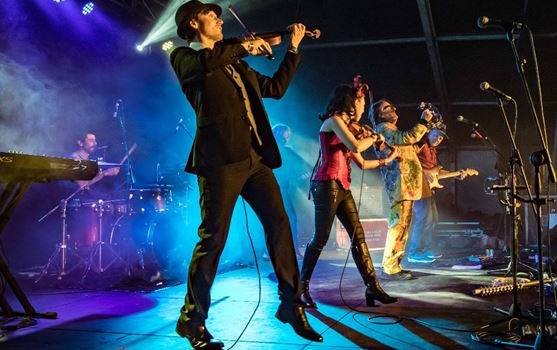 Published on May 19th, 2018 | by Admin
National Celtic Festival… Three Weeks To Go!
8-11 June | WG Little Reserve, Newcombe St, Portarlington
Tickets: via trybooking.com
Weekend Prices: $170 (Adult) | $70 (Youth) | Festival + Camping / Ferry packages available online
It's folk frenzy time! Get out your warmest tartan attire, pack the car with your favourite Celtic tunes or jump on the Port Philip Ferry and head down to the bustling Bellarine for this long weekend's 16th annual National Celtic Festival.
Expecting crowds of over 15,000 and performances across 14 stages, the festival is the premier Celtic gathering in Australasia. It boasts some of the best and most diverse Celtic Folk acts from across the country and the globe, with this year's lineup attracting the likes of Damien Leith, legends of the Irish music scene Altan, Scotland's Paul McKenna Band, troubadours Hat Fitz and Cara, multi-instrumental powerhouse Claymore, trad-folk icons Trouble in the Kitchen, and Irish banjo and flute pair Maggie Carty & Máirtín Staunton. 
Music aside, the National Celtic Festival has a lot to offer food and wine wise. You can browse the Folk Market – which which will play host to over 100 stalls – and feast on artisan produce and boutique beverages from Victoria's local vineyards, distilleries and food trucks. Vendors will include Jimmy O'Neill's, The Celtic Bakery, Rockin' Donuts, the Flying Brick Cider House, Whiskery and Furphy Beer. Anyone care for a plate of boxty, haggis and blood pudding with their Bellarine-brewed Mussel Stout?
And if your enthusiasm extends beyond the buffet, you are encouraged to participate in anything from jousting tournaments to traditional Viking practices. There's certainly something for everything at the National Celtic Festival – it's sure to be a Craic!
National Celtic Festival 2018 full program:
Musicians / Bands
Adelaide Scottish Fiddle Club
Altan (IRE)
Amber
Brid Harper & Dermot Byrne (IRE)
Bruce Watson
Catherine Fraser Trio
Celtic Piping Club
Claymore
Colin Lilli
Damien Leith
Declan Simpson & Beth McCracken with Benno Stephenson
Fiona Ross
Gerry McGeague
Hat Fitz and Cara
Liminality
Maggie Carty & Máirtín Staunton (IRE)
Maria Forde
Melbourne Scottish Fiddle Club
Paul McKenna Band (SCOT)
Rich Davies & The Low Road
Saoirse
Señor Cabrales
Siobhan Owen
Squeebz
Stu Tyrrell
Telenn Tri
The Dixie Chooks
The Drowsy Maggies
The Lochans
Tim Scanlan Trio
Trouble in the Kitchen
Unsung Heroes of Australian History
Zeon
Cultural / Community Groups
St Joseph's College Celtic Group
Comhaltas Melbourne
Dance Groups
Victorian Irish Dance Academy
Cathie's Celtic Dance
O'Shea-Ryan Irish Dancers
Theatre / Storytelling
Niki na Meadhra
Eric Purdie – Glasgow Storyteller & Comedian
Celtic Food
Jimmy O'Neill's – Irish Stew, Irish chips & curry sauce, chicken rolls
The Celtic Bakery – Celtic biscuits & pastries
Aussie Oggie Pastry Company – Cornish pasties, flavoured pasties & pies
Mowatts Traditional Scottish Food
Loaded – Welsh soup, loaded chips, lamb burgers, fudge
Local Food / Wine
Leura Park, Jack Rabbit and Flying Brick Cider House
Whiskery – Local Gin
Furphy Beer
Meltdown Toasties – Gourmet sourdough toasties
Rockin' Donuts – Fresh Donuts, coffee
* Bars will stock Irish and Scottish Whisky, Guinness, Kilkenny, local Gin.
Art / Craft
Deloceano Sporrons / Alliyah – Handmade sporrans, kilt belts/pashminas & scarves
Highland Handcrafts – Wooden boxes, thistles, Celtic art work
Celtic Babe – Celtic inspired baby & children's clothes
Celticmania – Hand made Celtic Jewellery
Greenman Garden Art – Hand made Celtic ornaments
Kim Doherty Textiles – Handmade textiles/clothes with Celtic designs
The Jewellery Box – Original stone jewellery
Celtic Angels – Metal Celtic wall art
The festival has collaborated with podcast producers Michelle Herbison and Mischa Herman to create the first-ever National Celtic Festival Podcast. It's a four-part series featuring inspiring interviews with international and local acts, live music and chats with volunteers, stallholders and audience members. The Episodes Feature:
1. Kevin Crawford, Colin Farrell, Patrick Doocey & more
2. Adam Sutherland, Marc Clement, Feis Ros & more
3. Paul McKenna, Charm of Finches, Duck Duck Goose, Anatole Road & more
4. Calan, The Drowsy Maggies, Melbourne Scottish Fiddle Club & more
* You can listen on podcast apps or on Soundcloud
National Celtic Festival are working with Geelong Sustainability, Care of our Bays and Farmers Place to work towards zero waste at this year's festival.