Games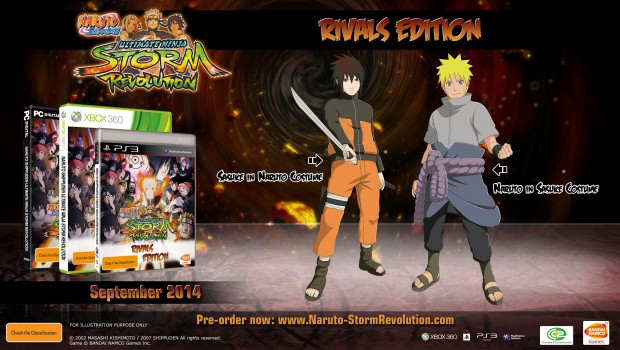 Published on May 22nd, 2014 | by admin
NARUTO SHIPPUDEN ULTIMATE NINJA STORM REVOLUTION'S SAMURAI EDITION & RIVALS EDITION REVEALED!
SYDNEY, AUSTRALIA – May 22, 2014 – BANDAI NAMCO Games Europe S.A.S announced today that NARUTO SHIPPUDEN: Ultimate Ninja STORM Revolution will be reaching Australian and New Zealand shores on September, 2014! This new game will be available on PlayStation®3 computer entertainment system Microsoft X360 Games system and on Steam! This new instalment in the long running STORM series will be proposing several unique items thanks to its different offers.
The Day 1 edition, called "Rivals Edition", includes two exclusive costumes which will not be sold separately at a later date. Naruto will be dressed as his long-time rival Sasuke, meanwhile the Uchiha boy wonder will be dressed in Naruto's signature orange costume. Fans pre-ordering the game at selected retailers will receive a free Samurai Armor Costume Pack for Naruto, Sasuke and Sakura! The strength of each of these young warriors shines through these classical costumes.
Last but not least, thecollector's Samurai Edition will top all Ninjas expectations:
Rivals Edition of NARUTO SHIPPUDEN: Ultimate Ninja STORM Revolution
A 17cms Naruto Samurai Figurine (Produced exclusively for the game)
NARUTO SHIPPUDEN: Ultimate Ninja STORM Revolution Collectible Metal case
Good news never comes alone; the game features the untold story behind Shisui Uchiha and Itachi Uchiha. This tale will be revealed in an exclusive animation that will be woven into gameplay, allowing players to play Shisui for the first time ever!
"Collaborating with CyberConnect2 is a huge honour for us as they demonstrated many times their expertise regarding Anime & fighting games! Once again, we are looking forward to having an exciting and high-quality game," said Herve Hoerdt, Vice President of IP Strategy at BANDAI NAMCO Games Europe. "Producing an exclusive figurine for this game is a new step towards making our games and players unique. We, at BANDAI NAMCO Games, believe that our players deserve the best treatment possible and are working hard to make it happen!"
NARUTO SHIPPUDEN: Ultimate Ninja STORM Revolution'sofficialwebsite, www.Naruto-StormRevolution.com, is now available and will contain all the latest information about this new and upcoming game!
NARUTO SHIPPUDEN: Ultimate Ninja STORM Revolution will be coming to Australia and New Zealand on September, 2014. Get the latest news about Naruto Games on www.twitter.com/NarutoVideoGame and join our community on Facebook: www.facebook.com/NarutoGames. For more information about BANDAI NAMCO Games Europe S.A.S. full line-up, please visit: www.BandaiNamcoGames.com.au