Games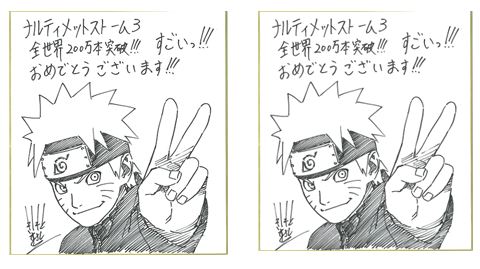 Published on September 12th, 2014 | by admin
NARUTO SHIPPUDEN ULTIMATE NINJA STORM REVOLUTION IN STORES NOW!
SYDNEY, AUSTRALIA – September 12, 2014 – Leading videogame publisher and distributor BANDAI NAMCO Games Europe S.A.S announces today that NARUTO SHIPPUDEN: Ultimate Ninja STORM Revolution is available in Europe, Middle-East and Australasia! The latest game based on NARUTO & NARUTO SHIPPUDEN licences is available from now on for PlayStation®3 computer entertainment system and Microsoft X360 Games system. For all PC Gamers; STEAM version will be available on 16th September and will be packed with tons of magnificent items. The Pre-Orders are still running and up for grabs!
Known for their tremendous quality, NARUTO SHIPPUDEN: Ultimate Ninja STORM games reached a new high proving its awesomeness! NARUTO SHIPPUDEN: Ultimate Ninja STORM 3 (& FULL BURST) sold more than 2 million units worldwide! To celebrate this, Masashi Kishimoto (original manga author) had a special message and sketch for all the fans "NARUTO SHIPPUDEN: Ultimate Ninja STORM 3 (& FULL BURST) surpasses 2M units! Incredible! Congratulations!!"
Boasting tons of never-before-seen content, NARUTO SHIPPUDEN: Ultimate Ninja STORM Revolution will top all Anime fighting fans' expectations thanks to all the enhancements around the gameplay: new fighting types, Ultimate Combination Jutsu attacks, Guard Break and Counter-attack.   Along with this huge plus, Naruto Uzumaki's latest game features three exclusive Anime, created by Studio Pierrot, woven into gameplay: "Creation of  the Akatsuki", "The Two Uchiha" (Background story around Itachi and his best friend Shisui) and  "Far Reaches of Hope" (with Kushina, Minato & his team during their youth).To make things even better, tons of new characters are joining the cast, among them: Mecha-Naruto (Game-exclusive by Masashi Kishimoto), Obito (Ten Tails Mode), Shisui Uchiha (Revealing his Susano'o that has been designed by Masashi Kishimoto),  Konoha's 4 Hokages (Re-Animated Ver.) and many others!
As a result of this brand new game rich content, gamers will be able to enjoy an epic new solo mode: Ninja World Tournament, where they will be able to quest and discover more about the cybernetic alter-ego of our Hero: Mecha-Naruto !
"It is with great joy that we release the latest game born from our association with the exceedingly talented CyberConnect 2 team. With more than 2M units sold for STORM 3 & STORM 3 Full Burst combined; our expectations for STORM Revolution are set quite high! The game content and quality are greater than ever, thanks to a tremendous work from everyone. Our fans feedback is really important to us and this is why we created the STORM League platform; we wanted the fans to have an official platform to create their tournaments and compete in the best environment possible!" Herve Hoerdt, Vice President of IP Strategy at BANDAI NAMCO Games Europe.
NARUTO & NARUTO SHIPPUDEN video-games' fans will be more than happy with the fully reworked Online Mode as they will try to seize the top spot!
To accompany this mode, BANDAI NAMCO Games Europe officially launches its STORM League! A dedicated platform for all fighting-games and Anime lovers to create and host online tournaments!
To celebrate the game Launch, BANDAI NAMCO Games Europe will be hosting its first tournament on 26th of September. Keep an eye on the STORM League official website, and the official Twitter account for more details!
NARUTO SHIPPUDEN: Ultimate Ninja STORM Revolution is available now for Europe, Middle-East and Australasia for PlayStation®3 and Microsoft X360. Get the latest news about Naruto Games on the official website, on the official Twitter and join our community on Facebook. For more information about BANDAI NAMCO Games Europe S.A.S. full line-up, please visit: www.BandaiNamcoGames.com,au