Consoles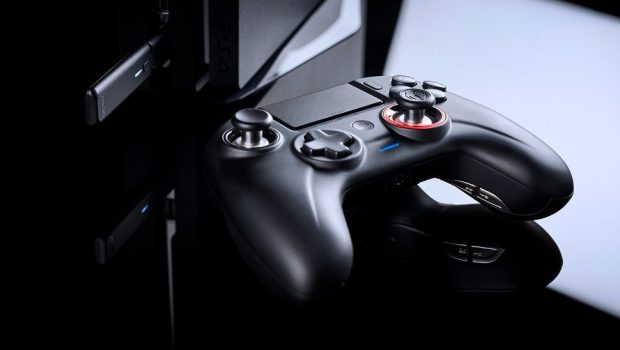 Published on April 27th, 2019 | by James Wright
Nacon Revolution Unlimited Pro Controller Review
Summary: The Nacon Revolution Unlimited Pro Controller ticks all the right boxes and more for a third party wireless controller for your PlayStation 4
Sony's DualShock Controller is a pretty darn impressive gaming controller and ironically the design hasn't changed that much since the original PSOne (PlayStation 1). Sure it has matured as have both games and gamers but at its core, it's a very competent controller and if it ain't broke, don't fix it right? Maybe!
With that said, third party controllers have generally been a hit and miss, however Nacon have scored bigtime for the PlayStation 4/Pro and after using this controller religiously for the last few weeks with games such as Red Dead Redemption, Fortnight, Battlefield 1 and Assassin's Creed Origins, I really cannot fault this ridiculously good controller. It's THAT good and the controller even has a switch to swap between PS4 and PC. If you use this on the PC, you can download accompanying software to create profiles with mapping.
Furthermore, the Nacon Revolution Unlimited Pro Controller is officially licensed from Sony Interactive Entertainment which is another tick for this gaming input device. So before we jump into the schematics of your review, let's check the features of Nacon's Revolution Unlimited Pro Controller.
Revolution Unlimited Pro Controller
Wireless Bluetooth® connection via USB dongle (7m range)
Wired connection via USB-C cable (3m length)
PS, SHARE, OPTIONS buttons
Full function touch pad
4 shortcut buttons (S1/S2/S3/S4)
5mm headset jack: audio and chat in both wired and wireless modes
Two internal compartments and six additional weights to adjust the balance (2x10g / 2x14g / 2x16g)
Soft-touch finish to the controller's casing
EVA storage case included
Compatible with all PS4™ systems
Compatible with PC games in PC Advanced Mode*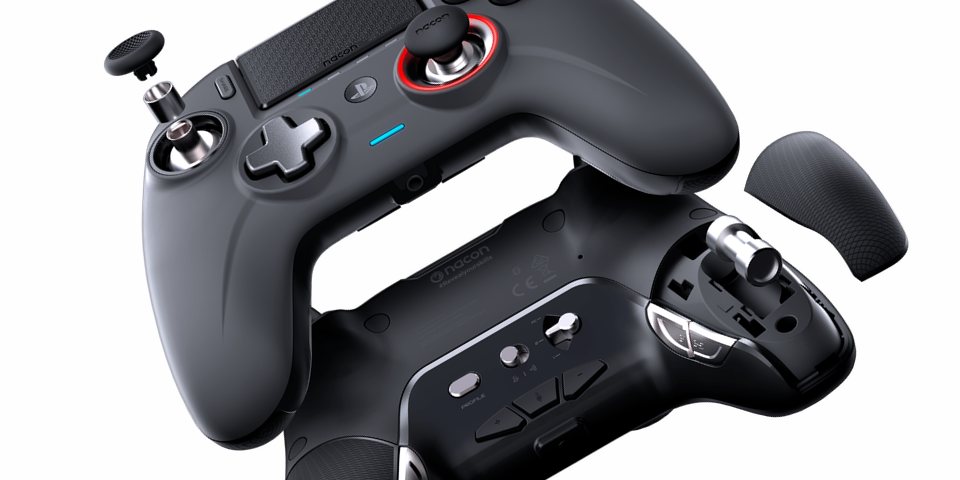 At its core, the Nacon Revolution Unlimited Pro Controller is a next-generation gamepad that does channel those professional gaming e-sport controllers, including an impressive design and overall excellent build quality. Well packed from Nacon, the first thing we noticed about the Revolution Unlimited Pro Controller was feel and button placement that definitely channels the XBox One controller. While different to Sony's PS4 DualShock controller, the Nacon Revolution Unlimited Pro Controller feels good with everything in the right place and more importantly excellent responsiveness and no lag with wireless.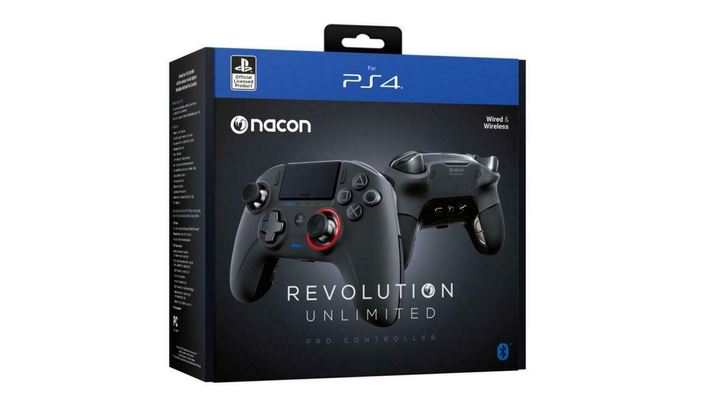 While the controller allows for wireless courtesy of a USB Bluetooth dongle of up to 7 metres, Nacon include a very long 3 metre cable as well, ensuring that you don't have any downtime when it comes to saving the universe or winning that street race… so you're always connected. There's also your trusty touch pad, 3.55mm audio jack, traditional d-pad buttons, shoulder buttons and a halo glow around the right thumbstick which nicely enhances the design… this even changes colour.
Adding to the design is the physical customisation options that allows you to fine-tune this controller.  This includes adjusting the weight to balance of the gamepad via small weights that are inserted into the back handles, two different thumbstick heads (concave and convex), three different thumbstick lengths, including 30,  38, 46 degree amplitudes plus shortcut buttons. As it is a wireless controller, the Revolution Unlimited Pro Controller will give you 7-hours of cord free gaming, including an LED to inform you of battery life.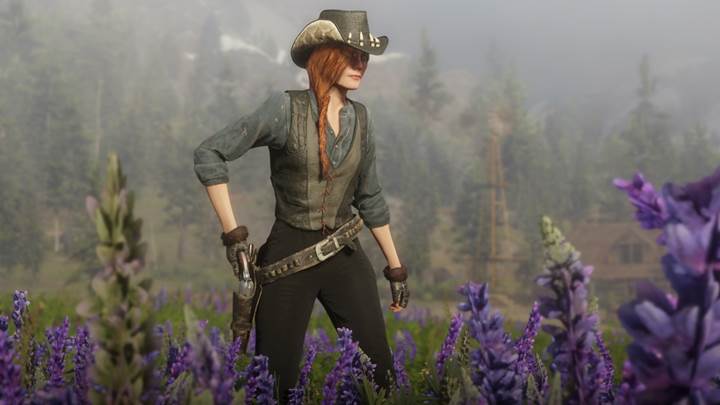 Using the controller on first person shooter was great and with the in-built rubber grips, it definitely gives you added control and as mentioned, there's no lag which allowed me to score those kills quite easily. While I'm more an Xbox gamer, I did find the layout great and the buttons have just enough click, including excellent responsiveness with its triggers that now makes this my go to controller. All in all, this controller worked with a variety of gaming genres well, whether it was FIFA, Need for Speed of exploring some Mexican ruin in Tomb Raider.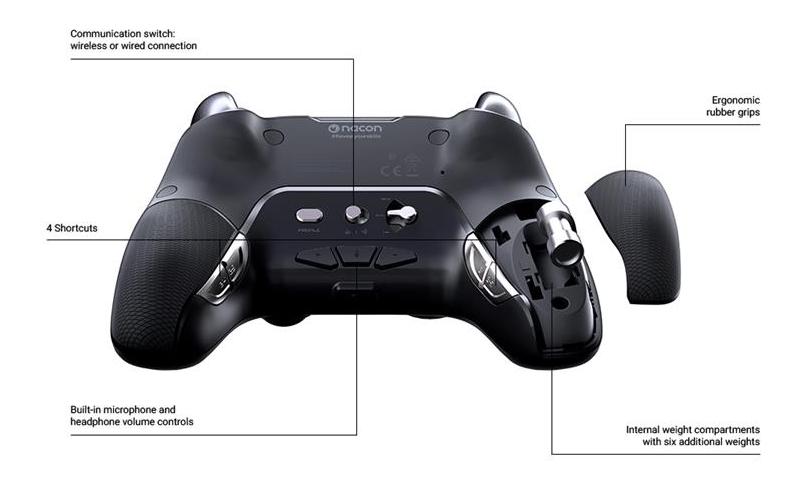 Final Thoughts?
Nacon definitely hit the ball out of the park with their new Revolution Unlimited Pro Controller which is pure gamer and from the very first moment you unleash this beast from its package to its easy setup and first time you play a game, you'll be in pure gaming bliss. With lots of customisation options, the inclusion of a hard case for transport and the ability to swap between PS4 and PC, this is a very well created controller.
The Nacon Revolution Unlimited Pro Controller is now available at all good retailers