Games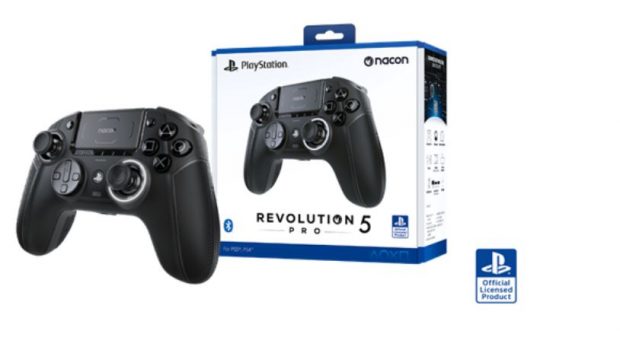 Published on November 8th, 2023 | by Adrian Gunning
Nacon Official Playstation gamepad Revolution 5 pro available now @Nacon @PlayStation
Announced just one month ago, the latest premium controller from NACON, the Revolution 5 Pro, is now available to purchase from NACON Gaming and, online and on shelves through select retailers. Developed in collaboration with Mister Crimson, one of the world's best Fighting-Game players, this controller sets new standards for performance, ergonomics and customization for gamers who demand the best.
With its sixth official Pro controller, NACON offers new and innovative features for this family of consoles, including Hall effect technology.
Hall effect technology is one of the main features of the Revolution Pro 5. This innovative technology, which prevents friction between parts, is integrated into both the triggers and sticks. This allows NACON to reduce the risk of "stick drift" and premature wear, providing increased durability for the Revolution 5 Pro.
Compatible with PS5®, PS4™ and PC*, in wireless and wired mode, the officially licensed Revolution 5 Pro is the perfect ally for players seeking a high-performance, high-quality, customizable controller.
REVOLUTION 5 PRO features:
Improved accuracy and durability for the sticks and triggers thanks to Hall effect technology, which reduces "stick drift" (compared with previous Revolution controllers)
Asymmetric sticks: optimized grip and distinctive ergonomics
Play wired with the 3m detachable cable or wireless with optimized latency via RF technology
Over 10-hour battery life: for long gaming sessions without needing to recharge
Trigger Blocker: adapt to any situation in the game by customizing the amplitude of your triggers
Customization app (on PC/Mac, coming soon to mobile): to make your controller unique and tailored to your play style
Full customization: 4 profiles saved per platform, 3 sets of weights, 3 stick bases, 3 stick heads, and no less than 60 customization options
Ergonomic shortcuts: you choose what actions to assign and where with the buttons on the back of the controller
Multipoint wireless connectivity: connect you controller to your console and instantly switch the sound from your console to your Bluetooth audio device via the controller.
Premium materials for improved comfort and grip
The NACON Revolution 5 Pro is now available through leading retailers such as Best Buy and from NACON Gaming for a recommended MSRP of $199.99.