Uncategorized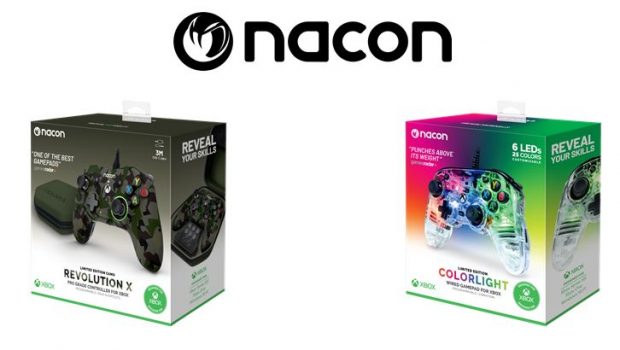 Published on October 19th, 2023 | by Adrian Gunning
NACON Announces Availability of Limited Edition Colorlight and Revolution X Camo Controllers for Xbox
NACON, a major player in video game publishing and designer of premium gaming accessories, is excited to introduce two new wired controllers, now available in North America. Officially licensed for Xbox and compatible with PC, both controllers deliver lightning-fast responsiveness and comprehensive customization features.
The Revolution X Camo offers over 50 physical and software customizable options, while the Colorlight provides gamers with over a quintillion color options through 6 LEDs.
"With holiday spending predicted to reach an all-time high*, gamers will search for the best gear to complement their Xbox setups. The breadth of advanced features and customization options of these new controllers, paired with a competitive price points should please the most demanding gamers," said Jack Reynolds, President of NACON Gaming North America.
He continued, "We've also drawn insights from our category leading camo headsets, to inspire the introduction of the Revolution X Field Camo controller.  Walmart has been a key destination for RIG gaming headsets, where we offer nine models, four of which are special camo editions. As an exclusive, we believe that the Revolution X Camo is well-positioned for strong performance."
The Revolution X Field Camo Controller for Xbox is available now exclusively to Walmart, while the Colorlight gamepad is available now at GameStop.
COLORLIGHT WIRED GAMEPAD
Featuring a low latency design, a 3.5mm headphone jack for game audio and chat and a durable 3-meter braided USB cable, the Colorlight gamepad is the ideal controller for competitive gamers looking for a precision gaming experience. The customization extends to thumbstick sensitivity and adjustable trigger dead zones through the dedicated App available on the Microsoft Store.
The Colorlight Wired Gamepad features:
Officially Licensed for Xbox – Customizable LED controller licensed for Xbox and compatible with PC.
Customizable Colors – 6 LEDs with 25 color variations, 4 lighting effects and 3 scrolling speeds allow for over a quintillion customization combinations.
Dedicated App – Map buttons, set thumbstick sensitivity and adjust trigger dead zones with the dedicated app available on the Microsoft Store.
Game Chat – 3.5mm headphone jack for audio and chat functionality (headset not included).
Low Latency Design – Wired to reduce latency and give you split-second reaction speeds.
Built to Last – Durable and flexible 3-meter braided USB cable included.
REVOLUTION X FIELD CAMO CONTROLLER
Designed for Xbox and PC, the Revolution X Camo controller is built for competitive gamers looking for the ultimate in customization.  Featuring a dedicated app from the Microsoft Store on Xbox Series X|S, Xbox One and Windows 10/11, the Revolution X provides limitless customization options. Gamers can map buttons, set thumbstick sensitivity, trigger dead zones and much more.
The Revolution X Camo features:
Competition-grade wired controller for Xbox Series X|S and Xbox One
Pro Customization: Map buttons, set thumbstick sensitivity, set trigger dead zones and much more with the dedicated Revolution X app that allows pro customization options. Switch between concave and convex thumbsticks plus thumbstick shaft sizes allowing you to customize your play style.
Low latency, greater accuracy: Wired to reduce latency, allowing for faster reaction times and greater accuracy. Four programmable rear panel triggers provide an extra level of control.
Special Field Camo colorway: Cloaked in a Forest Camo design to complete your tactical gaming setup.
Durable: Long 9.8FT/3M nylon braided cable that is highly durable and ultra-flexible.
Game Chat: 3.5 mm headphone jack for game audio and chat functionality (headphones not included)
Buttons overview: Xbox, View, Menu & Share
Availability Details:
The Colorlight Wired Gamepad is available exclusively through GameStop for MSRP $39.99
The Revolution X Camo is available exclusively through Walmart for MSRP $74.00
Watch the trailers below: