Events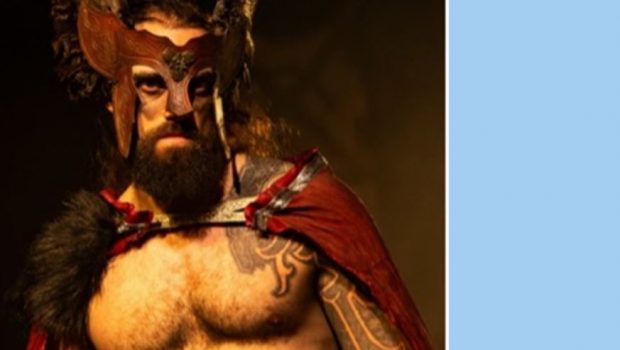 Published on September 25th, 2023 | by Adrian Gunning
MYTHOS: RAGNARÖK ANNOUNCES AUSTRALIAN DEBUT
Phil McIntyre Live is thrilled to announce that following its phenomenal success in the UK, Mythos: Ragnarök will be making its international debut at Melbourne Fringe Festival this October.
The Mythological Theatre's show is unique in the world. Dexterously weaving ancient myths and legends into an original story. Mythos: Ragnarök is the only theatre show ever to use a cast of professional wrestlers, which creates some of the most intense and thrilling fight scenes ever seen on stage. The story follows Odin and Loki in their struggle to overcome primeval giants, rival Gods and Goddesses, and each another's ambitions in a dark comic adaption of the Norse myths.
Despite its spectacular fight scenes, Mythos: Ragnarök is far from mere spectacle, as has been observed in numerous glowing press reviews. Praised for its evocative storytelling, tight direction and scintillating performances, Mythos: Ragnarök has quickly found itself championed by those with no interest in wrestling or mythology whatsoever.
Named a "Must See Show" of Edinburgh Fringe, the show has played to sold out audiences around the UK, earned rave reviews since its debut in 2021 and is now making its international debut at Melbourne Fringe 2023.
The creator of the show, Ed Gamester said "I've been absolutely blown away by the response to our show. I knew this was a form of theatre that needed to be created and shared, but I didn't expect people to fall in love with it like they have. I truly couldn't be more excited and grateful for the opportunity to now bring my story to the other side of the world, to Melbourne and beyond!".
Mythos: Ragnarök will play from Tuesday 3 October through to Sunday 29 October at Festival Park, The Bunker. The show is rated PG and tickets and tickets start from $40.00 and are on sale now at melbournefringe.com.au. For more information about Mythos: Ragnarök visit www.mythosragnarok.co.uk.
Reviews
"Knock-out spectacle, which offers a faintly tongue-in-cheek yet surprisingly detailed and respectful version of the Old Norse Edda… I left convinced that rumbles in the ring are the perfect way to tell this story… Mythos: Ragnarok is just as gloriously mad as its source material. Fight, gloves-off, for a ticket." ★★★★☆ The Telegraph
"This is one of the best nights out you'll have in the [Edinburgh] Fringe because it's not just a wrestling show, it is theatrical in its storytelling. And the wrestling is jaw-dropping, don't miss it!" ★★★★☆ British Theatre
"Powerful performance, writing, direction and wrestling skills combine to set the bar high for theatre as we know it" ★★★★★ Broadway Baby
"Weaves storytelling with physical theatre and scintillating showmanship… Original, masterful and a phenomenon to behold." ★★★★★ Reviews Hub
"A phenomenal blend of theatrical storytelling and professional wrestling… Deservedly leaves a sold-out audience on their feet with applause." ★★★★★ The Wee Review
"It's not often that the entertainment tastes of an intellectually snobby middle-aged woman and an action-mad 10-year-old boy align perfectly… An unmissable blockbuster of a show" ★★★★★ London Theatre 1
"Adrenalin-pumping, tongue-in-cheek Fringe smash" ★★★★★ The Recs
"An exceptional show. One that takes professional wrestling and shows you just how valuable it can be in telling a story, especially one of such magnitude." ★★★★☆ Broadway World
"It walks a careful tightrope, catering to wrestling fans and mythology lovers alike, providing references and jokes to please both, while remaining welcoming to audience members who have no prior knowledge of either." The Fringe Review
"This reviewer's views on wrestling and Norse mythology are similar: relatively indifferent. Yet there was absolutely nothing indifferent about how we felt about seeing Mythos: Ragnarok…a rollicking, energetic, high-octane, high camp show which we'd recommend even to the most sceptical viewer." BrightOn the Inside