Events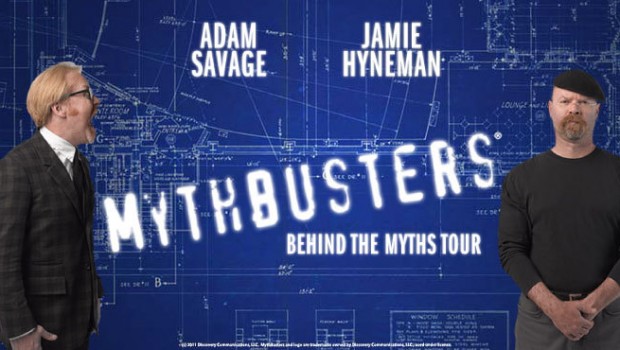 Published on August 16th, 2014 | by admin
Mythbusters Behind the Myths Tour Review (Melbourne)
Mythbusters Behind the Myths Tour
Event: Live show
Tickets: http://www.ticketek.com.au/mythbusters
URL: http://www.daintygroup.com/tour/mythbusters-au/
Reviewer: Victor Bistak
The enigmatic and quirky duo of Adam Savage and Jamie Hyneman, co-hosts of the popular Emmy-nominated SBS series MythBusters are giving Australians a taste of their crazy science experiments in their all-new live show entitled MYTHBUSTERS: BEHIND THE MYTHS. Similar to the TV series, Jamie and Adam create an interactive experience for the audience that includes classic Mythbusters experiments, audience participation and some great anecdotes from behind the scenes. It's almost like you are part of the show with Melbourne playing host to the first part of the tour.
As soon as the show commenced, both Jamie and Adam's infectious personalities really drew the crowd in from the beginning, especially with the introduction video that took us behind the scenes of Mythbusters. This presentation took us to Mythbusters central, the hallowed building where some of the myths from the tv series are busted or made plausible or are confirmed. Add in a short crash course on physics but nothing too severe plus the history of the show and the tour is not only family friendly but explains everything well in laymen terms.
Next up is where the highlights of the tour began, the live interaction with audience and of course audience partition for some lucky few, including on stage experiments. From a bed of nails to high speed camera footage of audience members to see how funny they looked, both Adam and Jamie were on fire for their first show in Australia.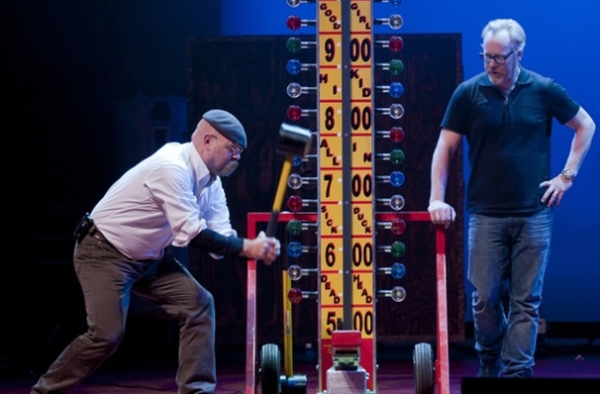 Another great experiment was the carnival hammer demonstration that with physics showed how and why an 8-year old boy could beat this father and later, lift his father. Add in an amusing Q & A session, footage of high speed explosions and a very funny knife routine where Adam "cops" a knife in his hand from Jamie and Mythbusters Behind the Myths Tour ticked all the right boxes in this fun and interactive live tour that is great for people of all ages.
Final Thoughts?
Mythbusters Behind the Myths Tour successfully takes the viewer behind the scenes of this popular show and the myth that live shows can work is confirmed! Recommended!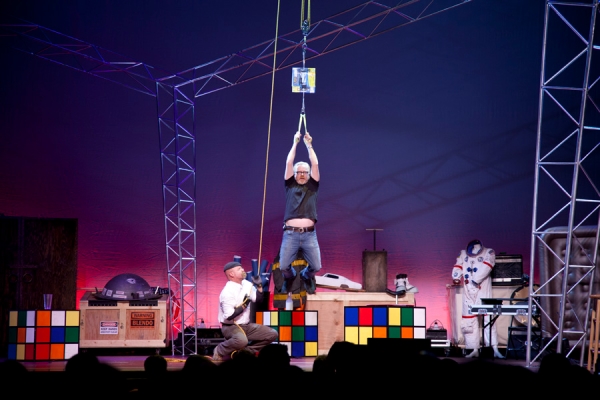 Mythbusters Behind the Myths Tour starring Adam Savage and Jamie Hyneman are in Australia for a strictly limited season from the 16th of August until the 31st of August.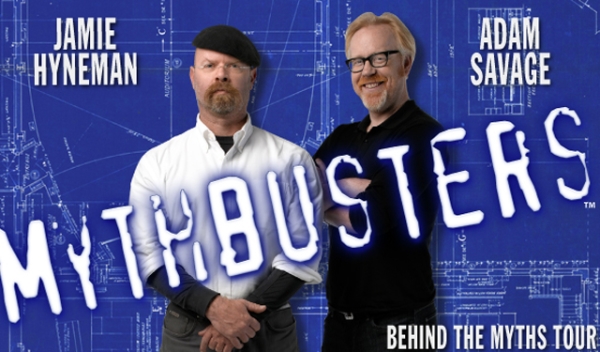 Tour Dates
Melbourne
16 Aug 2014 – 2:00pm Sat Plenary (Melbourne Convention & Exhibition Centre)
16 Aug 2014 – 7:30pm Sat Plenary (Melbourne Convention & Exhibition Centre)
17 Aug 2014 – 2:00pm Sun Plenary (Melbourne Convention & Exhibition Centre)
Adelaide
20 Aug 2014 – 7:30pm Wed Adelaide Entertainment Centre
Sydney
23 Aug 2014 – 2:00pm Sat Qantas Credit Union Arena (Sydney Entertainment Centre)
23 Aug 2014 – 7:30pm Sat Qantas Credit Union Arena (Sydney Entertainment Centre)
Perth
27 Aug 2014 – 7:30pm Wed Perth Arena
Brisbane
30 Aug 2014 – 2:00pm Sat Brisbane Convention Centre
30 Aug 2014 – 7:30pm Sat Brisbane Convention Centre
31 Aug 2014 – 2:00pm Sun Brisbane Convention Centre