Comics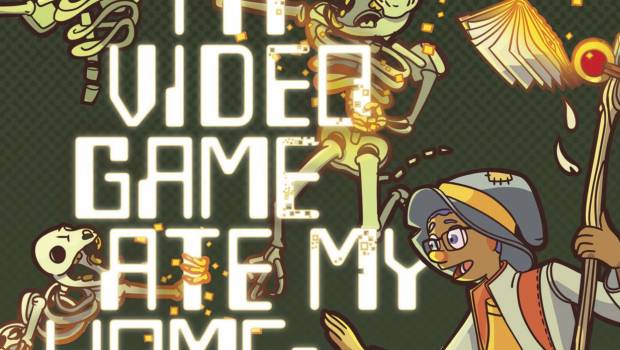 Published on April 7th, 2020 | by Tim Chuma
My Video Game Ate My Homework (2020) Review
Summary: When the first prize for the science fair eats Dewey's project, his friends agree to help him getting back and set out for an adventure of their own.
Dewey Jenkins is determined not to fail science class and have to do Summer School while his friends have fun. When his friend asks for his help with something important, it leads to his science project being swallowed into the virtual world by the first prize for the science fair and his friends all have to band together to help him get it back.
I had not heard of this author before, but his previous book Game On!: Video Game History From Pong And Pac-Man To Mario, Minecraft, And More looks like it would be fun to read and a great companion piece to this book.
This was a really fun book and while it would help if you are a fan of video games, you don't really have to play any specific ones to get the story tropes involved as the story is such that it flows naturally and does not seem like it is trying to explain things to you.
Great artwork and interesting character designs also makes this a joy to read and I am sure I have seen this artist's work before in other projects as it does seem familiar somehow.
I did like the character of 8bit and the part about the messages not being read in time as the printout is so slow just like the buffer overflow errors you used to get back in the day due to limited space and some game effects actually being a result of exploits of errors.
The story has an inspiring message in the form of the main character learning to overcome their disability on their own and even making something to help other people. It doesn't really preach on this and it seems to come naturally from the story.
I would recommend this to the video game fan in your life or even if you like stories with friends in the modern world such as the Famous Five, Tomorrow When the War Began and others.
Comic details:
Illustrator: Dustin Hansen
Written by: Dustin Hansen
Publisher: DC Comics
Pages: 160
On Sale Date: Apr 28 2020