Games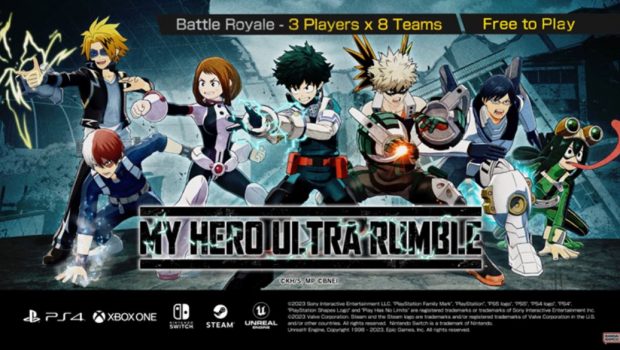 Published on May 18th, 2023 | by Alex Novus
My Hero ULTRA RUMBLE Open Beta Test starts May 26th!
Attention heroes! Join the fight in My Hero ULTRA RUMBLE during the Open Beta Test from May 26th to June 2nd on PlayStation 4, and PlayStation 5 using backward compatibility.
My Hero ULTRA RUMBLE is a free-to-play battle royale game pitting 24 players in teams of 3 against each other in fast-paced fights for victory. In this Open Beta Test, players get to choose between 15 iconic heroes and villains from the My Hero Academia universe, each fighting with their own quirk to be the last ones standing. More characters will be available at release.
When landing on the vast arena, players will have to survive, and fight as time passes until the area is reduced and hiding is not an option anymore! Here are some features players can look forward to trying in this Open Beta Test:
Quirks can be levelled up by finding skill cards throughout the stage, so keep an eye out for them;
Powerful items can be obtained by saving or intimidating civilians, depending on the character chosen to play;
Charging up the Plus Ultra gauge will allow players to unleash great power and perhaps turn the tables on a difficult situation;
Revival cards can be found, and badges are dropped by knocked out allies, they are useful to revive teammates and keep the fight going!
Start assembling your team and discover the characters here: https://youtu.be/Lm30M6uGg1Q
The Open Beta Test will run from May 26th 4:00 AM CEST to June 2nd 8:00 AM CEST. You can download it from the PSN store. My Hero ULTRA RUMBLE will release for PlayStation 4, Xbox One, Nintendo Switch and PC.