Games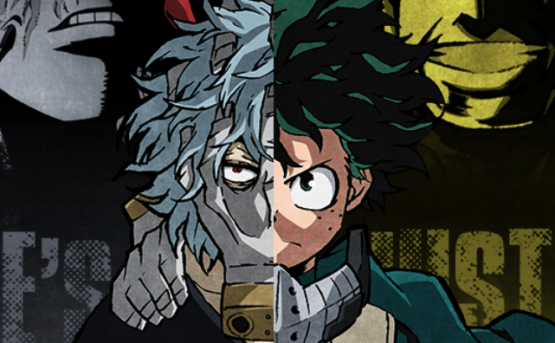 Published on July 6th, 2018 | by Admin
MY HERO ONE'S JUSTICE LAUNCH-DATE CONFIRMED FOR OCTOBER 26th 2018
Two new characters, Muscular and Gran Torino, and early pre-order bonus also revealed
MY HERO ONE'S JUSTICE, the 3D arena fighting game based on the popular Weekly Shonen Jump® manga and anime franchise, is confirmed to launch on October 26th 2018 for the PlayStation®4 computer entertainment system, Xbox One, PC via STEAM®, and Nintendo Switch™.
Click here to watch the new date trailer on YouTube: https://youtu.be/ZaIx5kk9Ex8
And players who pre-order MY HERO ONE'S JUSTICE will also receive "Flame Hero" Endeavor – the #2 Pro Hero, heated rival of All Might, and father of Shoto Todoroki – as a playable character.*
MY HERO ONE'S JUSTICE enables players to form three-person squads made up of their favorite U.A. High students, such as Izuku Midoriya, Katsuki Bakugo, and Tsuyu Asui. Squads can also include Pro Heroes, such as All Might and Eraserhead, and villains, such as Stain, Dabi, and Himiko Toga, all fighting for their ideals in over-the-top three-dimensional, environment-destroying battles.
During combat, fighters can call upon their sidekicks, as well as utilise their signature Quirks (the defining superpower of every hero and villain), to land explosive combination attacks to turn the tides of battle or finish off an opponent.
BANDAI NAMCO Entertainment Europe also today announces two new characters.
MUSCULAR
Another villain joins the fight. Muscular's game-changing Quirk, Muscle Augmentation, allows him to grow muscle fibres across his entire body – conferring immense strength to him during the battle. 
GRAN TORINO 
Although retired, Gran Torino still brings fear to his enemies and students alike! The mentor of All Might himself, his Quirk, Jet, makes him one of the fastest heroes alive – rolling back his many years to battle against the best of the best.
MY HERO ONE'S JUSTICE enables players to live the anime and gives them the chance to play through character-defining moments from the anime and from game-exclusive original scenarios in Story Mode. After clearing the story from the hero's point-of-view, players unlock Villain Mode, where they will be able to play through the story from the villain's perspective. By completing these missions, players can unlock items for their characters, making them even more powerful. Players can choose to play online and battle other players to hone their skills and become a worldwide hero.
MY HERO ONE'S JUSTICE will be launched on October 26th 2018 on PlayStation 4, Xbox One, the Nintendo Switch, PC Digital via STEAM and other distributors. For more information about the game and other products from BANDAI NAMCO Entertainment Europe please visit: https://www.bandainamcoent.com, follow us on Facebook at https://www.facebook.com/BandaiNamcoEU , or join the conversation at https://www.twitter.com/BandaiNamcoEU .