Books
Published on December 29th, 2018 | by Tony Smith
My First Music Book: Musical Instruments Book Review
Summary: My First Musical Instruments is a very clever interactive musical book
From Auzou Publishing comes this fun interactive musical book perfectly titled My First Music Book: Musical Instruments that younger children (and probably their parents) will simply adore courtesy of the pre-recorded eight musical instruments. These different instruments also play a musical tune that match the colourful scene on the page. For example, one may have a picture of animals dressed in parade regalia, whereas another has them in Christmas clothes to sing carols. It's quite a clever premise with the buttons and speaker on the right with the pages on the left.
Adding to the interactive nature of this book is the search and find game that requires younger readers to find the corresponding button on the right which then plays music. It also asks the reader to try and find which animal is playing that particular instrument such as the violin, saxophone or drums as an example. Supporting the very awesome musical instruments and tunes is the colourful illustrations that help with the overall theme of this book and they are beautifully illustrated by Charlotte Ameling.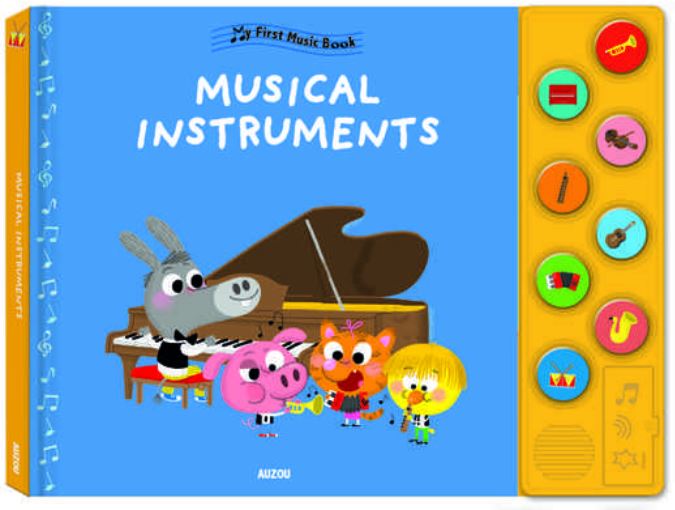 Final Thoughts?
Our children thoroughly enjoyed this book, especially by pushing the eight buttons on the main cover of this book which played the short musical snippets. Add in the engaging stories, fun pictures and text and all My First Music Book: Musical Instruments is a fun and clever interactive book.
Book Details
Title: My First Music Book: Musical Instruments
Format: HardbackRelease Date: Nov 2018
Publisher:  Auzou Publishing
Distributor: New South Books
ISBN: 9782733861912
Pages: 18pp
Dimensions: 210x260mm
Price: $18.99