Interviews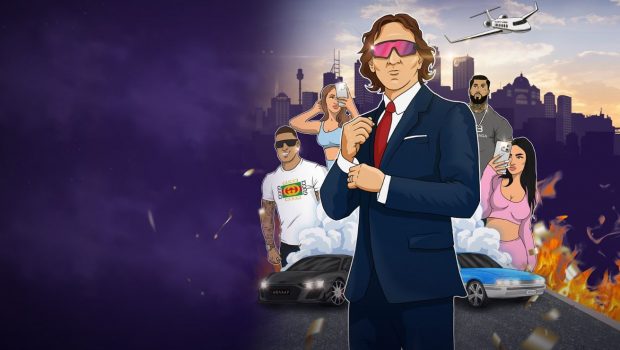 Published on October 10th, 2023 | by Adrian Gunning
My Cousin Vlad Interview
We catch-up with Vlad from My Cousin Vlad to talk about him, comedy and CATASTROPHA !
Welcome to Impulse Gamer and what's the funniest thing that has happened to you this?
I broke my foot playing tennis because I'm 40 now and tennis is a Balkan sport but not for Macedonians, its for Serbs.
How did you fall into comedy?
Via fury and frustration. Talking to a camera in my car waiting for clients in 2019 when the real estate market was very testing, somehow turned out to be more interesting for people than it was for me. The people dragged me out of Real Estate and into comedy, willingly.
If comedy is 10 out 10, what is number 9 and what would be 1?
Surfing is 9, it may even be 10 and comedy is 9.
1 is door knocking in real estate on a main road in summer while people beep at you and you see your ex-girlfriend with her new guy in a convertible drinking Coronas at 30km/h over the speed limit.
How did you come up with the idea of CATASTROPHA?
I looked around at my algorithm and made some assumptions, then talked to people and confirmed them. It's all about society, culture, the future and what we are living in, my experiences in marriage, having kids and getting older.
Biggest challenge in bringing CATASTROPHA to a live audience?
The preparation is tedious and tiring, preparing a new hour or more and being in your head is the challenge, but getting on stage in the fun part.
Most rewarding aspect?
Meeting people that enjoy the jokes, making them laugh and getting a rush of doing something that comes to me effortlessly.
Tell us why we should be seeing your new show?
It's better than looking at a screen waiting for Uber Eats.
Lastly what does the request of 2023 hold for you Vlad? 
Touring, running, licking rivers, resting and surfing.
CATASTROPHE! tickets are selling fast for the Friday the 13th Palais gig and rest of Australia with Vlad positioning himself as the next Weird Al Yankovich.
For more information you can head to http://www.mycousinvlad.com
MY COUSIN VLAD – CATASTROPHA – National Tour
7 October – 10 November, 2023
WOLLONGONG
IPAC
Saturday 7th October, 7.30pm
Tickets $41.00
https://aumtco.sales.ticketsearch.com/sales/salesevent/110645
MELBOURNE
The Palais
Friday 13th October, 7.00pm
Tickets $57.36
https://www.ticketmaster.com.au/my-cousin-vlad-catastropha-tickets/artist/3013197
CANBERRA
Canberra Theatre Centre, Courtyard Studio
Friday 21st October, 7.30pm
Tickets $45.00
https://tickets.canberratheatrecentre.com.au/EventSeatBlockPrices.aspx
SYDNEY
The Factory Theatre
Thursday 26th October, 7.00pm
Tickets $45.80
https://aucentury.sales.ticketsearch.com/sales/salesevent/109752?utm_source=www.factorytheatre.com.au&utm_medium=CV_site
ADELAIDE
The Rhino Room
Saturday 4th November, 7.00pm
Tickets $47.09
https://www.eventbrite.com.au/e/my-cousin-vlad-catastropha-tickets-672809650777?aff=oddtdtcreator
NEWCASTLE
Newcastle Comedy Club
Saturday 28th  October, 6.00pm
Tickets $32.15
https://www.eventbrite.com.au/e/my-cousin-vlad-catastropha-tickets-666684490257
BRISBANE
The Sit Down Comedy Club
Thursday 9th November, 8.00pm
Tickets $40.00
https://sitdown.sales.ticketsearch.com/sales/salesevent/110667
PERTH
Brisbane Hotel
Friday 10th November, 8.30pm
Tickets $43.06
https://megatix.com.au/events/my-cousin-vlad-catastropha
TICKETS ARE ON SALE NOW AT WWW.MYCOUSINVLAD.COM
SOCIALS
Instagram: /mycousinvlad
TikTok: @mycousinvlad
YouTube: /mycousinvlad