News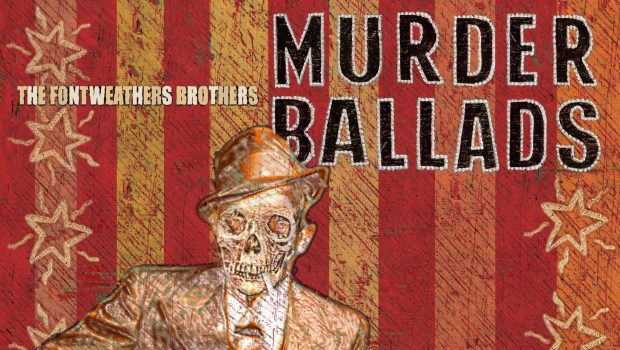 Published on June 15th, 2017 | by Dana Folkard
"MURDER BALLADS" ORIGINAL SOUNDTRACK AND GRAPHIC NOVEL!
Mondo and acclaimed indie publisher Z2 Comics are releasing a limited edition MURDER BALLADS graphic novel and original soundtrack 10″ vinyl record release by bluesman Robert Finley and Grammy-Award winner Dan Auerbach. The MURDER BALLADS Original Soundtrack includes Finley and Auerbach's cover of the classic Leadbelly song "In the Pines" and four original songs created specifically by Finley and Auerbach to accompany the upcoming graphic novel release MURDER BALLADS, the highly anticipated rock'n'roll noir graphic novel about the music industry and redemption by writer Gabe Soria and artists Paul Reinwand and Chris Hunt. The standard edition MURDER BALLADS graphic novel will be released by Z2 Comics this July for $24.95 and will include downloadable codes to the original soundtrack. The Limited Edition MURDER BALLADS Original Soundtrack and Graphic Novel from Mondo will retail for $200 when it opens for pre-order on May 24th on mondotees.com, and will feature original album cover art by Jon Langford, the acclaimed visual artist best known for his striking portraits of country and rock music icons including Hank Williams, Johnny Cash, and Elvis Presley.
The MURDER BALLADS Original Soundtrack contains "In the Pines", the iconic blues song performed by Leadbelly and four songs: "Bang Bang,""Butter Sandwich", "The Empty Arms" and "Three Jumpers."
"I've always been fascinated by the unglamorous side of music making," said MURDER BALLADS writer Gabe Soria. "Accounts of glorious obscurities and the characters working the fringes…that's my meat and potatoes right there, the stuff that has nothing to do with fame and everything to do with love, obsession and compulsion to MAKE. I dig stories about people who are just trying to get by making music on their own terms, and about the unusual and beautiful and tragic ways music can be woven into the fabric of our lives, whether it's through someone playing sad piano in a dive bar, a one-hit wonder on a transistor radio, a bootleg blues record, or whatever. THE BALLAD OF FRANKLIN BONISTEEL and MURDER BALLADS are tales from MY secret history of music, and it's been amazing being able to work with artists like Paul and Chris and have them to bring that world to life."
Z2 Comics also announced today that the MURDER BALLADS graphic novel will be written by Soria, with Paul Reinwand (28 WARLORDS) illustrating Side A and Chris Hunt (CARVER) illustrating Side B.
"Having a Side A and Side B is a tip of the hat to recording history, but it's also essential to the storytelling," said Z2 Comics Co-Publisher Sridhar Reddy. "It reflects the tonal shifts in both the narrative and the flow of the music. Where Side A is the tale of dreamers, Side B is the dream turning into the nightmare of reality. This is also reflected in the art, where Paul's work is looser and free, and Chris' work has a noir edge."
"Music has always been an important element in my life, and a key part of my creative process as a comic book creator and artist," said Chris Hunt. "The Blues in particular drew me in at a young age and to be able to work on a project that not only lauds such a storied musical genre, but also incorporates it into the actual DNA of the storytelling process is a rare opportunity. I'm honored to be able to contribute to such a unique project."
"I'd been playing more with screen tones and heavier spot blacks in my work when MURDER BALLADS was offered to me, and it just felt like such a natural fit with where I was at the time," said Paul Reinwand. "Gabe had such a clear idea of the characters, but was extremely supportive of anything else I wanted to do, which meant I just got to have fun on the page, and I think that comes through."
A meditation on music, obsession and how far someone will go to see their vision become real, MURDER BALLADS follows the fall and reinvention of Nate Theodore, the dead-broke and deadbeat owner of a failing record label who is on a cross-country drive in the dead of winter, fleeing the wreckage of his business and trying to save his crumbling marriage. Nate is given an unexpected chance to reverse his fortunes when, during a stop in a desolate rust belt town, he "discovers" Donny and Marvell Fontweathers, two African-American brothers who play a raucous brand of doom-laden country blues.
"Robert and Dan's musical contribution to the book is as vital to the story as words on the page and the art," said Z2 Comics Co-Publisher Josh Frankel. "It is an immersive experience."
Mondo has opened pre-orders for the limited edition Limited Edition MURDER BALLADS Original Soundtrack and Graphic Novel. The standard edition will be distributed at comic book stores and bookstores nationwide and will be available digitally via ComiXology; it is available for pre-order now.
Watch the trailer here!